On 20 May, the French economic and financial publication La Tribune organised the Forum on "Commitments and CSR: time for action and proof". Estelle Brachlianoff, Veolia's Chief Operating Officer, was invited to discuss "The Green Deal at the heart of the ecological transition" with Pascal Canfin, Member of the European Parliament and Chairman of the Environment, Public Health and Food Safety Committee.

The time for economic recovery is the time for a shift towards a new, greener, more responsible capitalism. Since Europe has declared its ambition to be carbon neutral by 2050, companies are expected to ensure that their words and deeds match. And governments are expected to provide a framework commensurate with the competitive environment in which they operate.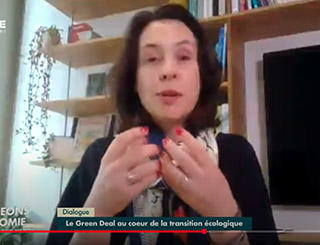 For Estelle Brachlianoff, "What is at stake today is the global leadership of the ecological transformation. It is a global competition in which Europe has a role to play. We have an opportunity to make a difference and we must not lose this battle. It would have been lost had we let Suez be bought by a non-European player or investment fund. With the Green Deal, we need to be given the resources for this European transformation."
Transforming determination and resources into concrete solutions
In Europe and the United States, the resources are there, as are the political will and citizen engagement.
It is Veolia's job to transform this determination and these resources into concrete solutions, such as enabling cities to become greener or industries to phase out coal by replacing it with solutions that already exist. We must also invest in innovation to find new solutions. And to go even faster in inventing these solutions, our merger with Suez allows us to pool our resources in terms of talent, know-how, geographical platforms, research and development, and investment capacities, explained Estelle Brachlianoff.
The carbon price is a strong signal to all our customers
For the past three years, Veolia has been using an internal carbon price of €40 per tonne for its investment decisions - for example, in plastic recycling plants or for alternative fuels.
The carbon price is rocketing and this is a strong signal to all our customers. It should cost more to pollute than not to pollute. But this price must also be stabilised so that all companies can invest in the long term. To avoid the pitfall of increasing the price of goods and services, we must emphasise that ecological transformation creates jobs. We also need to support all those who choose to clean up pollution. And finally, we should avoid environmental dumping with imports of products with lower environmental standards, concluded Estelle Brachlianoff.
Transform without dividing society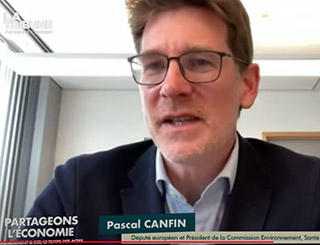 According to Pascal Canfin, Europe needs to make a real systemic change to reduce its GHG emissions by 57% by 2030. This means going 2.5 times faster in the next decade than in the last. It is about an industrial and commercial sovereignty strategy, economic policy and geopolitical positioning. All of this must be done without dividing society, and by ensuring the acceptability of the project by means of support measures. With the return of the United States to the Paris Agreement, we are witnessing a race on environmental standards: in a year's time in Europe, there will be a mirror mechanism at the borders where a European industrialist who pays €50 per tonne of carbon will see a competitor from outside Europe forced to do the same. Europe is the richest continent in terms of human capital but the poorest in natural resources. It is therefore in the geopolitical interest of the whole of Europe to roll out this transformation.
---
More: 
> Acting and committing to ecological transformation
> Resourcing the world 
> Tribune Forum " Sharing the Economy " - " Engagement and CSR: time for action and proof " on May 20th : watch the Forum video on Youtube (in French) including "The Green Deal at the heart of the ecological transition" (from 4:26:19 ' 4:56:41)