At a time when action on climate change is urgently needed, what path should we take for ecological transformation? The Veolia Institute brought together a panel of experts on the social and economic challenges of this transformation. Time to look back at the debate that took place at the Group's headquarters in Aubervilliers on 30 November.
"A transformation is a voluntary movement, not just an addition to what already exists, like past transitions, which were more undergone," introduces Nicolas Renard, Executive director of the Veolia Institute. Excessive extraction of natural resources creates scarcity, just as discharges into the environment create pollution. Ecological transformation is not an option. But it has to be fair.
Some sectors will lose jobs, others will gain them.
 
Recreating sharing and solidarity, for more energy conservation
For its part, Ademe proposes 4 scenarios. In scenario 1, the French change their lifestyles (meat consumption reduced by two thirds, massive renovation of buildings by reusing offices in the evening for leisure, reuse of products designed to last). Scenario 2 is that of consultations (reduced meat consumption, soft mobility, reindustrialisation, 50% reduction in energy consumption). Scenario 3 is based on technology and digital solutions (building reconstruction, non-reduced electric mobility, 40% energy reduction with CO2 capture). Scenario 4 preserves our way of life (20% energy reduction and massive CO2 capture).
"In these four scenarios, GDP does not change, but we need to decarbonise energy and recreate sharing and solidarity to increase sufficiency," concludes Valérie Quiniou-Ramus, Executive Director of Prospective and Research at Ademe.
Giving a local value to waste, to better sort it
Faced with the challenge of decarbonisation, companies are not without solutions. Veolia wants to pick up the pace. According to a poll conducted with Elabe, 60% of the world's population believes that the cost of inaction will be greater than the cost of action. Among its solutions, Veolia transforms waste into energy and recycled materials. Sorting our waste is becoming increasingly complicated.
"But with recyclable products, sorting is worthwhile because waste has value. Sorting must be facilitated to better separate recoverable materials, which will allow industry to invest in using these materials. And to encourage all citizens to sort, Veolia offers approaches adapted to each territory, or even at the neighbourhood level," explains Anne Le Guennec, CEO of Veolia France's Waste Recycling & Recovery business.
Conducted with a sample covering more than half the world's population.
Reusing building materials that last 200 years!
Not everyone agrees. Fabrice Bonnifet at Bouygues insists: "We must stop being in denial! We will not be able to replace the 83% of fossil fuels we consume with intermittent renewable energy. Of course, energy efficiency is improving: for example, 5G is more energy efficient than 4G. But our uses are growing so fast that the energy consumed by our smartphones is increasing by 9% per year."
For the Bouygues Group's Director of Sustainable Development & Quality, Safety and Environment, sufficiency will only be achieved through the reuse of materials and sharing. We will have to be able to reuse building materials for 200 years!
 
Young Europeans are ahead of the game
Laurence Lehmann-Ortega, Professor of Strategy and Business Policy at HEC, concludes that business schools are mobilising. There are three categories of students at HEC: the "activists" who want to accelerate; the "indifferents" who are not very committed; and the "statists" for whom business will only adapt under duress. Among all the HEC students from around the world, young Europeans are ahead of the game on these issues.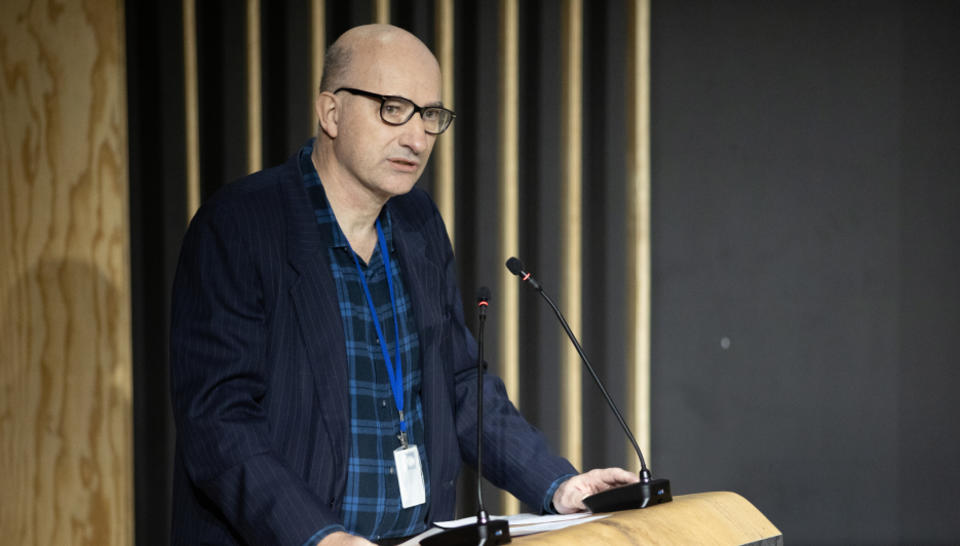 Nicolas Renard, Executive Director, Veolia Institute, introduces the conference.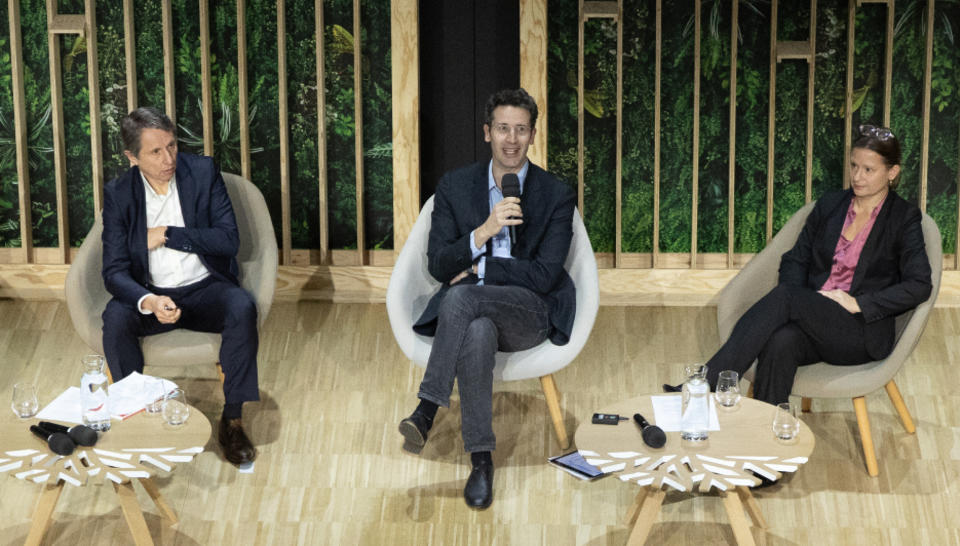 David Ménascé (at the microphone), Archipel&Co, one of the coordinators of the Institute Review, leads the conference.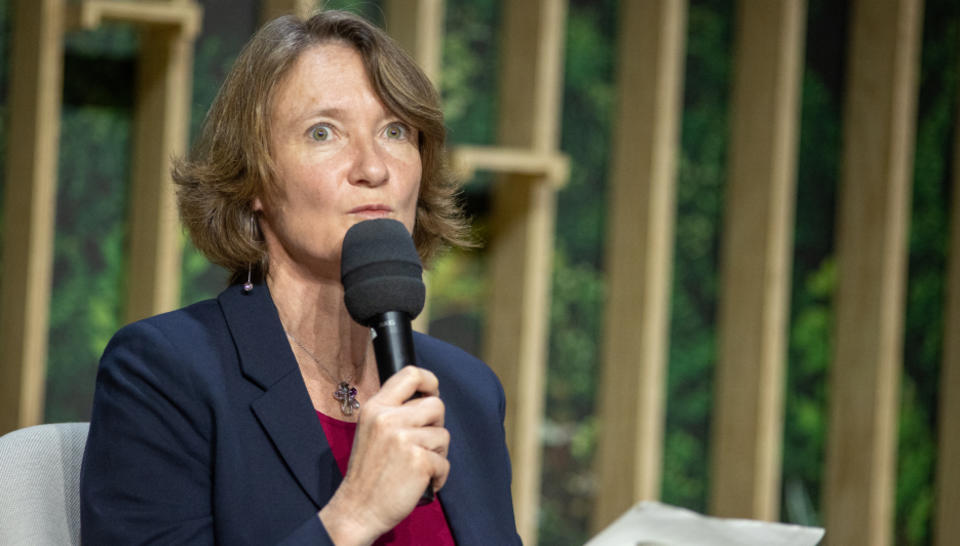 Valérie Quinou-Ramus, executive director of forecasting and research at Ademe, presents her 4 scenarios.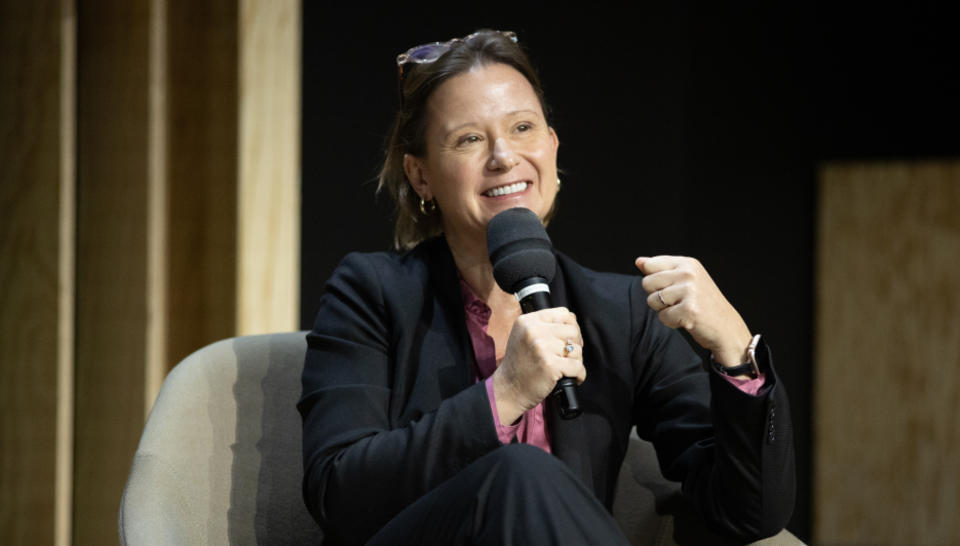 "Veolia wants to accelerate", announces Anne Le Guennec, CEO of Veolia France's Waste Recycling & Recovery business.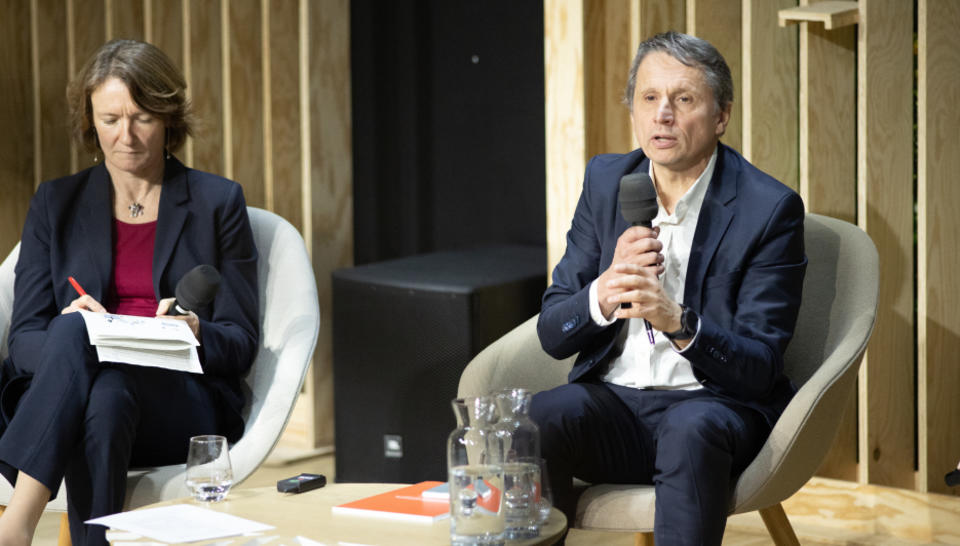 For Fabrice Bonnifet, director of sustainable development and quality, safety, environment of the Bouygues Group, "sufficiency will only be achieved through the reuse of materials and sharing."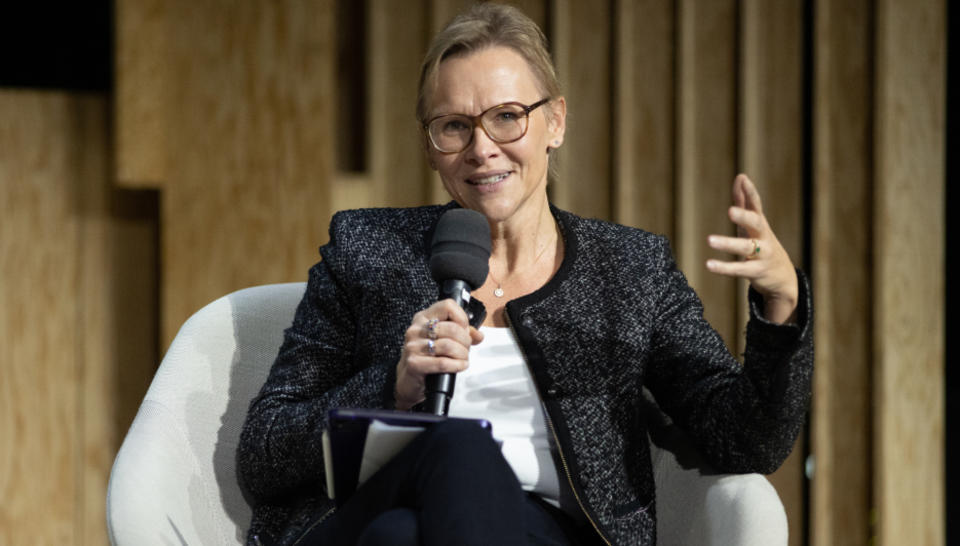 Laurence Lehmann-Ortega, professor of strategy and business policy at HEC, concludes that "business schools are mobilising."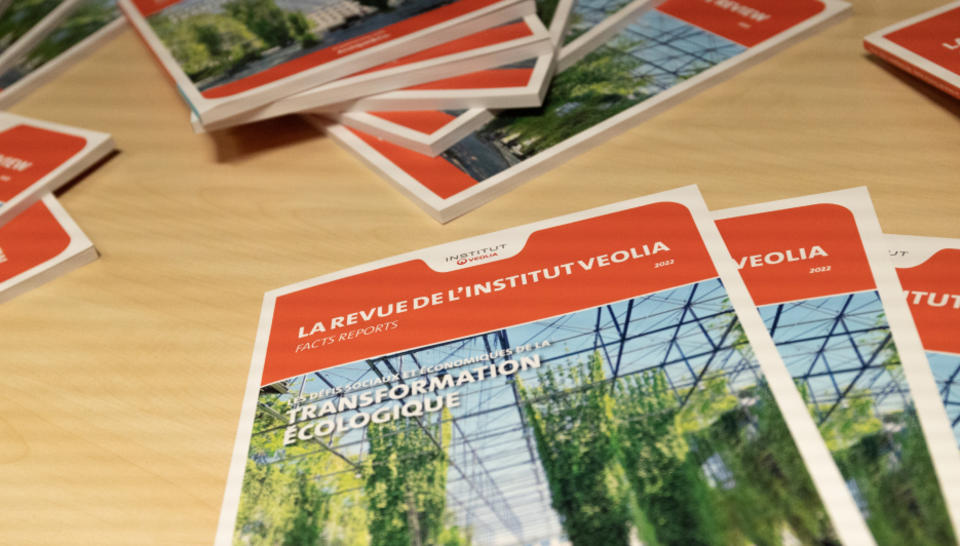 Distribution of the new issue of the Veolia Institute Review on ecological transformation during the conference.