As the presence of electric cars on our roads is growing very fast, industrialists are working on recycling lithium-ion batteries, which are also present in smartphones, personal computers and other connected objects. This promising sector for the future aims to improve the re-use of rare and strategic metals while at the same time reducing their environmental and social impact.
 
In Europe, the market for electric cars is growing fast (+80% in 2019), predicting a much greater volume of used lithium-ion batteries. Car manufacturers and recyclers already foresee the fast growth of the market for processing batteries, which should, according to certain estimations, reach 130,000 metric tons by 2030. The development of a recycling sector would now appear to be a necessity, not only to improve the management of the lifespan of the accumulators in question, which, as waste, are dangerous, but also to reduce their impact on the environment, linked to their manufacture. 
The extraction of strategic metals weighs heavily in the balance. Notably in question are cobalt and lithium. The first, which is both rare and toxic, comes for 60%, from the Democratic Republic of the Congo (DRC), where several NGOs have warned about working conditions in the mines, where children are sometimes employed. Estimates predict that reserves will run out in between 22 and 57 years' time. As regards lithium, it is mined largely in Latin America, in what are known as salars, with extraction techniques that consume vast quantities of water. While access to this mineral is not threatened in the short or medium term – the global stock is valued at 80 million tons according to the latest estimates released by the United States Geological Survey (USGS), which are growing by the year. Lithium costs twice as much as it did in 2015 – an additional reason to invest in recycling.
In Europe, the market for electric cars has increased by 
80% in 2019.
The battery processing market is expected to reach
130,000 tonnes by 2030.
Environmental and social impact, the extraction of strategic metals weighs heavily in the balance.
Closing the loop
In Europe, the industrialists are already at work. The European Battery Alliance (EBA) project, also known as "the Airbus of batteries", was launched in May 2019, and is backed by seven European countries, including France and Germany. The EBA hopes to find its place on the lithium-ion battery market, currently dominated for 90% by Asia, and half of that by China. Recycling should help the EBA, if only to secure supplies of strategic minerals.

At the moment, European legislation requires car manufacturers to recycle at least 50% of the total of their used batteries. But recycling factories are aiming higher. On the site of Euro Dieuze Industrie (EDI), a Veolia subsidiary in Moselle, founded in 1991, this proportion reaches 80%, with 700 metric tons of batteries processed in 2020 and the ambition to process 10,000 in 2025. The process is a complex one: after a stage of electric discharge (for safety reasons), then dismantling of each element and cutting to extract the active cells and finally mechanical shredding, the used batteries are cold-treated by a hydrometallurgical process to extract a concentrated mix of recyclable metals and then recover them. This is then sold to a metallurgist, who will purify it to give it a second life in new industrial applications.
We collect, dismantle and recycle electric vehicle batteries. The challenge is to make the most of the strategic resources they contain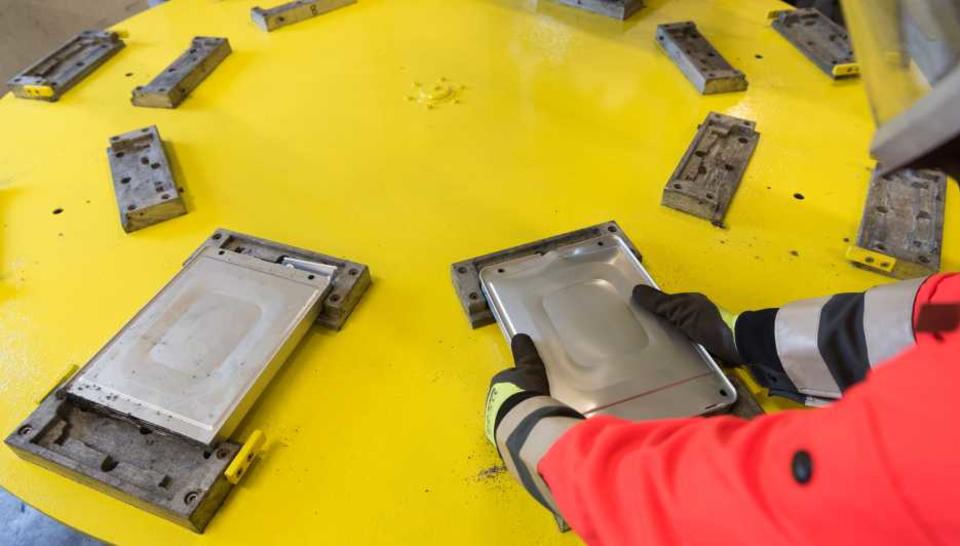 Recycling lithium-ion batteries.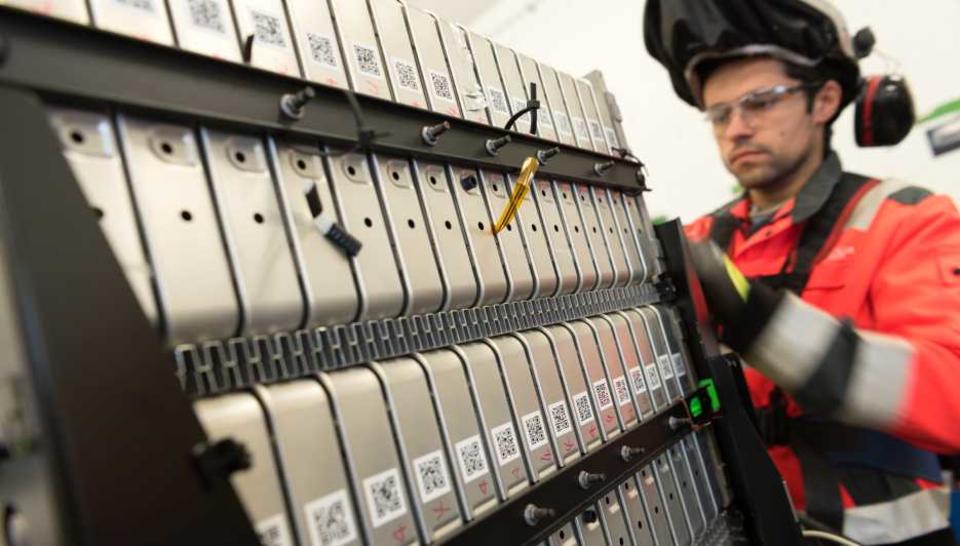 Recycling lithium-ion batteries.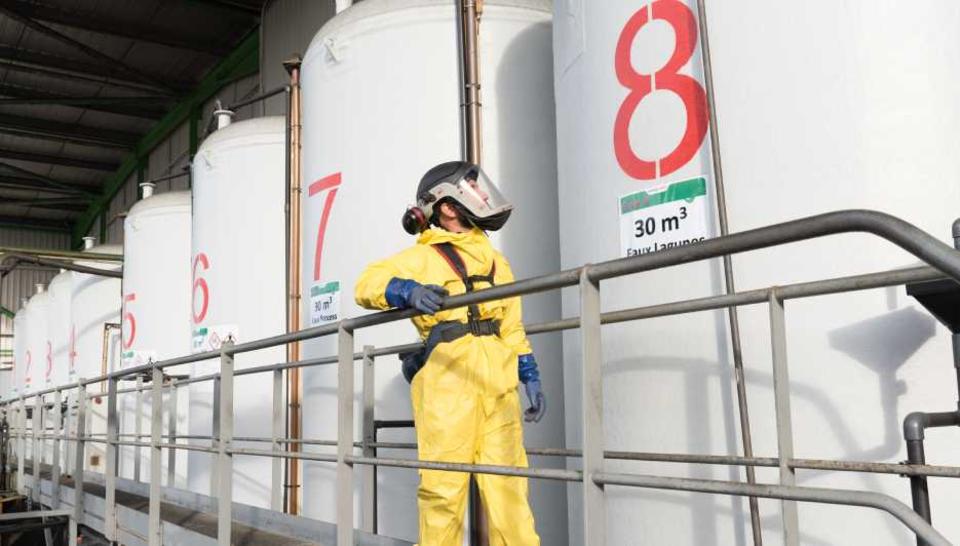 The site of Euro Dieuze Industrie (EDI), a Veolia subsidiary in Moselle, founded in 1991.
The partnership signed by Veolia with the Belgian chemicals group Solvay in September 2020 marked a new step towards the circular economy. "With the Solvay technology, we will go further in the value chain," says Shabnam Gholamifard, who coordinates the transfer of knowledge and the development of lithium-ion battery recycling internationally in Veolia's department for the Treatment and valorization of dangerous waste. "The liquid-liquid extraction methods allow us to purify the metals – nickel, cobalt, lithium... – that will then be re-usable by battery manufacturers."
If this process functions and can be used on an industrial scale, it is estimated that 10,000 metric tons of batteries will be recycled every year.
A battery has several lives…
The challenge for this new but promising activity is both technological and economic. "Today, there are very few players on this market and few industrialists master the processes," explains Shabnam Gholamifard. "In addition, electric car batteries have a lifespan of some ten years, so the volume available on the market is not very high for the moment." And that's without taking into consideration that the make-up of the accumulators could well change in the years to come, obliging recyclers to adapt. "For several years now, we have been moving towards less cobalt in batteries, replacing it with metals that are available in greater quantity, and less costly," she says. "But for the safety of our batteries, we cannot go below certain thresholds." Projects involving batteries without cobalt are under way, such as COBRA (CObalt-free Batteries for FutuRe Automotive Applications), co-financed by the European Commissions' Horizon 2020 program. Could the sodium-ion battery without cobalt and lithium, developed by the French company Tiamat, among others, have a promising future. The quantity of energy stored per unit is still 40% lower than the best lithium-ion batteries, but progress is fast. Especially as sodium is far more abundant on Earth than lithium and less expensive.
"Several of our clients, car manufacturers in particular, ask us for solutions to re-use batteries that have reached the end of their lifespan," says Shabnam Gholamifard. "They still have between 70 and 80% of their capacities and it is in our interest to re-use them in other products, notably those with a stationery use, which require less energy." Experiments, conducted notably by Renault, to optimize the storage of renewable energy, boost the reloading points, feed the refrigeration system on certain models and even electric boats…
A battery has several lives. It's time to exploit them all.

Another way forward under study is re-use.