Sustainable food & quality of life: two closely related concepts
Quality of life is defined as the adjustment between the environment's resources and the population's needs. What is more important than the need for food? Eating enough not only to satisfy your hunger but also to meet your nutritional needs is a key factor in quality of life and good health for each individual.
By 2040, which is just around the corner, the Food and Agriculture Organization of the United Nations (FAO) estimates that the world's population will reach 9.5 billion. Feeding all these mouths will require increasing our agricultural production by 50%. To do this, humanity will need to have the necessary resources, especially agricultural land.
At this point in time, the issue is far from straightforward: due to unsustainable farming practices, much of the world's soil has degraded and become less productive. At the same time, increasing urbanization has contributed to the loss of 30% of the world's arable land in just 40 years.
This is why our commitment to improving quality of life includes sustainable food solutions whose production takes into account the limited resources the earth has to offer.
About 33% of the world's soil is degraded.
Source: FAO
Working for sustainable food with new sources of protein, ecological aquaculture, and urban agriculture
Faced with the demographic challenge, our food supply will have to adapt: relocation, reduction in the proportion of animal protein, respect for and conservation of the soil, etc. To support the production of a more sustainable food supply and improve quality of life, we propose solutions to cities, manufacturers and farmers. These solutions are currently focused on three main areas.
Bioconversion: transforming food by-products and agricultural waste into protein
We are contributing to the food security of future generations. While the current livestock system generates 15% of our greenhouse gas emissions and uses nearly 70% of our agricultural land, there is an urgent need to think of alternatives for protein demands. This is why we are actively involved in bioconversion, which involves feeding insects (in our case, black soldier fly larvae) from organic by-products (canteen scraps, food waste, unsold food, crop waste, etc.). By recycling this "waste" in this way, the larvae will grow massively and be transformed into protein that can then be used for animal feed, all with an excellent yield.
Toward environmentally friendly aquaculture through wastewater treatment
We are working with the aquaculture industry to address environmental challenges. While aquaculture is already a solution to overfishing caused by the high global demand for fish, it must itself demonstrate responsible and sustainable practices. As such, we help farmers to reuse wastewater, after extensive treatment, to feed fish ponds. We work with a wide variety of fish species, which are healthier due to the removal of pollutants, chemical treatments and antibiotics.
Over the past few years, innovations have attempted to minimise the impact on the environment of conventional aquaculture by highlighting more virtuous practices
Urban agriculture and aquaponics for cities
We are involved in the development of urban agriculture. Convinced that the city is part of the solution to the food challenge, we support the production of vegetables, fruit and other foods in and around urban areas. Our solutions support permaculture, bio-intensive micro-gardening and even aquaponics, which applies our expertise in recycling aquaculture wastewater to irrigate plants. In addition to being part of the "locavore" trend, urban agriculture offers many benefits: sequestering carbon in the soil, limiting heat islands, creating social ties and jobs, enriching biodiversity, etc.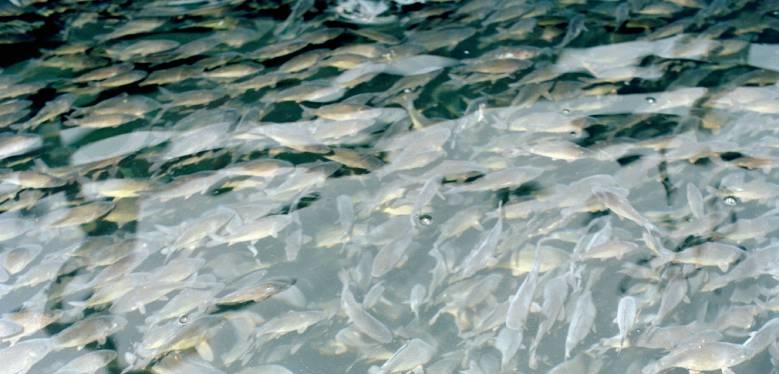 Aquaponics uses 50 times less water than a conventional open aquaculture system.
Maximize the value of organic by-products

Facilitate the management of these by-products and long-term visibility

Create a circular food chain

Improve management of water resources

Increase aquaculture farm production

Healthier and more resilient fish through expert water quality control

Produce sustainable food for cities

Short distribution channels

Enhance urban space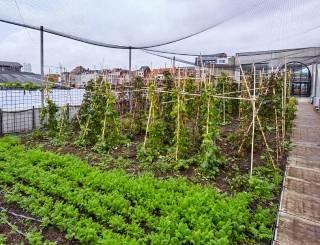 We did it!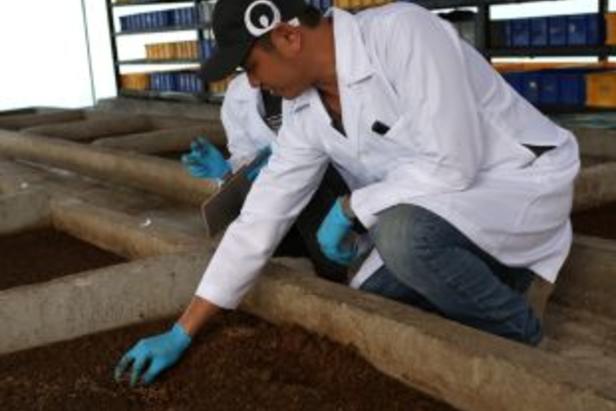 Setting up a black soldier fly farm
Since 2012, with Entofood by Veolia, we have produced over 7 billion black soldier fly eggs and 200 metric tons of larval biomass, and recovered 1,000 metric tons of organic waste. All of this is then used by livestock farms and ensures a more sustainable food supply for humans, requiring very little land use.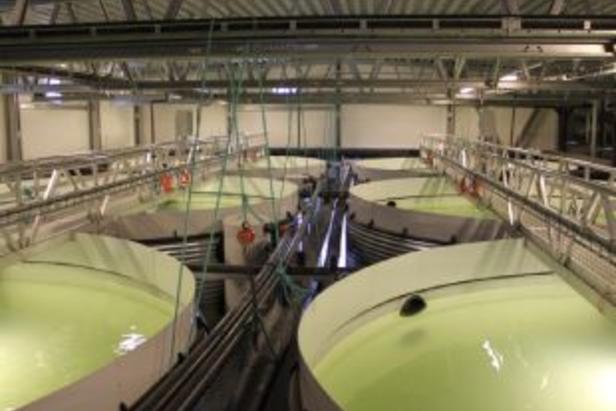 Facilitating salmon recirculation farming
Fredrikstad Seafoods, Norway's first land-based salmon farm, uses a state-of-the-art aquaculture system that ensures stable water parameters to optimize growth and improve survival. The salmon are raised in a controlled environment, without antibiotics or pesticides, in compliance with health standards.