What is energy efficiency?
According to the European directive 2010/31/EU, the definition of energy efficiency is "the relation between the results, service, goods or energy obtained and the energy used to achieve them."
In other words, it is the search for the best ratio between the amount of energy consumed and the service it provides. Improving this efficiency means consuming less energy for the same or even better service.
This notion of energy performance applies mainly to transportation, buildings and industry, all three of which are major energy consumers. For the latter two, it concerns heating and cooling in particular.
To measure the energy efficiency of our customers' facilities and in particular to evaluate the gains they make with us, we offer them energy-performance contracts. These contracts guarantee efficient production, reduce their energy consumption and improve their energy mix. The results determine part of our remuneration.
 
How do companies and local authorities approach energy efficiency
While the primary objective of energy efficiency is to conserve our resources and our planet, it is also an economic issue for our customers. For local authorities, service sector players and industry, increasing energy efficiency means making energy savings and therefore cost savings.
The main area for improvements is in buildings. Heating or cooling networks, heating, domestic hot water and air conditioning can all be particularly energy-intensive. We are therefore involved in the operation and maintenance of these facilities, as well as energy renovation work.
We also work with our clients to identify heat sources they could tap into. Wastewater treatment plants, data centers and incineration plants are all examples of heat sources that can be reused to make savings. Even industries, which produce a lot of heat, benefit from recovering it.
Like geothermal energy, biomass or cogeneration, this use of heat sources has the advantage of being perfectly integrated into low-carbon energy strategies. Developed with our clients, these strategies favor the use of renewable energy and improve their environmental footprint.
Finally, we focus on working with our clients at the local level to create local synergies. As part of a circular economy approach, these synergies contribute to creating solidarity and ensuring cohesion.
Our approach to improving energy efficiency
As a partner of cities, service providers and industry, we are at their side to help them benefit from our expertise in energy efficiency, the management of heating and cooling networks and the production of renewable energy.
Management of heating and cooling networks
We provide both cooling and heat recovery solutions. The former has mainly industrial applications, since cooling towers are found on the sites of many heavy industries (oil refining, chemicals, metallurgy, etc.) where the production processes generate high temperatures. Conversely, we also recover heat in order to reduce our customers' energy bills and environmental impact.
Cogeneration of electric and thermal energy
At the same time as we produce electricity, we recover waste heat. This cogeneration of thermal and electrical energy from a single energy source reduces both the cost of production and its environmental impact (between 14% and 28% less CO2 emissions). Whatever the size, technology and energy source (biogas, gas, biomass, coal), we provide our clients with a turnkey solution, adapted to their needs, and integrated into a regional resilience approach.
Sewage sludge, a source of "green" energy
We use sewage sludge to produce biogas. We make maximum use of the by-products of wastewater treatment and transform this unwanted product into a resource, while at the same time establishing local circular economy loops. In practice, our solutions can treat all types of organic, industrial or municipal sludge, as well as grease.
Responsible energy performance
We help our customers to optimize and manage their energy supply. This is a critical issue for many manufacturers, as energy availability and prices fluctuate. They need to manage their energy consumption, reduce CO2 emissions, meet environmental standards and control operating costs. We help them by managing the production of steam, heating, ventilation, etc., as well as by improving energy performance and its management.
Management and recovery of bio-waste
We take care of all types of bio-waste in order to recover it. We transform municipal bio-waste, canteen leftovers and unsold food. It generates both "green" energy (biogas) and organic fertilizer. As part of a circular economy, this process is all the more virtuous because, if left untreated, bio-waste generates greenhouse gases.
Awareness: changing behavior to improve energy performance
We raise awareness of environmental issues among users and building managers. Although the search for greater energy efficiency is still too often reduced to technical or technological measures, individual behavior is also a major contributor. This is why, using the data provided by our Hubgrade monitoring centers, we offer an integrated communication solution, called Awareness, an effective adjunct in energy performance contracts.
Energy efficiency & water cycle management
We optimize the energy efficiency of the entire water cycle. In a context where, according to the United Nations, 8% of the world's energy is used for pumping, treating and transporting water, we are aware of the role we need to play. This is why we are committed to responsibly managing the more than 6,000 water and wastewater facilities we operate around the world, always with the same goal in mind: conserve natural resources and limit greenhouse gas emissions.
Thermal energy generation from wastewater
We convert the energy in municipal wastewater into heat. What does this mean in practice? With our Energido solution, wastewater passes through a heat exchanger and transfers the energy it contains to a so-called "heat transfer fluid". This allows us to reduce primary energy consumption, produce energy from a local and abundant resource, and efficiently distribute the energy flows produced.
Secure supply


 

Optimize efficiency


 

Remote energy management


 

Reduce energy costs


 

Reduce environmental footprint




Stakeholder awareness and involvement


 

Health safety and efficiency


 

Alternatives to fossil fuels


 

Energy recovery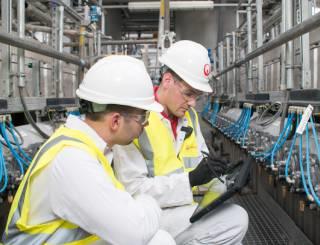 We did it!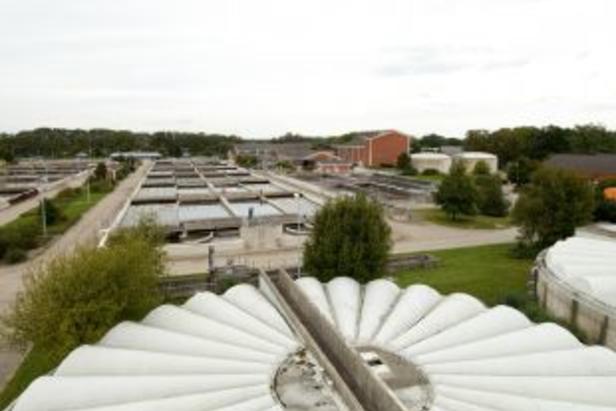 Making a plant 100% energy self-sufficient with sewage sludge
The wastewater treatment plant in Braunschweig, Germany, is now 100% self-sufficient in electricity thanks to the solution provided by BS Energy, our subsidiary operating at this site with a capacity of 275,000 population equivalents. Biological treatment of wastewater, thermophilic digestion of sludge and co-digestion with organic waste, cogeneration and biogas recovery have made the site energy self-sufficient.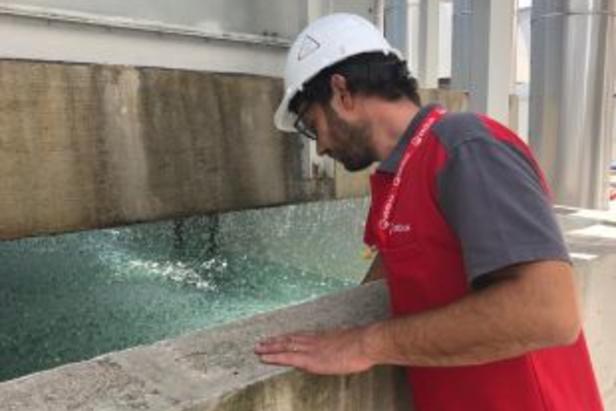 Renovating and operating a cogeneration plant in a hospital
The hospital in São João, Portugal, is home to a large cogeneration plant that supplies the health facility with heat, cold water, steam and electricity. The plant, which we renovated and have been operating since 2011, produces 37.5 GW/year of electricity, equivalent to the consumption of 15,000 households. It has a total thermal capacity (cold, steam, heat) of 36 GW per year. The plant is the country's largest in an urban environment and avoids the emission of 10,000 metric tons of CO2 per year.