Urban growth could become problematic in terms of feeding the population. In response to the need for food and the growing demand for local food to reduce the impact on the environment, current farming practices needed to be redesigned. Urban and peri-urban farming was the result. It consists of producing vegetables, fruit and other food or raising animals in and around cities.
---
According to the Food and Agriculture Organisation (FAO), which advocates urban farming, more than 800 million people are engaged in urban and peri-urban agriculture worldwide. It may take the form of shared vegetable gardens on rooftops or in public spaces. It has numerous advantages: it helps feed people in the city, produces fresh local produce, helps green cities by sequestering carbon and limiting urban heat islands, creates social ties, creates jobs, enhances the value of empty spaces, enriches the city's biodiversity, and more.
---
Who are our customers?
Cities
---
Veolia solution

Based on a circular economy approach and its traditional business lines, Veolia is actively involved in various urban farming projects through its Fertile Cities projects: 
Permaculture: a form of cultivation aimed at producing a large quantity of fruit and vegetables on a small plot of land by imitating the way nature works (without pesticides, synthetic fertilizers or mechanically working the soil, etc.).
Bio-intensive micro-market gardening in permaculture: cultivation of organic vegetables on a small plot of land imitating the way nature works.
Aquaponics: a form of cultivation combining fish and plants to recreate an ecosystem in an aquarium.
Aquaculture: a form of aquatic agriculture that allows species such as fish to be raised. 

Veolia provides its special expertise in treating wastewater for irrigation, producing fertilizers, transforming bio-waste into a resource, etc.
Veolia offers solutions that will help feed a global population of 9 billion people in 2040.
Benefits for our customers
Production of sustainable food for cities
Short circuit distribution 
Adding value to the urban space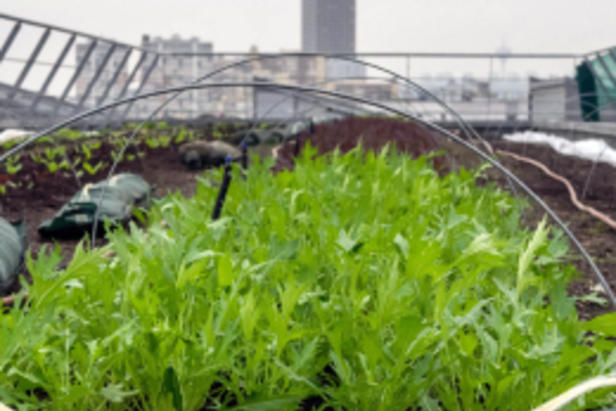 Partnership with the association Espaces and support for the Culticime project
The association seeks to develop jobs in the environmental sector for people in difficulty. An urban vegetable garden project (1,000 m² of cultivated space) has begun on the roof of a shopping centre in Aubervilliers where around ten jobs for people getting back into work have been created. Veolia supports this project and the deployment of new spaces.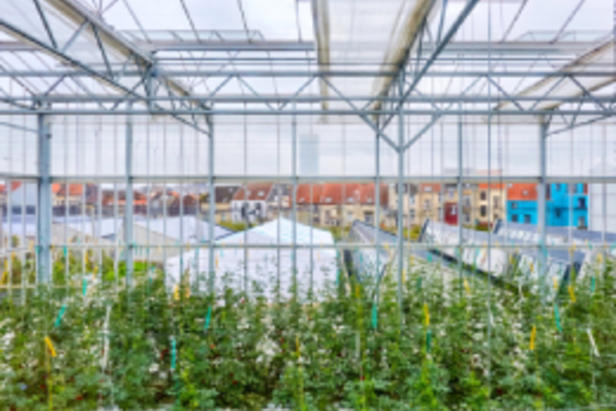 Production of fruit, vegetables and fish on a market rooftop
Foodmet, a gourmet market in Brussels, hosts the Ferme Abattoir on its roof. It has been developed by the start-up BIGH, a leader in aquaponics, and is supported by Veolia. Using aquaponics, it produces 15 metric tons of tomatoes and 35 metric tons of fish annually along with aromatic herbs and red fruits.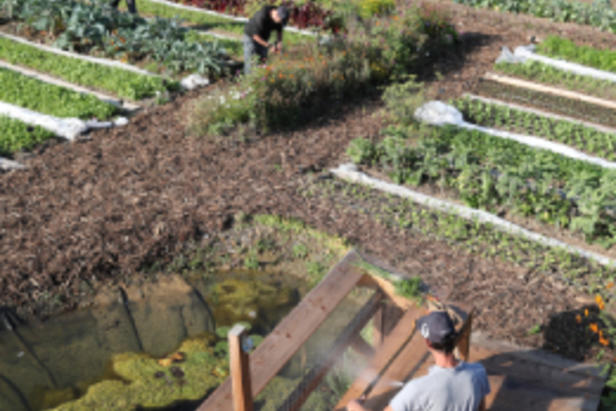 Construction of an experimental farm in the Marché d'Intérêt National (MIN) in Lomme
Veolia launched a pilot bio-intensive urban micro-market gardening project in the Lomme Marché d'Intérêt National (MIN), joining forces with the company ELISE, which has trained two people to work on the farm. The aim of the farm is to combine environmental protection with creating solidarity jobs for people with disabilities and/or those seeking to enter the labour market.
Over the past few years, innovations have attempted to minimise the impact on the environment of conventional aquaculture by highlighting more virtuous practices.
In 2040, the planet will be home to 9 billion people, 2 billion more than in 2017