Scientists state that global warming results in a greater risk of extreme weather events such as droughts and floods. These events weaken cities' resilience and mean solutions for managing and securing water networks, and in particular wastewater networks, must be developed rapidly. 
---
To ensure residents' safety and their quality of life, city wastewater systems must operate optimally.
The solutions developed by Veolia - all tested in large urban areas - help local authority officials find answers to the following questions:
→ What specific risks are associated with the particularities of the existing network?
→ What developments and investments should be prioritized and what should the timetable be?
→ How can extreme weather events be anticipated
→ What tools will improve the existing network at the least cost and can be extended?
---
Who are our customers ? 
Local authorities, regional authorities, and inter-municipal organizations 
---
The Veolia Solution

To cope with weather events, Veolia offers 4 types of solutions:
→ isolation of wastewater systems and drinking water systems
→ deviation of the wastewater network to avoid contamination should a neighbouring river break its banks
→ real-time network monitoring, based in particular on the Kapta ™ 3000-AC4 sensor, which is a proprietary Group technology
→ prevention and identification of any problems arising in wastewater treatment networks or facilities.
Veolia has designed a dynamic wastewater network management solution with a twofold objective: to optimize wastewater network management through sustainable climate adaptation measures, and to optimize reservoir and pumping station management through real-time control technologies.
Benefits for our customers
Improving the living environment
Focus Innovation
Veolia has been innovating for over 30 years in Copenhagen
In 2011, in Copenhagen, Denmark, Veolia developed the STAR Utility Solution™ - a set of smart, modular software solutions dedicated to managing wastewater facilities. This system prevented 90% of the overflow events observed until then. Environmental pollution has thus been reduced by 30% and energy expenditure for wastewater treatment by 15%.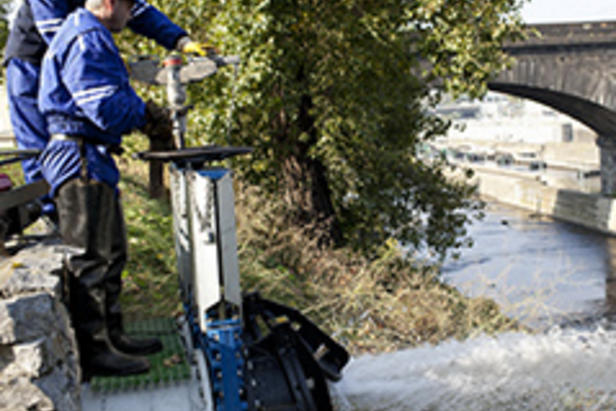 Veolia and Prague Police secure water networks
Since 2002, the police in Prague have been trained by Veolia to monitor the water and sanitation networks. In 2015, due to their vigilance, 53 cases of network leaks were reported and handled.
Modernizing the wastewater system management in Arcachon,
In Arcachon, Veolia helps optimize sewage service performance with monitoring and analysis solutions that manage the networks more effectively.