Whether it is to fight against mould, pathogenic bacteria, parasites, or viruses, it is advisable to limit their spread, which is dangerous for human health, by regularly disinfecting premises. In the event of an epidemic or a pandemic, such as that of Covid-19, where contaminated droplets may persist on surfaces, this solution is essential to reduce the risk of infection.
---
Office buildings, industrial facilities, buildings open to the public... the environment needs to be healthy and clean so that occupants feel safe. Veolia, through its subsidiaries Veolia Industries Global Solutions and the STPI teams, and SARP, has developed various solutions available as part of the Group's Health and Environmental Hygiene offer to clean and disinfect interior areas according to the standards in force.
---
Who are our customers? 
Industry and tertiary sector
---
Veolia solutions

Veolia offers three complementary types of disinfection, limiting the risks after treatment, with a product that complies with standard EN 14476, depending on the surface area and type of surface, and can respond 24/7 in all circumstances:
Disinfection of large surface areas by misting: spraying of a disinfecting, bactericidal, virucidal, and fungicidal product transformed into a cloud of fine droplets. This process is used to disinfect large surface areas such as premises, offices, changing rooms, interiors of public transport, etc.
Disinfection of surfaces by spraying: spraying of a disinfecting, bactericidal, virucidal, and fungicidal product transformed into jets of water. This process is particularly used to treat specific medium and large surfaces which may have been touched by different people, such as floors, furniture, equipment, etc.
Disinfection by bio-cleaning: set of manual operations for cleaning and disinfecting floors, surfaces, and furniture using disinfectants, bactericides, virucides, and fungicides. This process complements spraying and misting treatments and is used to treat floors, furniture, and areas of contact, such as handles, glass partitions, lift buttons, etc.
In addition to disinfection operations, it is essential to ensure the quality of indoor air which Veolia can do through its three offers: Air Control (continuous air quality assessment and monitoring), Air Performance (facility control and air quality level guarantee) and Air Human (stakeholder involvement in improving building air quality).
Veolia ensures the comfort and health of building occupants by offering a comprehensive disinfection solution to its customers.
Benefits for our customers
Reduction of health risks
Productivity optimization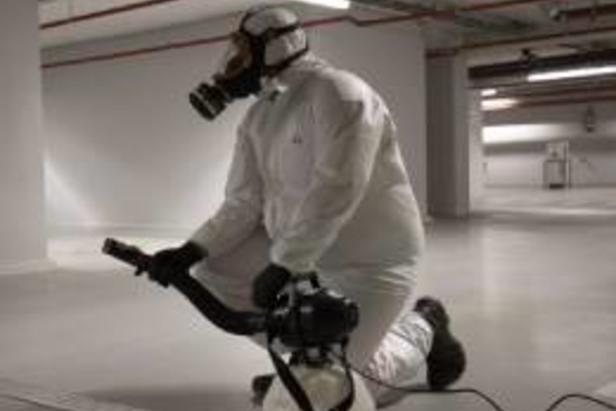 Disinfection of the head office and the main sites in order to reduce the risks of Covid-19 contamination
Since 17 March 2020, STPI, a subsidiary of Veolia Industries Global Solutions, has been disinfecting and cleaning the Naval Group's head office in Paris as well as its strategic sites in Brest, Ile Longue, Indret, Ruelle, Bagneux, Toulon, and Saint-Tropez, which are managed by Défense Environnement Services. Sanitary facilities and rooms used for lunch, meetings, and internal network connections as well as contact areas (door handles, lifts, etc.) are cleaned and disinfected daily, reducing contamination risks.