Cities are increasingly experiencing episodes of high temperatures that are particularly intense in summer and higher than in the countryside due to global warming, dense population, their increasing construction, and the lack of vegetation. Cities are increasingly confronted with what are called "urban heat islands" (UHI), a phenomenon that is difficult for the population to bear.
---
High temperatures can have significant consequences on the environment (increased air pollution, increase in energy consumption, etc.) and on health (dehydration, sunstroke, fatigue, headaches, etc.) and can be more dramatic for frail people.

Adaptation solutions must be designed to act on the temperatures of urban spaces and the ground which absorb heat during the day and discharge it in the evening preventing cities from cooling down, such as increasing green spaces, which, thanks to plants, play a solar filter role and allow evapotranspiration, or developing environmentally friendly public transport that reduces anthropogenic heat... Veolia and 2EI, its design office, are developing new areas of expertise to directly and instantaneously act on heat in cities: evaporative paving stones and roadway humidification.
In tomorrow's city, the combat against climate change will be based on smart water management
---
Who are our customers?
Cities
---
Veolia solution

2EI offers personalised support to cities to cool them down:
1. Diagnosis on the ground
2. Study of technical and financial feasibility, and advantages
3. Implementation of adapted solutions:
Automatic roadway humidification: more suitable for drivable areas, this solution consists of spraying the roadways and sidewalks with water using a system of spray nozzles at ground level.
Evaporative paving stones: suitable for pedestrian areas, in the event of high temperatures, this system injects water under the paving stones, using a drip system, cooling the surface through the water's progressive evaporation by capillary action.

These solutions use, as far as possible, rainwater stored and pre-treated for this type of use thanks to depolluting outlets developed by Veolia.
4. Monitoring and measurement of thermal comfort
As a close partner of cities, Veolia offers solutions that lower ground temperature by 10 to 15°C and air temperature
by 5 to 8°C.
Benefits for our customers
Reduction of the temperature of urban public spaces
Improved population comfort
An environmentally friendly solution allowing the use of non-drinkable treated water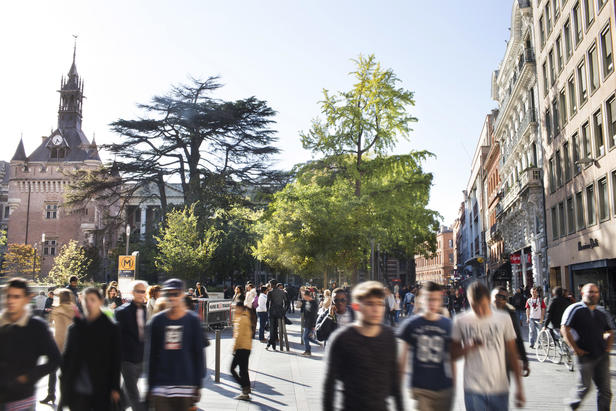 Installation of cooling paving stones in Toulouse
Since summer 2018, residents of the Toulouse Montaudran Aerospace area have enjoyed the benefits of ceramic evaporative paving stones in a 150 m2 pedestrian area. A rainwater collection and storage system (depolluting outlet developed by Veolia) supplies the system.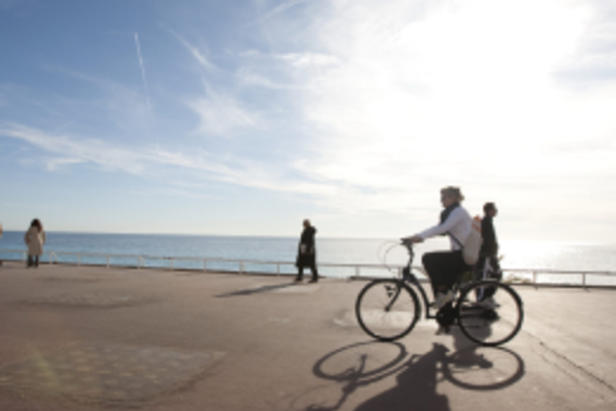 Use of two urban cooling solutions in Nice

In 2019, Veolia installed two urban cooling solutions in the Grand Arénas area of Nice: 600 m2 of evaporative paving stones made from Saint Jacques scallop waste developed by the Caen Institute of Civil Engineering and Construction and 300 m2 of roadway humidification, all connected to the city's raw water distribution network.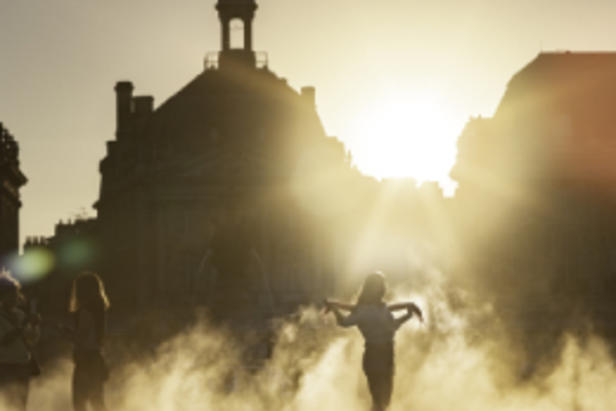 Cooling paving stones tested in a school playground

120 m2 of cooling Saint Jacques scallop paving stones, operational in summer 2020, were laid in Sousa-Mendes primary school's playground in Bordeaux along with a rainwater collection and storage system (depolluting outlet developed by Veolia) supplies the system.