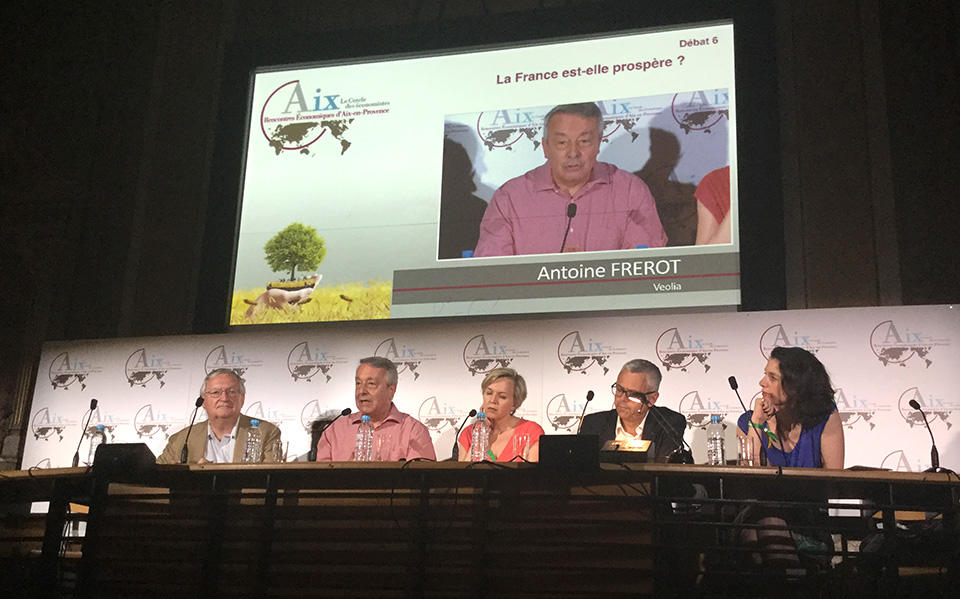 Business also has to create social value
French people often look at businesses with a critical eye, especially large ones. Yet they create wealth and contribute directly to the country's prosperity. To reconcile the French population and the business community, the role of businesses must be broadened: in addition to creating economic value, they must also create social and societal value.
"The economic value created by business will only be accepted if it also creates social value and gets involved in extra-economic topics such as fighting poverty and protecting the environment. Today, businesses are expected to help meet the social challenges of the times," explained Antoine Frérot.
 
Cooperate with all the stakeholders
Businesses are a mosaic of stakeholders. With harmonious and long-lasting cooperation amongst all these stakeholders, the wealth creation, and therefore prosperity for the country, is at its greatest.
"The role of a business leader is to find the best balance between all the company's stakeholders by weighing the search for the economic optimum against the social and societal optimum. To achieve this it seems to me necessary to open the boards of directors up to members other than representatives of the shareholders. The participation of employee representatives in this governance body was introduced by the French government, but we need to go further. I would like to extend the board to representatives of customers, lenders, suppliers and the territories in which the company operates," added Antoine Frérot.
Training contributes to everyone's prosperity
"There can be no real prosperity in a country where every year nearly 100,000 young people leave the school system without any diploma or qualification; where one in five young people find themselves unemployed because they don't have the basic skills to enter the labour market," Veolia's CEO continued.
Through its work-study schemes, the Group wants to give young people who have not been able to train the chance to acquire the qualifications they need to find a job. Since 2012, Veolia has been a "qualification company" and has welcomed more than 7,000 trainees in France.
 
More
> Meeting on the theme of "business serving society", with Antoine Frérot and Jacques Attali
> Les Rencontres Economiques d'Aix-en-Provence