For this Day, the United Nations is calling for an international mobilisation around two priorities: encourage an agriculture that is adapted to local soils and climates, and particularly in the dry fragile parts of the world where food shortages are always becoming more and more severe; reinforce combat against desertification which is the cause of serious food shortages, water stress and "climate migrations" whose effects on security, peace and stability. Agricultural land is becoming scarcer and malnutrition is increasing in the arid areas of sub-Saharan Africa where water retention is low and soils are vulnerable to natural and human destruction. 99.7% of the calories in our diet come from the soil.
The Veolia Foundation is mobilised for the combat against desertification
Particularly concerned by these changes, the Veolia Foundation is mobilised through two projects:

In northern Senegal: the Great Green Wall. A Téssékéré, the heart of the Great Green Wall reforestation area, the Veolia Foundation supports CNRS scientists in the Observatoire Hommes-Milieux (people-environment observatory - OHM): they lead an initiative in restoring the ecological balance thanks to the gum acacia reforestation, a new source of income for the population. The Great Green Wall Project consists of replanting a band of vegetation 7,600 km long and 15 km wide that crosses 13 African countries.

This desertification prevention project causes profound changes in the villages and modifies people's interactions with their environment. The OHM facilitates the ecological restoration of water and soil resources, and supports the changes in health and social balances.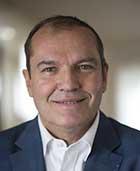 Thierry Vandevelde
Executive Officer of the Veolia Foundation
"This initiative, launched by anthropologists, places people at the centre of the project. The OHM involves populations in protecting natural habitats in their own interests. The Foundation supports this approach," said Thierry Vandevelde, Executive Officer of the Veolia Foundation.
​​Southern Niger: an integrated village water project. In order to develop access to drinking water for 3,500 people, the local authorities have launched a village water project, funded and supported by the Veolia Foundation, to create a drinking water network and equip two rural communities with boreholes. Two further actions, funded the River programme led by the UNCCD[1], complete this project: the rehabilitation of 230 hectares of degraded land, and improvement in food security.
For more information about :
The Great Green Wall
The World Day to combat Desertification and Drought
[1]
United Nations Convention to Combat Desertification