> Fighting climate change post COP21
Antoine Frérot jointly chaired a round table discussion in the "CEO Climate leaders" session which brought together 80 decision-makers to talk about fighting climate change (post-COP21). In order to jointly develop a new climate economy project, they explored the short-term measures needed to implement the Paris Agreement, such as financing solutions, public-private partnerships, and highlighted the major role of business in accelerating the transition to a greener economy. It was an opportunity for Antoine Frérot to reaffirm Veolia's commitment to an appropriate, robust, and predicable carbon price. 
 
> Solutions for inclusive growth
Antoine Frérot also participated in the session "Informal Gathering of World Economic Leaders" discussing the theme of "Structural Reforms and Inclusive Growth" alongside G20 policy makers, central bank representatives and a large number of executives from the major global companies. The session was jointly organized by the International Monetary Fund (IMF), and chaired by its president Christine Lagarde.
In an article published on the World Economic Forum website the Veolia Chairman and CEO outlined the main issues relating to the emergence of smart cities and the need to make them more inclusive.  
 
 « It is up to Mayors, business leaders, and civil society to refocus digital technologies on job creation, training, and on reducing inequalities in tendering processes related to smart cities. Digital technology compels cities and businesses to pursue ambitious social goals. Like cities, companies cannot ignore the issues of solidarity and inclusion. No business can prosper for long in a city that excludes. » 
> The circular economy of resources
Finally, Antoine Frérot spoke during the session "Large scale deployment of sustainable production", in which in particular the World Business Council for Sustainable Development (WBCSD) took part. The issue addressed during this session: encourage the spread of sustainable models, in particular through the deployment of collaborative and circular approaches between the economic actors and production methods, but also through consideration of eco-design and the wider use of recycling. Veolia's Chairman and CEO also participated in the Stewardship Board Meeting on "Environment and Securing Natural Resources", which brought together key public and private stakeholders attending the World Economic Forum on environmental issues with a view to identifying the priority actions for 2017.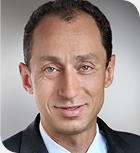 Laurent Auguste restated Veolia's position in favour of better management of resources during the "Shaping a new water economy" and "Accelerating the circular economy" sessions. He also contributed to the World Economic Forum Council meeting on the initiative entitled "The future of industrial production" on the impact of the 4th Industrial Revolution on industrial production patterns and its implications for new social dynamics. Its objective is to achieve "zero pollution" and optimize the use of energy and natural resources in production, which reduces the cost of the processes. Here are a few examples: using the heat from data centres for district heating, recycling wastewater sludge into bioplastic, recycling organic waste as fertilizers, or using them to produce energy.
More 
> Antoine Frérot's speech "Intelligent cities, inclusive cities?"
> The circular economy and climate solutions in Veolia's "Let's talk climate!" blog
> Veolia unifies ecosystems for smart cities
> "Cities for life", Forum Smart City La Tribune: Veolia innovates with its stakeholders to build inclusive cities