Antoine Frérot, Chairman & CEO of Veolia, and Advisor to the Mayor of Seoul since 2012, spoke during this event from the viewpoint of an operator of urban services.
Mr. Frérot notably addressed the needs and concerns of older people and how intelligent technologies enable us to strengthen sanitary security and public health, which are a priority for this population.
 
Via systems monitoring the quality of drinking water in distribution networks or recycling heat in virtuous circular economy loops, Veolia contributes to reducing atmospheric pollution. Smart solutions improve the energy efficiency of buildings and make it possible to keep energy consumption at a minimum, and they also make life easier for the inhabitant.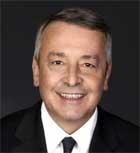 Antoine Frérot
Antoine Frérot, Chairman & CEO of Veolia
 
"Thanks to the many innovations of the last two decades, we now have the ability to extract intelligence from the huge mass of urban information we collect. To the point that cities are being redefinined by the intelligence of their services", concluded Mr. Frérot.