These three digital solutions support the drive towards smart cities by providing a new urban experience. Veolia is making the smart city more inclusive, more resilient and more pleasant to live in.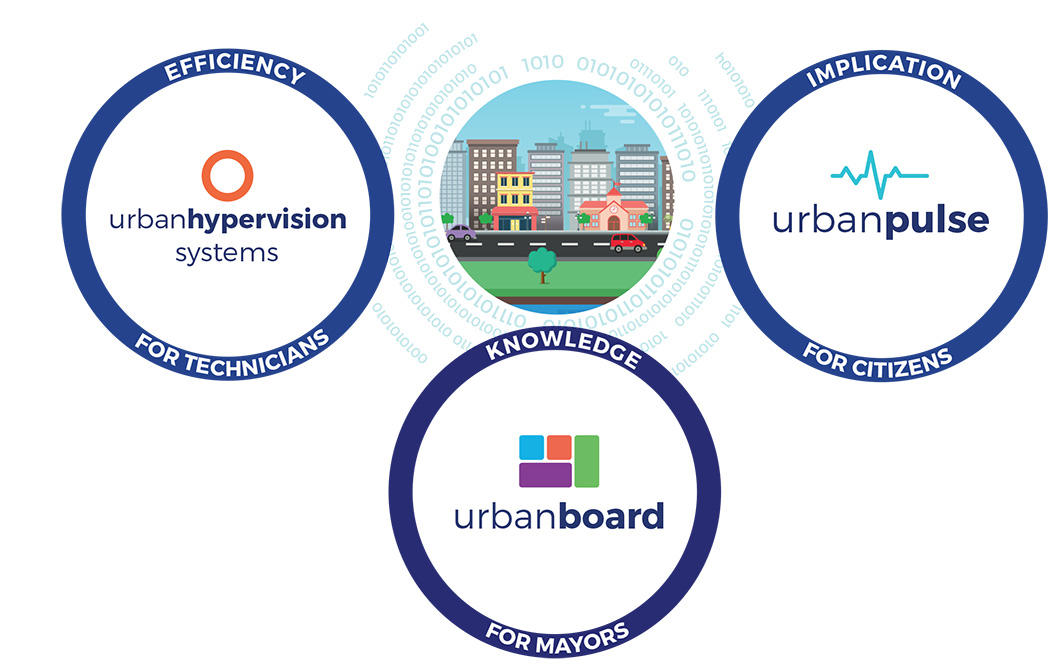 Urban Hypervision 
An urban services management system, it amasses information in real time: sensor data, warning systems and intervention orders for "smart" operational forecasting. Operations are therefore more interactive, less expensive and more transparent.
Urban Board 
A smart city dashboard aimed at elected representatives, bringing together technical information and social network flows with one objective: to put the performance of urban services into perspective and link them to residents' impressions. There are four headings: mobility, security, cleanliness and the environment.
Urban Pulse
gives citizens a role in the smart city. The application provides real time information about the city via smartphone. Residents can get involved in the local circular economy: car rental, shared parking spaces, car sharing, thrift stores, etc. They can improve the environmental impact of the city's infrastructure: sorted waste collection, taking waste directly to waste centers, reporting leaks, etc. They can find out about the city, events, services, leisure, etc. Urban Pulse puts city dwellers at the heart of a new urban experience: playing an active role in their own comfort, they help the city operate effectively and protect their environment.
 

"Smart cities use digital technologies to improve the comfort of citizens, solve problems more efficiently, and make the most of the economic development opportunities they bring," said Laurent Auguste, Veolia Senior Executive Vice President Innovation and Markets.
The Smart Water Box, Urban Hypervision for water services. 
The Smart Water Box is a data processing platform for water and sanitation services that improves performance, quality of service, crisis management and stakeholder information. It amasses data from the infrastructure and external sensors such as weather stations, in order to automate alarms and thresholds, predictively manage interventions, works, customer information, and inform citizens in real time. It also makes it possible to manage other  city[1] services, such as heating networks.
 
Technologies used
These three solutions are based on the most advanced digital technologies: sensors, the Internet of Things, Big Data, data security and validation, modeling and predictive analysis to improve performance, visualizing results to facilitate management, participatory citizen interaction.
 
More : 
> Press release: France - Smart cities. Paris, June 8, 2016
---
[1] In SaaS (Software as a Service) mode