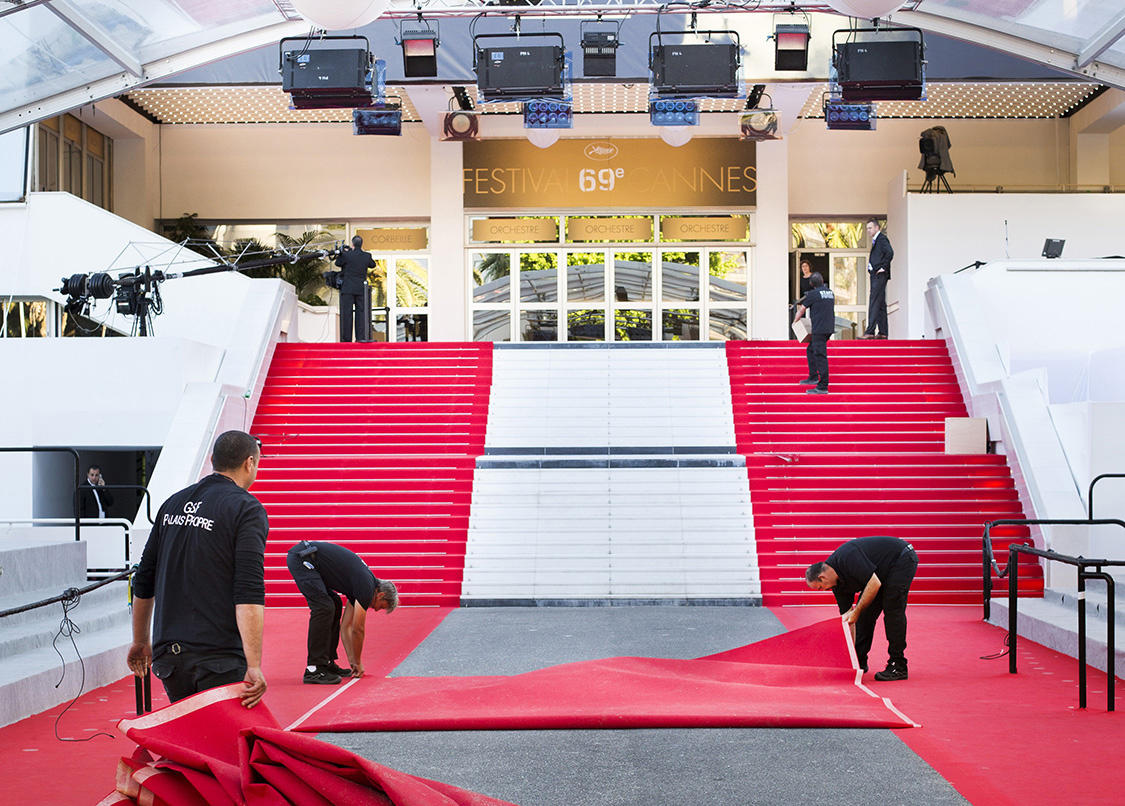 Engaged in a demanding approach to sustainable development, the Cannes Palais des Festivals currently recycles 80% of its waste, with Veolia's help. This rate exceeds that set by the "Grenelle Environnement"
[2]
, which means it has been able to achieve 4 certifications
[3]
.  
A second lease of life for the famous red carpet
mso-fareast-font-family:"Times New Roman";mso-ansi-language:EN-US;mso-fareast-language:
FR;mso-bidi-language:AR-SA">During the film festival held every year in May, the red carpet and the Palais carpets are renewed on average twice a day. Veolia sends 80 tons of carpet per year to the sorting center in Carros, north of Nice. The fiber (polypropylene) from the carpets is pelletized to make a secondary raw material reused in the manufacture of industrial packaging and road signs, as well as in the automotive, construction and food industries
"We send these carpets to our sorting center in Carros for initial treatment. Sorting is done to remove impurities and then they are baled and shipped to a factory in Italy. There they are processed, passed through an extruder and made into polypropylene beads," says Nicolas Pont, Waste solutions' Director of Veolia in Mediterranean (France) EN-US">
Some Palais des Festivals figures:
EN-US">1,500 tons of waste processed annually
898 tons of industrial waste recycled in the Veolia plant in Valazur,
319 tons of wood (category B) recycled at Villeuneuve-Loubet and then sent to Italy to be subsequently reused by pulp and paper industry EN-US">in France and Europe,
110 tons of paper and cardboard processed on the Carros sorting platform.
For 100% recycling of waste:
"Arial","sans-serif";mso-fareast-font-family:"Times New Roman";mso-ansi-language:
EN-US;mso-fareast-language:FR;mso-bidi-language:AR-SA">- provision of containers and garbage trucks at events (assembly, disassembly of decorations and furniture), and a fixed compactor on a yearly basis.
- sorting at source and encouraging exhibitors and organizers to produce less waste.
- continuous 24/7service.
- recycling bio-waste from dining areas.
- recycling and recovery of scrap metal, plastic film and aluminum decorations.
 
More:
>
Veolia turns waste into raw materials
>
Veolia's expertise in waste management
and
in the recovery of materials
>
Find circular economy topics on the Veolia blog "Let's talk climate"
[1] Responsible for managing events in Cannes.
[2]
French law defines a recycling rate of 75% for ordinary corporate waste
(excluding building and construction, agriculture, food industry and other specific activities).
[3]
 ISO 14001 in 2004, OHSAS 18001 in 2007, ISO 9001 in 2008, and ISO 26000 in 2012.