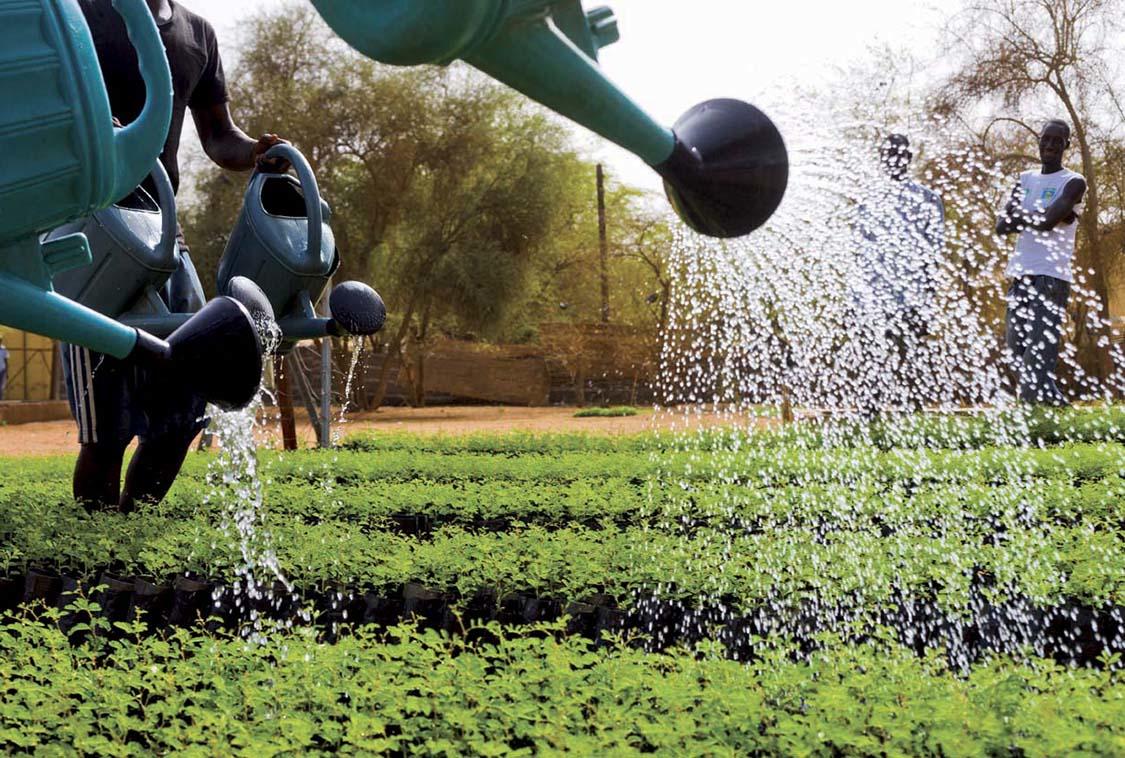 The Sahel is one of the regions of the world most affected by desertification, which impoverishes villages and increases the urbanization of coastlines. Launched in 2008, the
Great Green Wall
is a planted area
15 km wide
, which crosses
11 African countries
from West to East, and covers a distance of
7,675 km
. 
The Veolia Foundation supports this project in partnership with the Observatoire Hommes-Milieux International (OHMI) which brings together the CNRS and the University Cheikh Anta Diop (UCAD) in Dakar with the aim of understanding the relationships between people and the Sahel environments. In pastoral rural communities in the villages[1] of Widou, Thiengoli and Téssékéré, the OHMI analyzes the ecological and social impacts of new plantations  on everything from the microbiological to the animal and plant life scale, and the living conditions of the local population (economic activity, health, food).
> A desert date combats desertification
"For example, the desert date tree or Balanites aegyptiaca, is drought resistant and makes it possible to restore the ecosystems in dry areas thanks to the animals in the pastoral region of Ferlo. These animals facilitate the movement and germination of seeds through their digestive systems. And researchers have shown that this date tree is a way of diversifying food intake during the dry season, with nearly 10,000 fruit produced annually by each date tree, rich in vitamin C and minerals, and the oil is used by local people," says Gilles Boëtsch, Anthropobiologist and Director of the environment-health-society UMI[2].

 
> The 4 areas in the 2016 - 2017 project of OHMI:
Strengthening the technical means in-situ in Widou for researchers, and environment and biodiversity doctoral and master's students.
Supporting young Senegalese researchers: 4 theses and 10 master's dissertations supported, 11 more in progress.
Launching three new projects: the ecology of health and of human, animal and plant welfare ; Understanding interfaces with the biotope ; Parasitology research combining "water-animal-man".
Funding two summer schools in August 2016 and 2017 (100 participants including 30 Senegalese and foreign researchers).
 
More: 
>Read Gilles Boetsch's article on "Desert date trees to fight against desertification"  on Veolia's "climate blog" 
>The Great Green Wall project 
>The UN's World Day to Combat Desertification
>The Veolia Foundation 
[1]
 In the Ferlo region, in the north of Senegal.
 [2] Joint international research unit (in French : Unité mixte de recherche internationale).