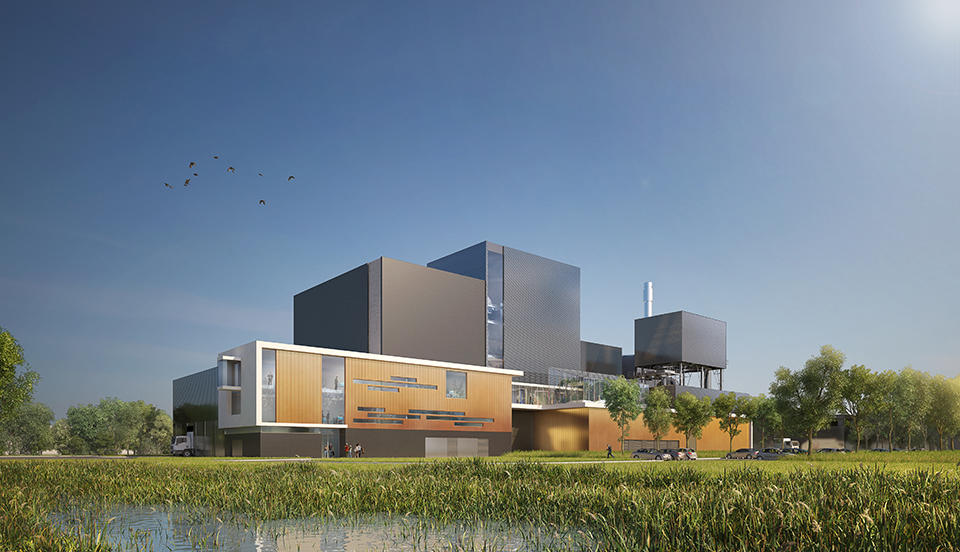 Through its Valaubia project, Veolia has been awarded the only delegated public service contract for the construction and the operation of a waste-to-energy plant in France in 2016. Located in La Chapelle-Saint-Luc (Aube department, eastern France) and with an annual treatment capacity of 60,000 metric tons, this waste-to-energy plant will produce sustainable and local energy for the Aube region's inhabitants. It complies with stringent technical and environmental standards: using an ultra-efficient treatment process, the waste-to-energy plant will maximize the energy potential from waste to generate 41 GWh of electricity a year, the equivalent of the electrical consumption of almost 50,000 inhabitants, and 60 GWh of heat energy a year, the equivalent of the consumption of almost 8,900 inhabitants.  
The heat energy produced will be fed into the Grand Troyes (group of municipalities) district heating network and also used by a local industrial company, both located close to the new facility. The Valaubia project is a prime example of a project that facilitates the application of France's energy transition law for green growth which targets a 32% increase in renewable energy by 2030, and a 50% reduction in the volume of landfilled waste by 2025. 
"The choice to opt for the project presented by Veolia was made because it was entirely focused on the circular economy and energy recovery – both heat and electricity – and because it fully met our authority's expectations," said Danièle Boeglin, President of SDEDA.
"The construction and the operation of this high performance waste-to-energy plant meets SDEDA's commitment to finding the best possible local energy solutions. This type of contract reflects our growth and our aims in terms of the circular economy," explained Bernard Harambillet, CEO Waste Solutions for Veolia in France.
The Valaubia project will create 20 jobs during the operation phase, from 2020. 
 
With an architectural design fully integrated into the region, the waste-to-energy facility will serve as a strong tool for raising waste management awareness, through site visits for the general public.
..........
Veolia group is the global leader in optimized resource management. With over 174 000 employees worldwide, the Group designs and provides water, waste and energy management solutions that contribute to the sustainable development of communities and industries. Through its three complementary business activities, Veolia helps to develop access to resources, preserve available resources, and to replenish them.
In 2015, the Veolia group supplied 100 million people with drinking water and 63 million people with wastewater service, produced 63 million megawatt hours of energy and converted 42.9 million metric tons of waste into new materials and energy. Veolia Environnement (listed on Paris Euronext: VIE) recorded consolidated revenue of €25 billion in 2015. www.veolia.com
 
Contacts
---
Veolia Group Media Relations
Laurent Obadia - Sandrine Guendoul
Stéphane Galfré – Marie Bouvet
Tel.: + 33 (0)1 71 75 17 50      Mobile: + 33 (0)6 22 24 48 21
[email protected]
Investors & Analyst Relations
Ronald Wasylec - Ariane de Lamaze
Tel.: + 33 (0)1 71 75 12 23/06 00
Terri Anne Powers (United States)
Tel.: + 1 630 218 1627