In Hong Kong, the future of wastewater treatment plants is already in view. Designed by Veolia, the world's largest sludge treatment and recovery plant was officially opened in May 2016.
Far more than just an industrial plant, it is an ecological complex that is self-sufficient in water and energy, and complies with the increasingly stringent environmental standards required by Hong Kong.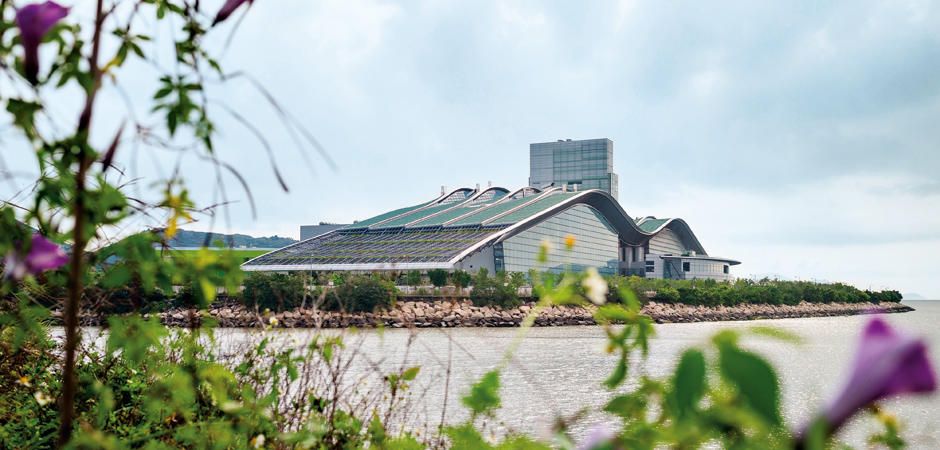 Design, Construction and Operation by Veolia
Located away from the city, the plant was built on a site with no sewer connection and electricity supply. Veolia presented a particularly innovative architectural concept(1) and used the most advanced technology for this 7-hectare complex. Additionally, Veolia has been contracted to operate the plant for 15 years.

Architectural Challenge
Set between the sea and mountains, the building is inspired by the local landscape and blends perfectly with its environment.
Measuring 360 meters in length, it is surrounded by landscaped areas that cover a large portion of the site. Four 70-meter-high chimneys are invisible as they are hidden inside the administrative tower.

Technical Feats
Incinerating the sludge reduces its volume by 90% and T-Park has the capacity to generate up to 14 MW of electricity during the treatment process. Electricity generated that exceeds T-Park's energy needs is fed into the public grid.
No waste water is discharged into the sea as all the dirty water is treated and recycled through the plant. Fully energy autonomous, it is also water self-sufficient. The site's reverse osmosis seawater desalination unit produces 600 cubic meters of water a day, which is enough to cover the ecological complex's needs.

"T-Park is proof that a city's technical functions do not need to be hidden from view; they can be ecological and sustainable and allow for new ways of addressing urban architecture." Antoine Frérot, Président-directeur général de Veolia
 

Day to day
Each day, some 110 trucks transport 1,200 metric tons of sludge to be incinerated at the new facility. The sludge comes from the 11 sewage treatment plants in the territory that treat the wastewater for a population of 7.3 million(2).

"Green" and Educational Specifications
The Hong Kong government included in its specification documents the creation of an environmental education center and a visitor circuit. This ecological complex also includes a wetland habitat for birds and a garden where the emphasis is on local biodiversity.

Open to the Public
The plant is also the only one in the world to include a visitor discovery gallery, a café, spa pools, 100-seat conference room and even a rooftop observation deck ‒ all with a panoramic view over the sea and the city of Shenzhen from behind an immense picture window.