The Veolia Foundation's Student Solidarity Awards were presented on June 21 to three associations: Cordilleras for its project "In the Shadow of the Glaciers", Impulso for the Impulso Ecuador agro-engineering program and Hum'am for the Djendoub'art project. These projects will benefit from financial and technical support thanks to skills sponsorship involving Veolia employees. This 13th edition took place in Aubervilliers at Veolia's headquarters.
The Veolia Foundation Student Solidarity Awards encourage higher education students to take the initiative and get involved in general interest projects. They reward innovative approaches in one of the Foundation's three areas of action: solidarity, social and employment support and environmental protection and biodiversity. An award of €10,000 is divided among the winning associations based on the needs of their projects. They benefit from the technical support and skills of their sponsors.
Opening the award ceremony, Caroline Geoffrois, Young Talents Sourcing Manager at Veolia, highlighted two features of this year's competition: "2021 has been marked by an increase in the number of engineering schools taking part in the competition and by very strong interest on social networks in voting for the public prize. For the two winners selected by the jury, two criteria were particularly important in guiding their decisions: the long term sustainability of the projects and the possibility of establishing solid partnerships."
A few figures for the selection process: 129 applications were submitted, including 20 from Africa: 12% of applications came from university students, 52% from engineering schools and 32% from business schools. The 11 finalists, supported by their Veolia sponsors, presented their projects both in person and by videoconference. 3 winners emerged victorious, including one that was chosen by more than 7,000 public votes on social networks (LinkedIn, Instagram and Facebook) compared with 4,000 votes last year.
129 applications were submitted
more than 7,000 public votes
"At Veolia, the one thing that is non-negotiable is the collective".
Estelle Brachlianoff, Veolia's Chief Operating Officer, presented the Jury Grand Prix and explained:
We need ambassadors, we need students for meaningful collective ecological transformation projects. At Veolia, we do a job that attracts young people, but it is all the more demanding because we have to be a role model. We have to live up to our ambitions, and the younger generations are asking questions that we have to answer. At Veolia, one thing that is non-negotiable is the collective. And we believe in human progress, because we already have half the solutions for the ecological transformation. This is what makes us optimistic and enthusiastic! So what are we waiting for to push ahead?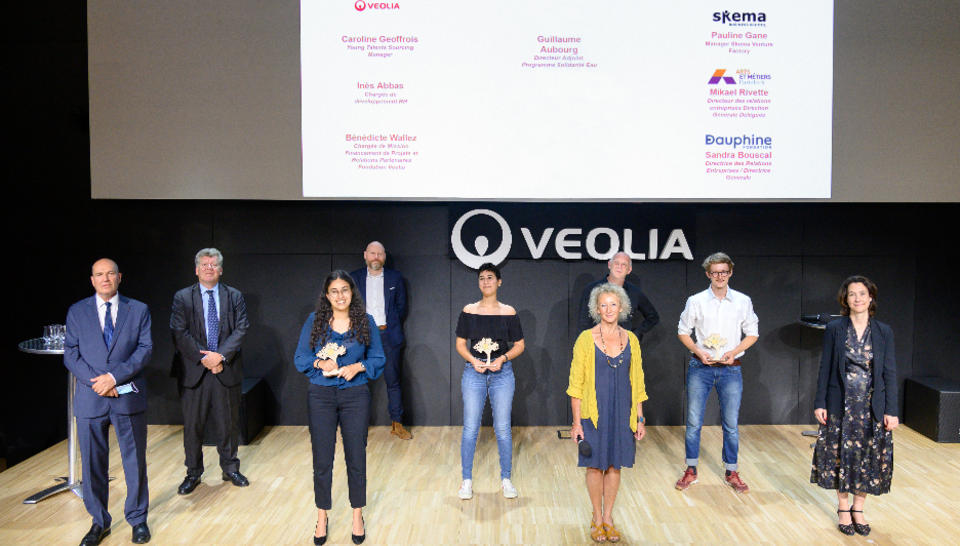 The winners of the 2021 Student Solidarity Award, with school representatives and Veolia teams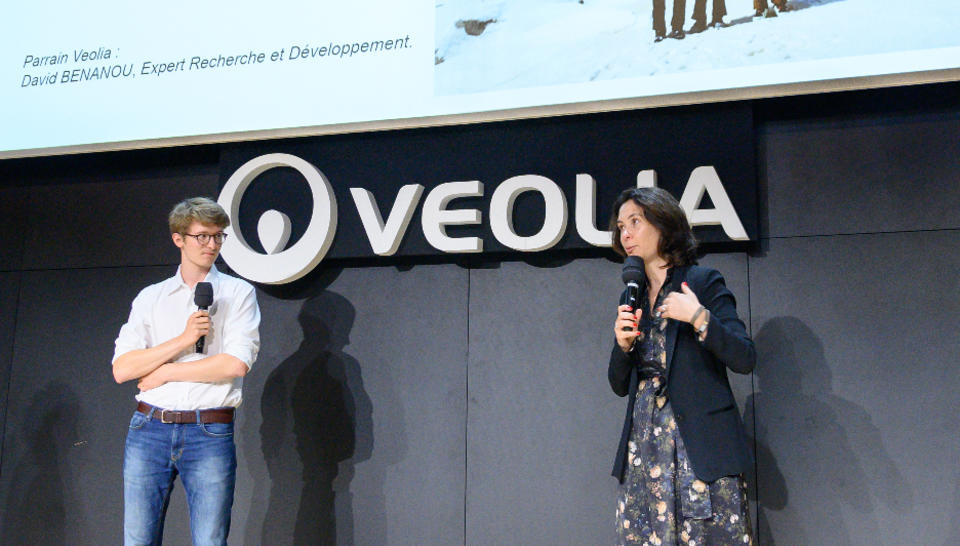 The Jury Grand Prix: Estelle Brachlianoff congratulates the project leader À l'Ombre des Glaciers Alpins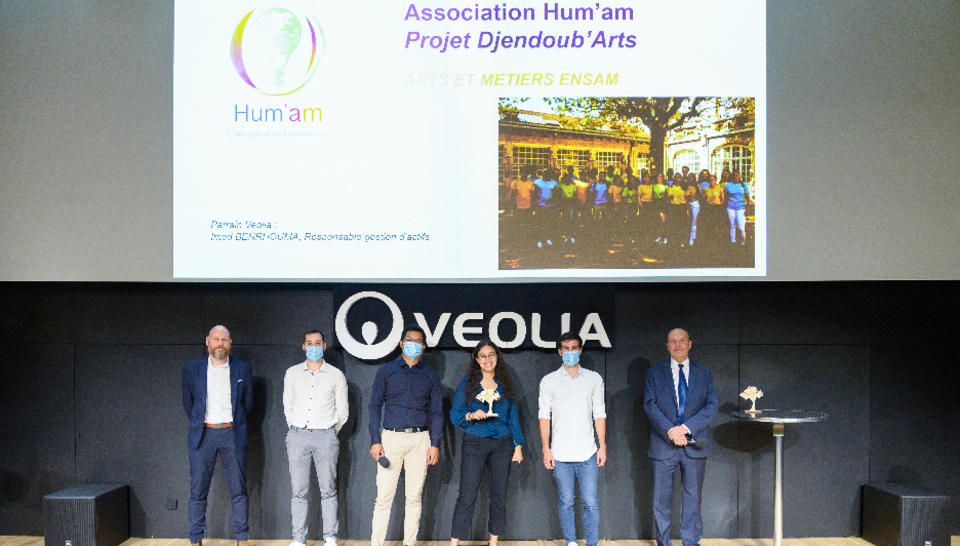 The Jury Prize awarded by Thierry Vandevelde, Managing Director of the Veolia Foundation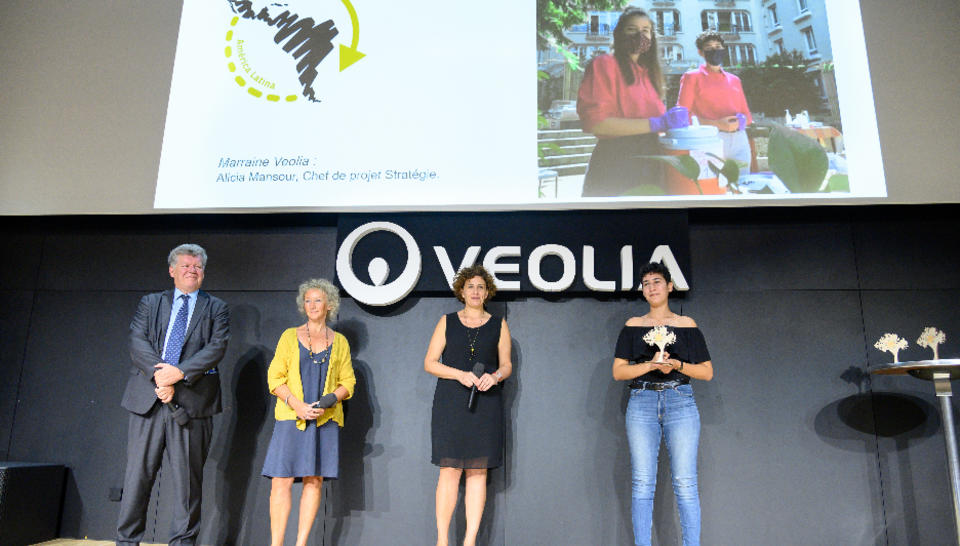 The Audience Award, awarded by Jean-Marie Lambert, HR Director Veolia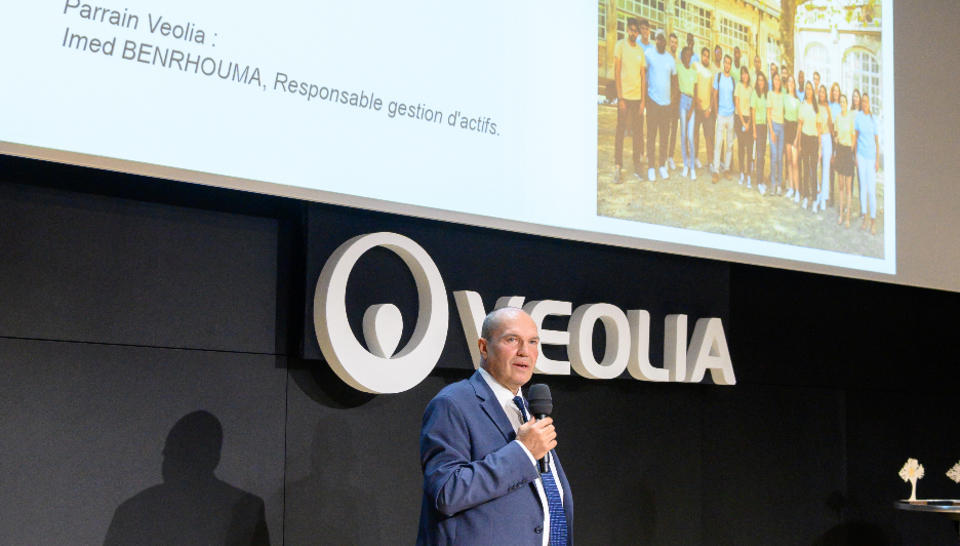 Thierry Vandevelde explains the support of the Youth Foundation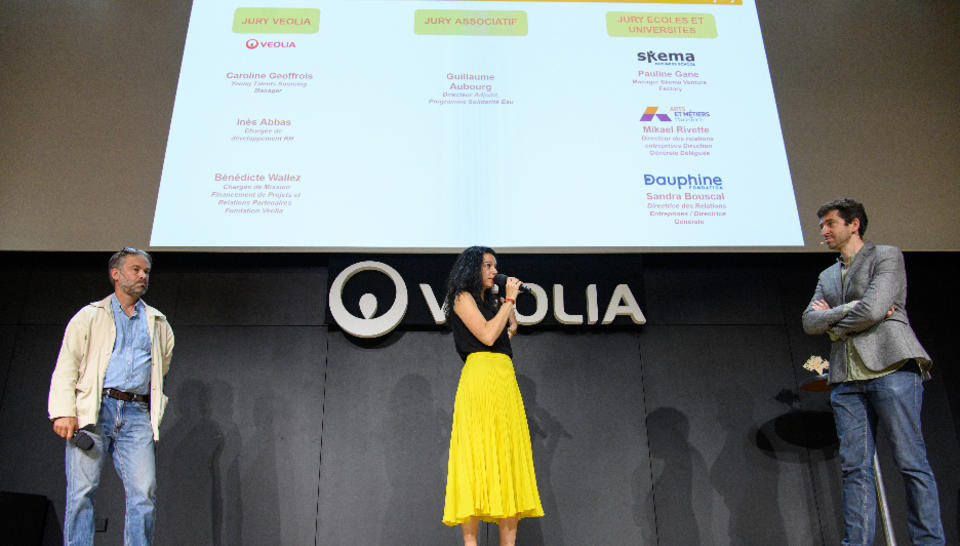 Caroline Geoffrois details the composition of the jury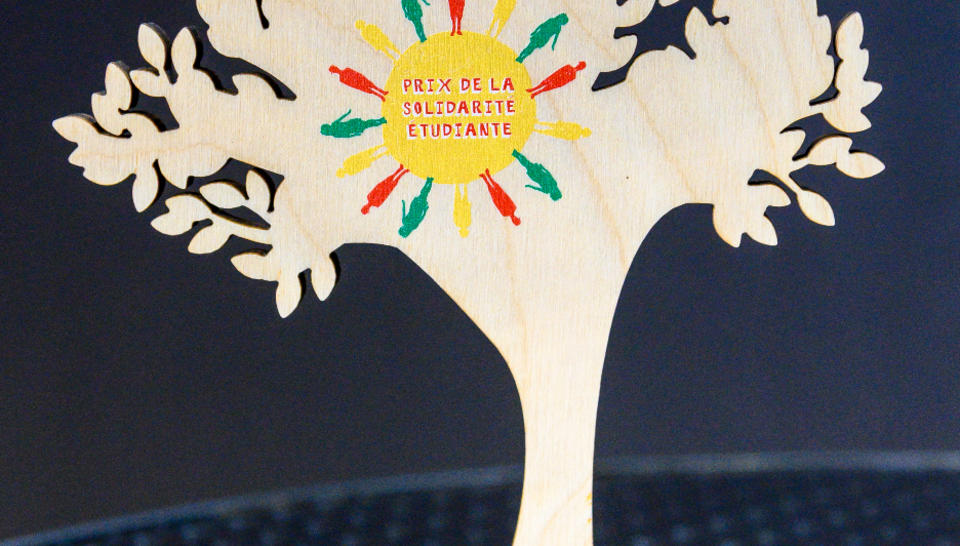 The 2021 Student Solidarity Prize trophy
The Cordilleras association for the project À l'Ombre des Glaciers Alpins in Grenoble, Zurich and Innsbruck
Ecole d'ingénieur AgroParisTech.
Environmental protection and biodiversity.
From April to August 2021, the students in the Cordilleras association at AgroParisTech will cross the Alps from France to Austria, alternating work with glaciology researchers, meetings with local stakeholders and mountain expeditions. Their goal is to study the melting of high-altitude glaciers along the Alpine arc, a victim of climate change, and to raise awareness of the impacts of melting on ecosystems and people. The project hopes to gain a better understanding and devise effective solutions that will have a positive impact on the future. 
Sponsor: David Benanou, Research and Development Expert, Veolia.
The association Hum'am for the Jendoub'Arts project, in the village of Jouaouda, Tunisia
Arts et Métiers ParisTech (Centre ENSAM de Paris)
Humanitarian emergencies / Development aid.
Alongside a Tunisian association and school, the Jendoub'Arts project is developing a cheese cooperative based on a goat farm. It aims to empower rural women in Jouaouda - a village in the northwest of the country with a high illiteracy and school dropout rate among women and young girls. The goal is to develop the local economic fabric and social ties. It is an exemplary project in terms of support and sustainability.
Sponsor: Imed BENRHOUMA Asset Management Manager, Veolia.
The association Impulso for the project "Agro-engineering program Impulso Ecuador", in Otavalo
Ecole d'ingénieur AgroParisTech
Humanitarian emergencies / Development aid.
This program aims to combine women's entrepreneurship and the inclusion of indigenous Kichwa populations in Ecuador, in order to reduce precarity through support for agro-ecological transition. 
Impluso is a microfinance project that combines solidarity, impact and sharing on the ground to help women entrepreneurs. This project is long-term.
Sponsor: Alicia MANSOUR, Strategy Project Manager, Veolia.
The finalists for the Public Prize
 
• The Labalo Abidjan (Côte d'Ivoire) project from the association Women for The Earth at AgroParisTech - Environmental protection and biodiversity.
The Labalo project (labalo means "to feed" in the Ivorian dialect), will support more than 3,000 women farmers in Abidjan to move into organic farming for more profitable yields.
 
•  Sanitary facilities construction project in Antsirabe (Madagascar) from the association Mada at CentraleSupélec - Humanitarian emergencies / Development aid.
The construction of a sanitary block with 4 showers will give more than 120 street children access to better hygiene and so reduce health risks.
 
•  Tim & Bastien Solidarity Food Truck project, for student cities in the east of France: Nancy, Metz, Strasbourg, led by Ecole 42 - Environmental protection and biodiversity.
The solidarity food truck offers meals made from local fruit and vegetables that makes them accessible to all students to help them eat well at low prices.
 
•  "Espace Education Environnement" project (Senegal) from the association Arades at the Université Gaston Berger in Saint-Louis - Environmental protection and biodiversity.
This project offers a platform for short courses and workshops on the environment and the circular economy.
 
•  EnsiPachamama project in Mananjary (Madagascar), from the association Ensipachamama at ENSIP Université de Poitiers - Humanitarian emergencies / Development aid.
For the inhabitants of Mananjary, Madagascar, this project helps them to collect rainwater and make it drinkable, and also provides for installing solar panels, targeted training and a canteen in the training centre for soil-based occupations.

•  "Mission 2021" project in Alakamisy-Ambohimaha (Madagascar), from the student association Idées Madagascar at ESME Sudria - Humanitarian emergencies / Development aid.
This project plans the construction of a drinking water network for 400 Madagascans and the completion of the construction of a school for 150 students in the village of Alakamisy Ambohimaha in Madagascar.
• "Intégration" project in France, from the association Fleur de Bitume Dauphine at Université Paris-Dauphine - social and employment support.
The essence of the project lies in helping refugee students to integrate in France through the DELF, a diploma that evaluates the level of French needed to be admitted to university or to find a job. It offers students cultural and sports activities to improve their social life.
 
•  "Tri-Haut pour l'Everest!" project in Pangboche (Nepal) at Grenoble INP - ENSE3 - Environmental protection and biodiversity.
Led by 3 engineering students from Grenoble with a passion for mountains and in collaboration with local stakeholders, this ecological and solidarity project aims to provide a global waste management system in the Everest region.
The 2021 jury:
The Student Solidarity Award jury brings together representatives from the world of associations, human resources and schools and universities. This year, the jury was made up of:
Caroline GEOFFROIS, Young Talents Sourcing Manager - Veolia
Inès ABBAS, HR Development Officer - Veolia
Benedicte Wallez, Financing/Partner Relations Mission - Veolia Foundation
Guillaume Aubourg, Deputy Directeur – Water Solidarity Programme
Pauline GANE, Manager Skema Venture Factory 
Mickaël Rivette, Director of Corporate Relations - Ecole Arts et Métiers Paristech
Sandra BOUSCAL, Director of Corporate Relations, Dauphine Foundation
The Veolia Foundation supports general interest projects throughout the world in three areas:
Humanitarian emergencies and development aid: emergency aid during natural disasters and humanitarian crises and support for projects to develop essential services (water, energy and waste). Social and employment support: support, training and reintegration actions through economic activity. Environmental protection and biodiversity: restoring and protecting degraded ecosystems and raising public awareness. The Veolia Foundation has supported over 1,500 projects since 2004.