VivaTech, Europe's largest tech fair, took place from June 16 to 19 both in Paris and in digital mode. Veolia was present. With more than 10 flagship innovations, 10 start-ups, and 30 conferences co-hosted with partners, the Group presented its most striking technologies aimed at meeting the challenges of the ecological transformation: fighting climate change, treating pollution, optimizing resources and improving quality of life. A look back at the event with Estelle Brachlianoff, Veolia's Chief Operating Officer, who presented the Group's ambitions during a CEO Stories session.
"I can't think of a better time for the ecological transformation"
Estelle Brachlianoff reiterated that Veolia is very proud of its 180,000 employees that have been on the front line during the health crisis. And by combining its strengths with those of Suez this year, Veolia has the capacity to form a global ecological transformation champion in the field of water and wastewater services that will provide more solutions for its customers, people and the planet. Half of the solutions are already available, and the other half have yet to be invented in order to meet the challenges of global warming and new forms of pollution, such as air and water pollution.
"The past year has taught us that we shouldn't have to choose between health and the environment. We need to move more quickly to find solutions to the planet's major challenges. And to innovate more creatively, we need to combine talents from different backgrounds, career paths and genders. The climate emergency, the scarcity of resources, new forms of pollution, and the collapse of biodiversity are major crises. There is no time to lose, we have to act now."
By merging with Suez, Veolia will develop more recycling, more circular economies, greater energy efficiency and more decarbonization of the economy. Along with more data-driven digital solutions to preserve resources: for example, reducing leaks in drinking water networks by 20%, saving 15% of energy in buildings, or using waste as a local source of energy instead of coal, thus reducing our carbon footprint by 70%.
Choosing the right place for technology in the ecological transformation
The event also provided the opportunity to share some analyses and solutions to find the right place for technology in the ecological transformation, with Veolia representatives and external guests that were brought together by the online media company L'ADN.
Veolia's flagship ecological transformation solutions presented at Vivatech
- High tech, low tech, no tech: should we really have to choose sides?
Claire Falzone, Head of Innovation, emphasized that "it is through exchanges with our customers that Veolia's water, energy and waste solutions are co-constructed on a local basis... I don't think our future can be negative and offer less: to make the ecological transformation a success, we have to use technology appropriately. There is no contradiction between high-tech, low-tech and no-tech futures. Rather, we should aim for "the right tech". Choosing the right place for technology means first knowing that a solution has advantages and disadvantages for the various stakeholders, and then it is a question of making a nuanced decision about the right level of technology.
Didier Bove, Veolia's Group Chief Information Officer, emphasized that the Group is looking for solutions with the right balance of digital and human: "AI and robotics are made available to employees with the best possible data and expertise and a reduced environmental footprint."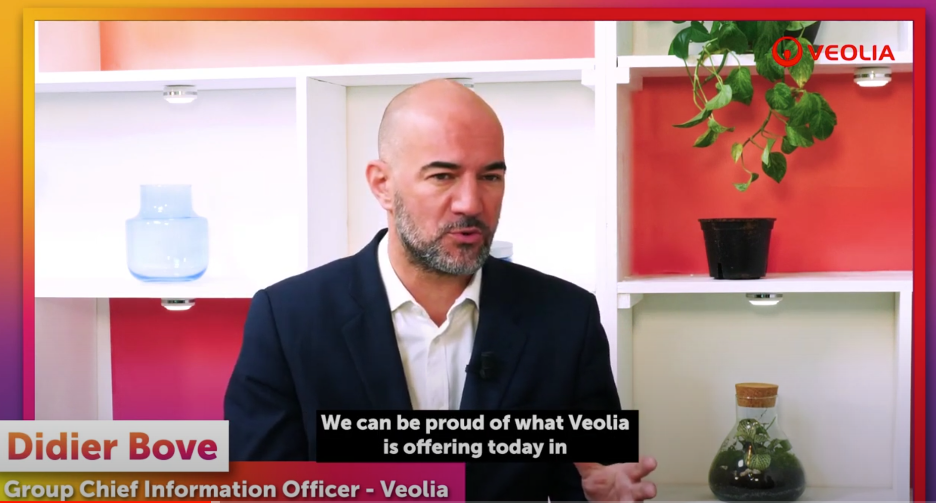 - Welcome to the DATA galaxy, or how to combine digital solutions and expertise to optimize water, energy and waste systems for the benefit of citizens.
With Chloé Dupont, Veolia's Head of Digital Transformation, and Guillaume Laurent, Head of Data & Innovation, Veolia Eau Ile-de-France
Chloé Dupont: " Data is key to saving resources and reducing the environmental footprint in the ecological transformation. We are improving the efficiency of our environmental solutions and inventing new services thanks to machine learning and the millions of IoT sensors used by our Hubgrade.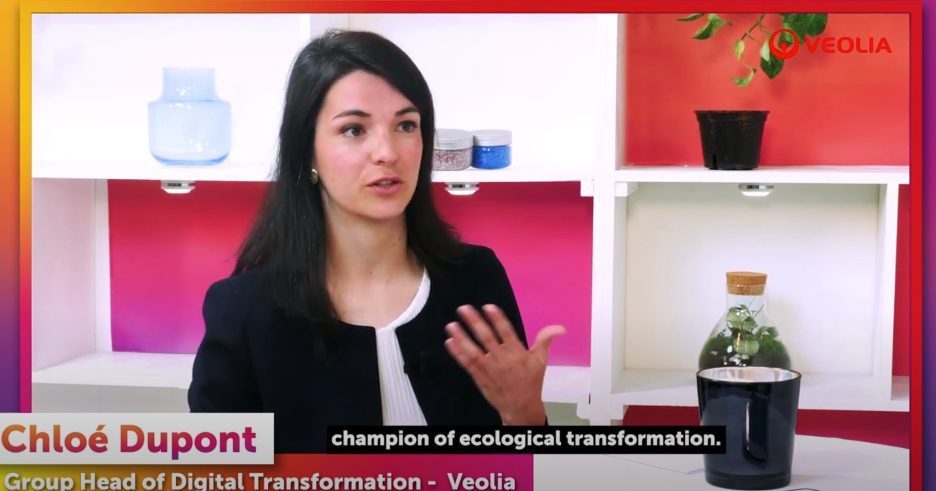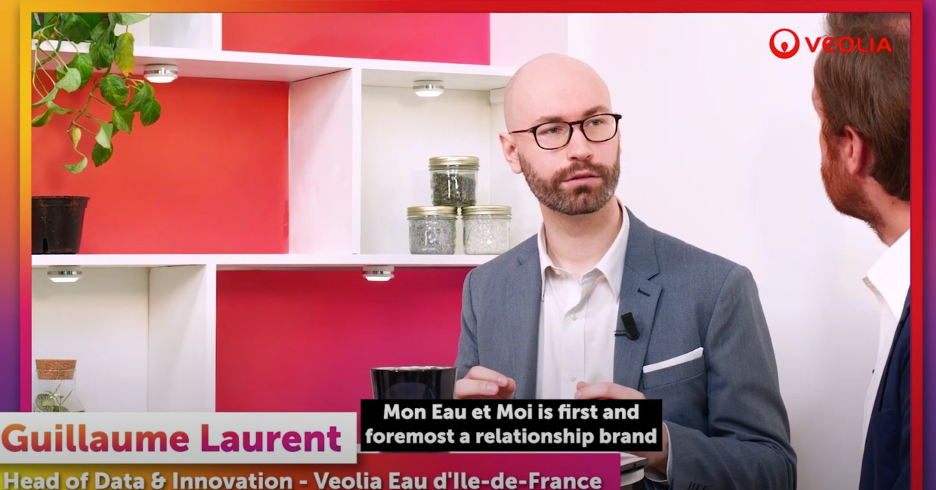 - Adapting to climate change, or how can we adapt and prosper on the planet?
With Pierre Ribaute, CEO of Veolia's water business in France, and Christian Clot, explorer and researcher.
Pierre Ribaute: "To adapt to resource scarcity and climate change, we need to combine three solutions: more intensive use and reuse of resources; self-generation of decarbonized energy (such as biogas) to consume less; and carbon capture from the non-compressible fossil energy stack. And when faced with extreme events, we use weather models to increase urban resilience and control flooding."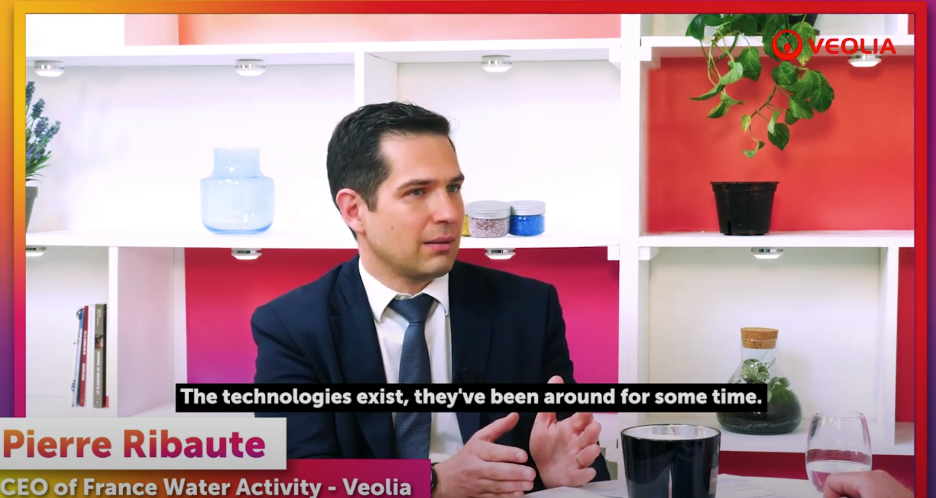 - If water could talk - real-time monitoring of wastewater, or how Veolia's smart systems are helping to prevent future pollution and disease.
With Philippe Sébérac, Veolia's Scientific and Technical Director, and Isabelle Delannoy, environmentalist.
Philippe Sébérac: "With Veolia's "Viigie-Covid" solutions, the complete sequencing of the virus in wastewater allows us to identify and quantify all the variants in a given territory, in order to identify the trends used by the health authorities. Systematic analysis of wastewater will drive public health in Europe."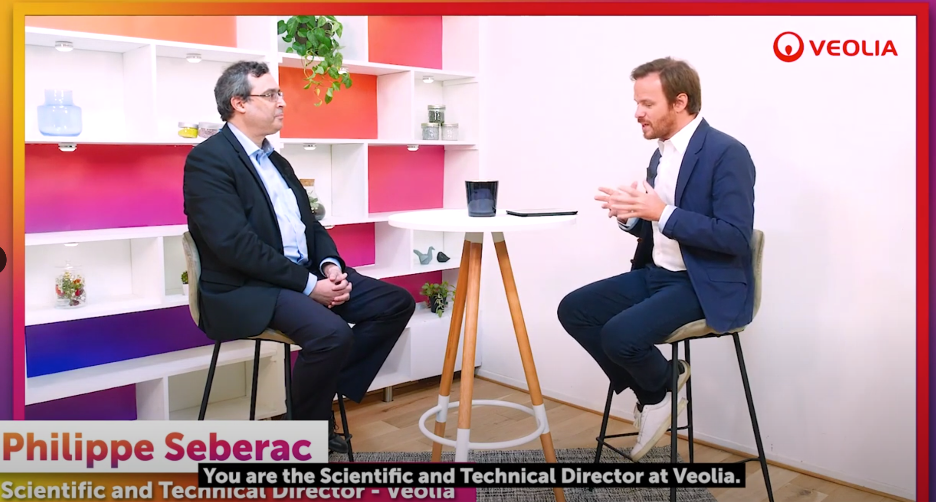 - Nothing is lost, everything is transformed, or how to make the most of plastic loops.
With Anne Le Guennec, CEO of Veolia's France Waste Recycling & Recovery Solutions, and Eva Rudin, COO Digital Identity and Security, Thales.
Anne Le Guennec: " Because materials are running out, they have to be reused: in our sorting facilities, AI and robotics are improving the separation of waste streams. More and more packaging will be recyclable and the eco-design of products will mean more can be recycled. Our businesses are evolving and we are now becoming a raw material producer."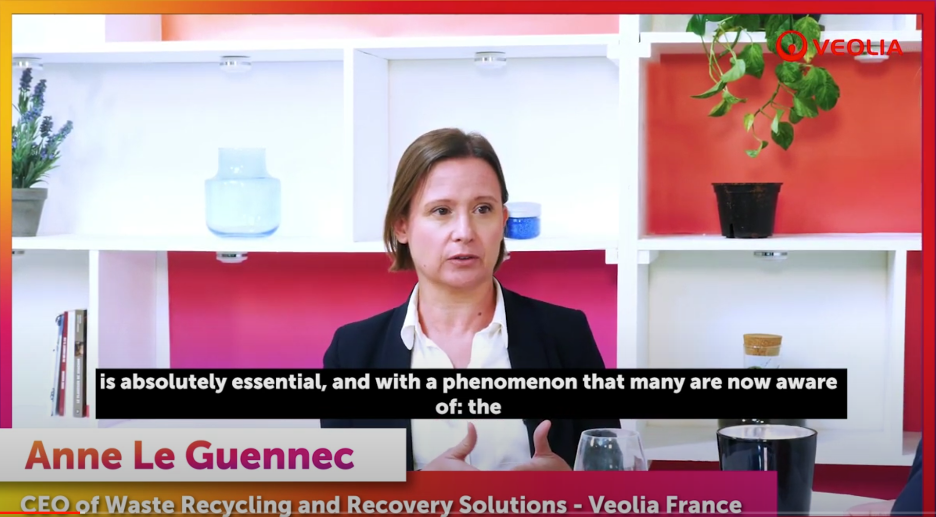 - "Second hand" energy also exists! Or how to produce energy from what we no longer use rather than from the resources we need to preserve. How can we better manage new sources of green energy?
With Frédéric Van Heems, CEO Veolia's North America zone, and Adrien Dore, Country Manager, Flexcity.
Frédéric Van Heems: "To produce green energy, we need to think about decarbonization, decentralization and digitalization. In local circular economy loops, we transform organic waste into green energy and compost for agriculture. And digitalization enables us to adapt decentralized energy production and consumption in real time to improve the resilience of smart grids and reduce their environmental footprint."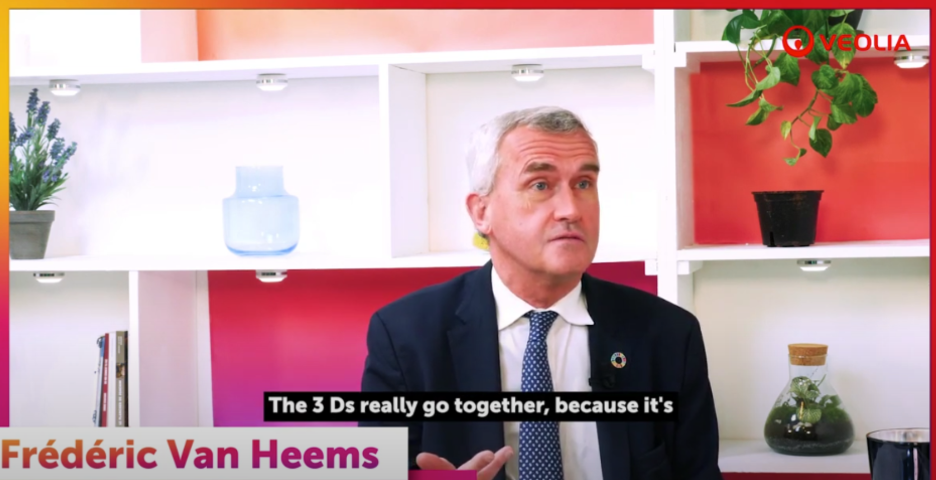 - Feed 9 billion people or save the planet: why choose? With the amount of arable land shrinking due to climate change and soil pollution, what technologies can be harnessed for resource-efficient food production?
With Jean-François Nogrette, Senior Executive Vice President of Veolia Technologies and Contracting, and Maxine Roper, Co-Founder and CEO Connecting Food.
Jean-François Nogrette: "To feed more people with fewer resources (water, soil, nutrients), we can reduce inputs in agricultural production by following the electrophysiological signs shown by plants in the field and determine their needs (water and nutrients) in real time. We can also reuse water in a closed loop for aquaculture farms. Or even provide feed for fish farms through bioconversion with animal proteins obtained from fly larvae that have fed on organic waste. And throughout the food chain, we can recycle residual phosphorus and nitrogen from organic waste into fertilizer for agriculture.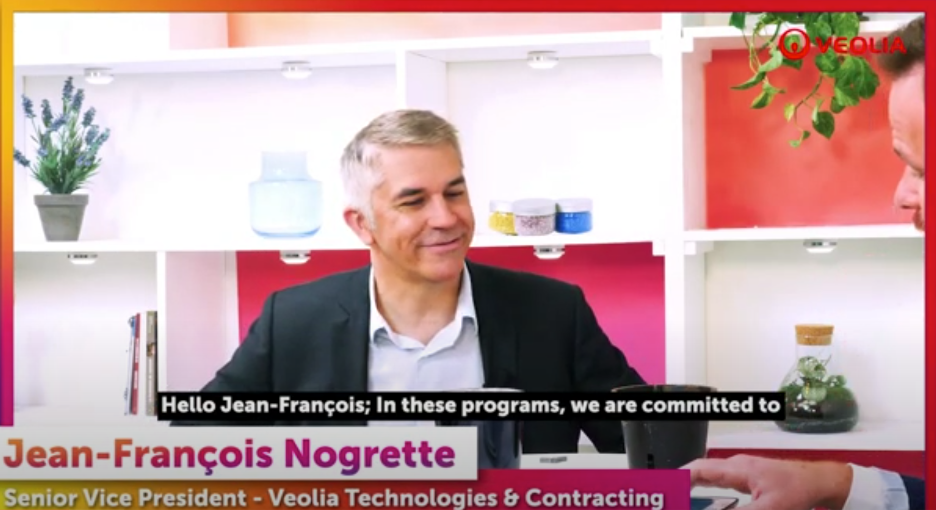 Massive involvement of Veolia's teams with around 60 speakers and their guests and partners
In order of appearance:
Johann Clere | Director Carbon Capture Utilization & Storage, Veolia 
Didier Bove | Group Chief Information Officer, Veolia 
Claire Falzone | Head of business innovation, Veolia 
Agbodjinou Semane Koffi | Founder, L'africaine d'architecture
Chloé Dupont | Head of digital transformation, Veolia 
Guillaume Laurent | Head of Data & Innovation Veolia Water Ile-de-France
Olivier Tridon | Head of Open Innovation for Business, Veolia 
Denis Le Maout | Director of contracts, Veolia Africa Middle East zone  
Eric Genet | Director of Territoire Marne - Oise, Veolia Water, France
Patrick Maiore | President of GeoCassini 
Christian Clot | Explorer and researcher 
Pierre Ribaute | CEO Director of Veolia's water business in France
Aude Giard | Chief Digital Officer, Veolia Water Technologies  
Marie-Christine Huau | Director of the large water cycle market, Veolia Water France 
Bruno Mougin | Hydrologist, BRGM 
Christophe Galvez | Innovation Strategy & Marketing Development Manager, SOMEI 
Bruno Hamamlian | International & Strategic Marketing Director, BIRDZ 
Tobias Pierrepoint | Commercial director, SoEthic  
Guillaume Laurent | Information systems manager, Veolia Water Ile-de-France 
Jean-Philippe Naquet | Principal Architect, Google Cloud 
Hélène Odoux | Communication, VEDIF
Isabelle Delannoy | Environmentalist
Philippe Seberac | Scientific and technical director, Veolia 
Pascal Dalla Torre | Group Chief Technology Officer, Veolia 
Alexandre Fernandez Toro | Responsible for the security of information systems, Veolia Water, France
Marie Gaveriaux | Product Owner, Information Systems and Technology, Veolia 
Hassen Riahi | Big Data consultant, AWSX  
Estelle Brachlianoff | Chief Operating Officer, Veolia
Anne Le Guennec | CEO of Veolia's France Waste Recycling & Recovery Solutions, Veolia 
Eva Rudin | COO Digital Identity and Security, Thales  
Adrien Dore | Country Manager, 
Flexcity Frédéric Van Heems | CEO North America, Veolia 
Marc-Antoine Belthé | VPFR General Manager, Veolia 
Christelle Toureille | SIM Business Line, Thales 
Lauriane Carayon | Head of Customer Experience, Klaxoon 
Julien Gouëllo | Creativity Manager, Abylon  
Stéphane Béguin | Technical and performance director, Graphitech 
Claire Billon-Galland | Brand manager, Veolia 
Dominique Richit | Managing Director Veolia Nuclear Solutions
Florian Sicourmat | Digital Lab Manager, Veolia Water, France
Franck Calzada | Founder and President, Intuitive Robots  
Jean-Denis Curt | Head of the Circular Economy Pole, Renault 
Pascal Muller | Director of the North operational pole, SARP Industries, Veolia 
Gabrielle Halpern | Writer and philosopher
Jean-François Nogrette | Senior Vice President, Veolia Technologies Contracting 
Maxine Roper | Co-founder and Managing Director, Connecting Food  
Thomas Arnaudo | Co-founder, 900.care 
Valérie Brouchoud | Director of Partnerships, Ulule 
Kareen Maya | CEO, Kippit 
Romain Prudent | Communication Director France, Veolia 
Sandrine Oberti | Program Director, Research and Innovation, Veolia
Maxime de Varine-Bohan | VC Investor, Founders Future  
Catherine Lasserre | HR Development and Social Innovation Director, Veolia Water, France 
Sandrine Berkopec | Group HRIS, Director & HR Digital transformation 
Fabrice Nico |Head of IS&T Steering Pole, Veolia
Jean-Christophe Bodin | Data Governance Officer IS&T, Veolia
Caroline Ales | Open Playground Coordinator 
Caroline Geoffrois | Young Talents Sourcing Manager, Veolia