Smart cities use digital technology to improve citizens' day-to-day lives, solve problems more efficiently and benefit from the economic development opportunities that this technology brings. To help local government authorities pull off this challenge, Veolia provides them with a comprehensive range of digital solutions: Urban X.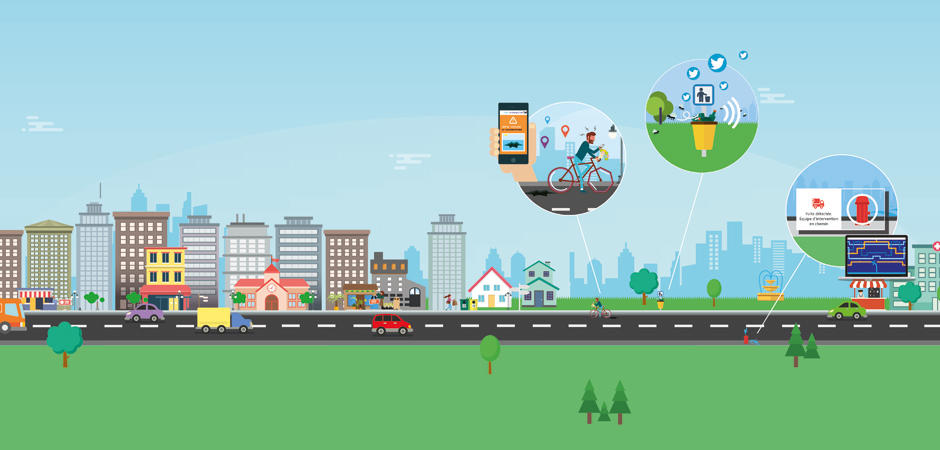 Urban Pulse
They can find out about events, services and leisure activities. Residents can get involved by sharing information about private parking spaces, ride sharing, thrift stores, sorted waste collection, taking waste directly to waste centers, reporting leaks, and so on. Urban Pulse puts city dwellers at the heart of a new urban experience. They play an active role in their own comfort, and help the city operate efficiently and protect their environment.
Urban Board
Urban Board is a smart city dashboard for elected officials and city managers.
It brings together technical information and social network flows with one goal: to put the performance of urban services into perspective and link them to residents' impressions in four areas ‒ mobility, security, cleanliness and the environment. The data for Urban Board is supplied by partners and urban service operators.  
Urban Namics
Urban Namics is the generic name for solutions that leverage the digital revolution to modernize urban services.
Aimed at service managers, it has two parts: Waternamics for water and wastewater services, and Heatnamics for district heating networks. Designed jointly with IBM, Urban Namics collates, contextualizes and cross-references data from operational information systems and the growing number of sensors produced by innovative companies (such as for leak detection and location).
Urban Namics allows for in-depth data analysis that can improve responsiveness to events detected in real time, enhance service performance, manage crises more efficiently and act as a medium for exchanging increasingly precise information about services with the local government authority or citizens.
Veolia is a facilitator of the urban Internet of Things (IoT) and one of the leaders in smart metering, with more than 4.5 million smart meters/sensors installed worldwide. The Urban X range currently has three products that illustrate Veolia's ability to improve the performance of cities by making them more inclusive and contributing to their citizens' improved quality of life.