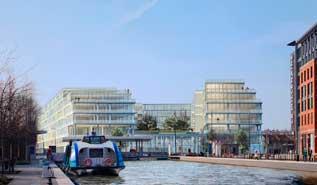 This new head office at the gates of Paris, with a surface area of 45,000 m², will reflect Veolia's ambition to
"Resource the world"
. This new head office completes the group's transformation into a single, more integrated and more effective, company, regrouping its three activities of
water, waste solutions and energy.
 
The modern building with its avant-garde design and green roof – a pilot project under the Biodivercity label - will meet the highest requirements in terms of energy and environmental certification.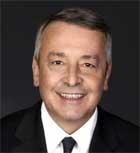 Antoine Frérot
Chairman and Chief Executive Officer of Veolia
 As highlighted by Antoine Frérot "This project is the outcome of the creativity, expertise and commitment of many partners". 
The site will accomodate 2,200 members of personnel, but will represent the 187,000 individuals employed by Veolia around the world.
Reflecting the town of tomorrow
By constructing its head office at Aubervilliers, Veolia, a regional contributor, is helping with the transformation of a district facing rapid change, particularly via partnerships with local associations promoting integration and close cooperation with the Conseil Général (Departmental Council) of Seine-Saint-Denis. This 1st stone for the future head office of Veolia launches a new form of cooperation between all regional contributors.
In 2013 Veolia celebrated its 160th anniversary and obtained the construction permit; the head office should be delivered mid-2016.