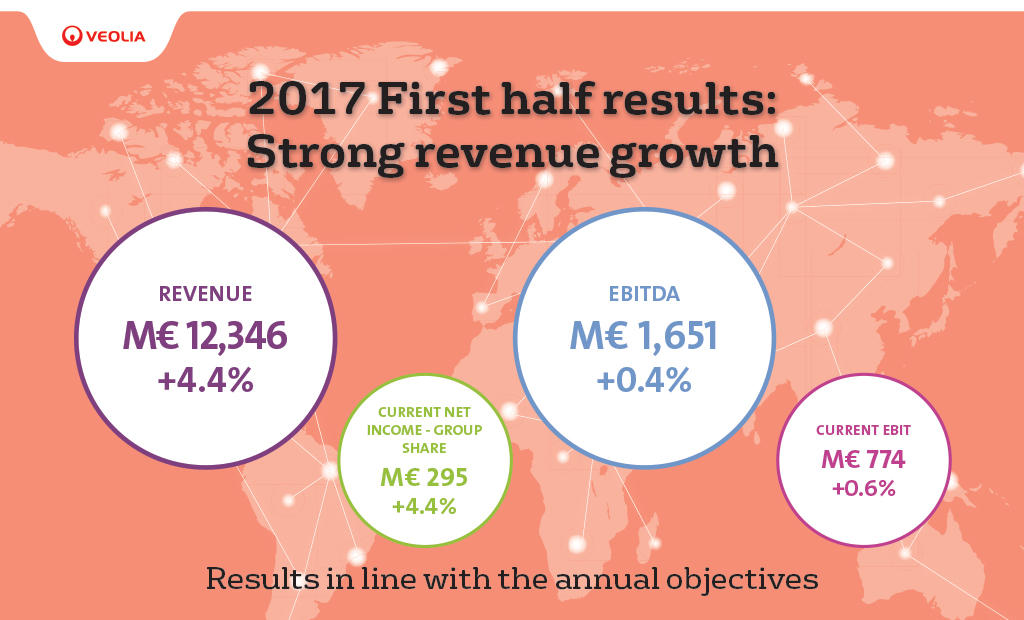 > Revenue was €12,346 million, up 4.4%
compared to the first half of 2016. The pace of growth remained strong throughout the period (up 4.5% in the first quarter and up 4.4% in the second quarter).
Revenue was up in all the geographical areas where the Group operates:
In France, revenue increased by 1.4% on a like-for-like basis
Europe excluding France posted strong growth of 5.9%. The increase was particularly strong in Central and Eastern Europe (up 10.4%), Germany (up 4.8%) and the United Kingdom (up 4.5%)
The rest of the world posted strong growth of 11.3%. The increase in revenue was 16.7% in North America, 18.9% in Asia and 23.7% in Latin America
 
​> EBITDA amounted to €1,651 million, up 0.4%. It benefited from cost savings on the one hand and sustained growth in revenue on the other
> Current EBIT rose by 0.6% to €773.8 million
> Current net income – Group share is €295 million, down 8.6% but up 4.4% at constant exchange rates and excluding net financial gains
> Net financial debt fell by €117 million to € 8,561 million.
With these good results, the Group fully confirms its objectives for the year 2017:
A resumption in revenue growth
Stable EBITDA or moderate EBITDA growth
Increased efforts to cut costs by more than € 250 million
 
Antoine Frérot, Veolia Environnement's Chairman & CEO commented: "The performance achieved during the first half of 2017 was once again satisfactory. Revenue growth was consistent during the period, with an increase of 4.4% in the second quarter, following 4.5% growth achieved in the first quarter. The decision taken at the end of last year to increase our commercial expenses is already bearing fruit and confirms the attractiveness of our offers. Despite the aforementioned costs, and an unfavourable comparison base, the Group's results posted a slight increase this semester, and thus we remain confident in the achievement of our annual objectives. In addition, efficiency efforts generated €126M in cost savings during the first half, in line with our annual objective. The two levers of our strategy, growth and operational efficiency, are clearly functioning well, and as a result we confirm our objectives."
> Read the press release: 2017 First half results - Paris, July 31, 2017