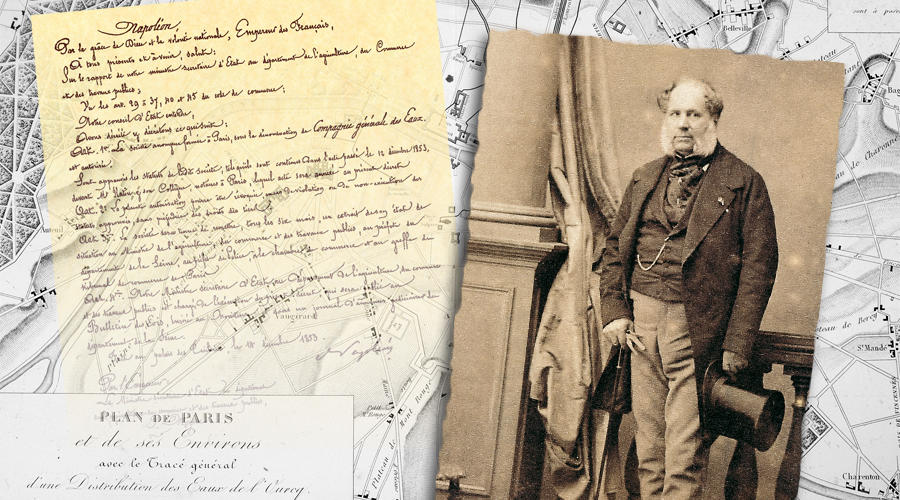 1853
Compagnie Générale des Eaux founded
Compagnie Générale des Eaux (CGE) is established on December 14, 1853 by imperial decree. Its founders have two goals: to irrigate the countryside and supply water to French towns and cities. CGE signs its first contract, to supply water to Lyon. Seven years later, the company is awarded a 50-year concession to supply water to Paris.
1867
Grandjouan and Soulier founded
François Grandjouan wins a contract with the city of Nantes to "clear the streets of sewage and filth and convert it into manure."
A few years later, in 1870, the Soulier brothers set up a business in Rouen and Chauny to collect, buy and sell old rags and paper. Both businesses later merge with CGE, in 1980 and 1990 respectively.
1875
Compagnie Générale Française de Tramways founded
The new approach to city planning introduced by Baron Haussmann revolutionizes urban transportation, triggering a boom in a new mode of transportation, the horse-drawn tram, to offset a shortage of omnibuses.
Compagnie Générale Française de Tramways (CGFT) operates its first tramways in Le Havre, Nancy, Marseille and Bordeaux. The company merge with CGE in 1980.
1880
Venice: First commercial success outside France
CGE signs an agreement to acquire water production and distribution rights in Venice. Constantinople (Istanbul) follows suit in 1882 and Porto in 1883. CGE extends its capabilities to wastewater treatment in 1884, in Reims.