Competitions, workshops, practical exercises, presentations by experts (police, neuroscientists, firefighters, doctors, etc.), videos, newsletters, sharing experiences among employees and more. In all the countries where the Group is operates employees have been learning about the importance of complying with safety instructions in the workplace as well as in their personal lives.
Introduction to first aid, training in well-balanced nutrition, a cooking competition, sessions in the gym, etc. – every day was punctuated with events organized by Veolia, and even in some countries by the employees themselves.
Fully mobilized at the highest level of the company: during a visit to the Veolia Campus in Jouy-le Moutier, Antoine Frérot, the Group CEO, reminded work-study students about the importance of day to day compliance with safety instructions.
 
Focus on the Week's health and safety initiatives
► Africa-Middle East
In Morocco, Qatar and the Sultanate of Oman, employees participated in on-site information and awareness meetings – for example in the BP Khazzan gas field raw water treatment plant in Muscat in Oman
 
►Asia
Forums, workshops and hands-on exercises proliferated in China: in the Tagal industrial water treatment plant, the Changzhou and Shanghai Pudong municipal water services, and the Jining Danjia and Hangzhou waste management units.
In Hong Kong, teams from the sludge treatment plant participated in a health and safety competition in the form of a quiz based on the "Always Safe rules", and in a risk hunt.
In Singapore, the teams organized a nutrition awareness workshop to learn about how to read food labels better. A "Veolia Master Chef" competition rewarded the best "balanced" burger.
In Japan, Hamamatsu and Tokyo employees learned about the management standards for high-risk activities, health and well-being, and emergency first aid.
►North America
In the United States and Canada, employees showed their commitment by wearing the official International Health and Safety Week T-shirt: in Boston, at the New Bedford Municipal Wastewater Treatment Plant, on AK Steel's industrial site in Rockport, and the Montreal university hospital (CHUM).
 
► Latine America
Colombia, Peru, Chile, Ecuador, Argentina, Brazil and Mexico organized risk hunting and health and well-being workshops with gym and skin disorder awareness sessions. In particular, Veolia in Mexico produced a video about the 10 management standards for high-risk activities.
 
► Central and Eastern Europe
In Hungary, the teams organized on-site health and safety competitions, as well as a first aid awareness campaign. With professional firefighters employees learned how to use of fire extinguishers and hydrants.
Energy teams in Slovakia were made aware of the risks associated with alcohol consumption.
In the Czech Republic, vests and reflective stickers were distributed to employees. The teams learned first aid, practiced evacuation drills, and trained in extinguishing a fire in collaboration with the fire department.
In Serbia, Veolia mobilized employees on the theme "My office is my site" with quizzes on health and safety.
Every Veolia employee in Lithuania received a T-shirt and key ring to mark Health and Safety Week. Teams were trained in first aid.
Demonstrations on the use of equipment, such as smoke hoods, were organized in Bulgaria.
Employees were able to train in "anti-stress and anti-exhaustion" practices and "electricity" and "hazardous energy" risk management.
 
► Southern Europe 
In Portugal, 350 employees donned the Health Safety Week T-shirt to demonstrate their commitment.
In Spain, the teams organized site visits – for example to Arcelor- and chemical accident simulation exercises.
 
► Northern Europe
Veolia teams in Sweden punctuated the week with discussions on the "Always Safe rules", T-shirts were handed out and first aid awareness sessions held.
In Belgium, a specially equipped Fire Truck trained employees on the different types of fire, the use of fire extinguishers and the evacuation of a smoke-filled building.
In the United Kingdom and Ireland, a toolkit was designed to feed exchanges about traffic risks and security. Visits were organized on various sites such as Greystones.
 
► France
An employee, who was the victim of a workplace accident in 2010, testified about the importance of complying with safety rules and remaining vigilant during collections in front of the Recycling and Waste Recovery activity employees in the north Normandy region.
The Oissel high performance sorting center team took part in a talk following the screening of a film entitled "Fatal attitude" featuring the most frequent domestic accidents.The teams were invited to attend a conference on "Security and neuroscience, how to avoid an expert's mistake" with Isabelle Simonetto, a specialist in the neuroscience and neurobiology of behavior.
In the Energy activity, employees in Gennevilliers attended a workshop on "driving and addiction" led by the National Gendarmerie.
SARP organized 4-wheel simulator and road-risk simulator workshops as well as a workshop to raise awareness about the risks of tank falls in north Normandy. In Nanterre, on the theme of well-being at work, the teams were able to participate in a laughter therapy workshop.
The use of phones when driving, rolling a car, handling fire extinguisher, clear your office week with several skips available, punctuated accident prevention exercises at SARPI in Limay.
In Aubervilliers, Veolia Industries Global Solutions organized games focusing on the consequences of not complying with safety rules.
At the Group's headquarters in Aubervilliers, workshops were offered to employees throughout the week: alcohol risk awareness training, 2-wheel and 4-wheel simulators, introduction to first aid, virtual household risk hunt, and car rolling.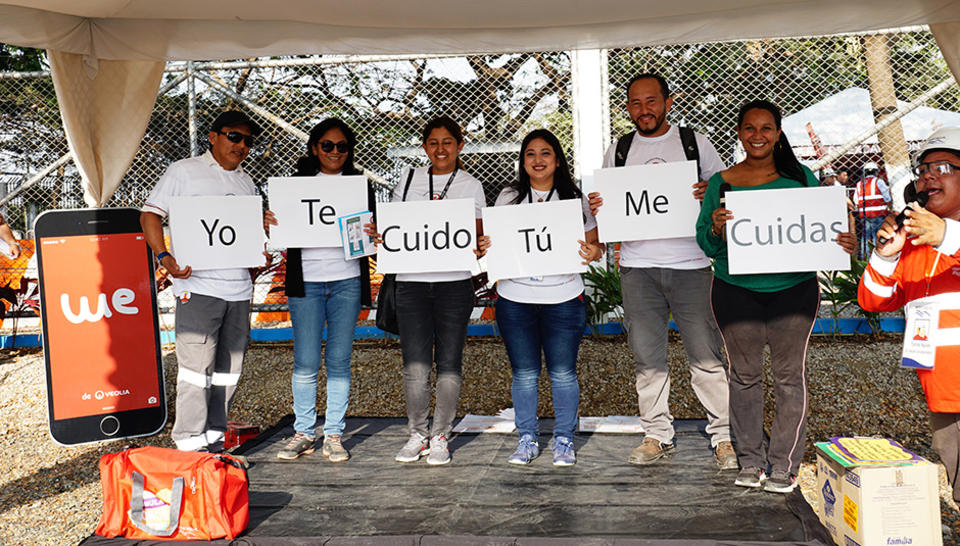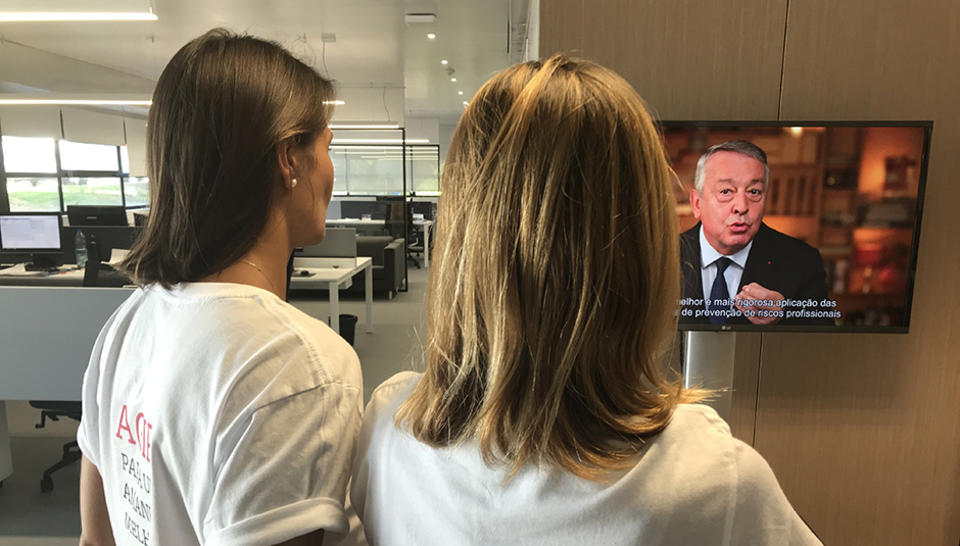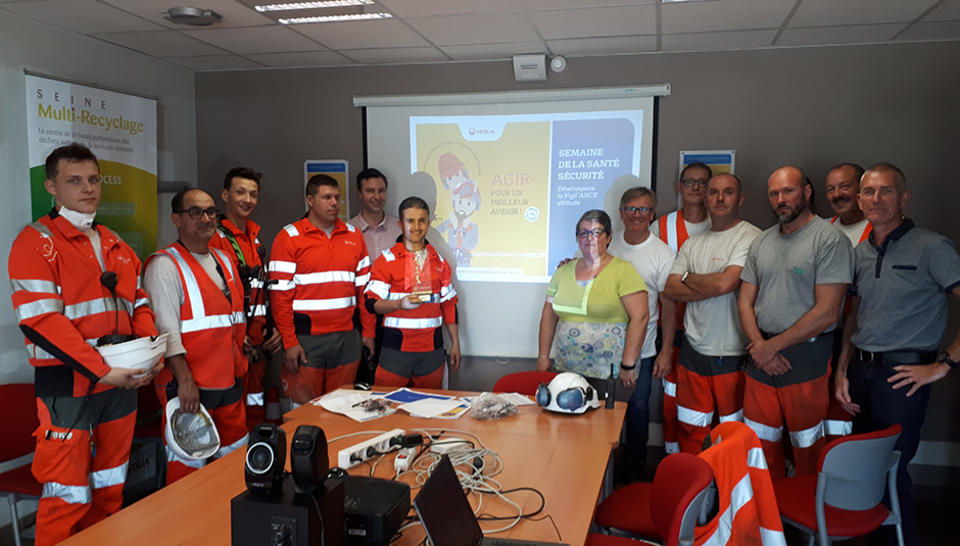 France - Recyclage et Valorisation des déchets