November 18 marked the start of the European Disability Employment Week. On this occasion in Paris, in the presence of Sophie Cluzel the Secretary of State for Disabilities, Jean-Marie Lambert, Veolia Senior Executive Vice President Human Resources signed the "manifesto for the inclusion of people with disabilities in the workplace" - a charter of operational commitments that has already been ratified by some sixty companies.
In France, nearly 500,000 people with disabilities are unemployed. This situation requires all actors - associations, the government, public employment actors, local authorities and companies – to set an unprecedented approach in motion. The manifesto [see box] requires inclusive companies to commit to various fundamental areas with regard to employing people with disabilities: 
more effectively accommodate pupils and students with disabilities (internships, work-study),

fight stereotypes and discrimination,

develop digital accessibility for jobs,

support the sheltered employment sector and companies employing people with disabilities 

and integrate disability-related social criteria into calls for tenders.
As a socially responsible employer, Veolia defends and prioritizes equal opportunities and non-discrimination for everyone. Responding to recruitment and job retention challenges for people with disabilities is therefore fully in line with our diversity policy. Signing this manifesto today reinforces our commitment.
Including people with disabilities in Veolia
In Spain, all employees and their families have access to a confidential external listening unit, which advises them on obtaining recognition of some of their difficulties as a disability and on how to benefit from support and allowances, in accordance with Spanish disability legislation.
In Germany, in Rostock and in partnership with the German Red Cross, two employees in the electronic waste activity monitor the work of 10 people with disabilities by adapting it in the best possible way to their skills and know-how.
In France in Marseille, Veolia offers a work-study computer engineering training program for people with disabilities, within the framework of the HUGo network (handi U go!) which includes 13 large companies. In the first year a Computer Engineering Master II student with a disability is on a 24-month work-study course at Veolia, in partnership with a major engineering school.
Veolia has also signed a partnership with Grenoble Ecole de Management to welcome and train people with Asperger syndrome. The Group welcomed a student in the Data field who had followed 700 hours of lessons, with specific coaching to guarantee insertion under best conditions and continued employment.
In Paris, Veolia supports disability management training for 12 students from Université Paris-Dauphine by partnering with Companieros, a training organization specializing in social issues faced by businesses. These students participated in a webinar led by the Disability section of Veolia's water business in France.
In Ukraine, in accordance with Ukrainian legislation, Veolia employs 4% of people with disabilities who benefit from additional days' leave and part-time jobs or special working conditions.
In Sweden, Veolia is working with the Swedish organization Samhall, which promotes the employability of people with functional disabilities resulting in a reduction in their working capacity. These employees work for Veolia on the basis of their individual possibilities.
The 10 commitments in the manifesto for the inclusion of people with disabilities in the workplace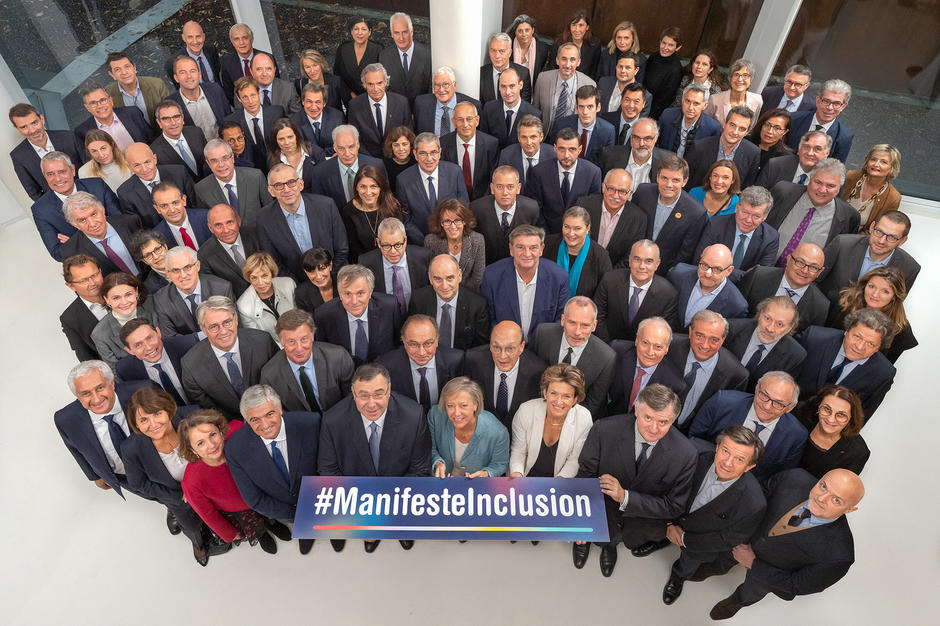 1. Welcome high school students with disabilities in our companies to enable them to clarify their career objectives and choose their studies appropriately.
2. Provide pupils and students with disabilities with access to the business world, in particular through apprenticeships, work-study and internships.
3. Ensure people with disabilities with the appropriate profile and skills are interviewed for all available positions.
4. Regularly organize internal awareness-raising actions to combat stereotypes and discrimination against people with disabilities.
5. Encourage new employees to actively engage with disability issues in the workplace during induction training.
6. Optimize access to business tools, especially digital tools, for people with disabilities.
7. Incorporate "digital accessibility" into the design of master plans for information systems, and develop digital solutions.
8. Develop economic commitments with the sheltered employment sector and companies employing people with disabilities with the aim of entrusting them with orders and subcontracting opportunities that meet our quality requirements.
9. Develop ties with the sheltered employment sector and companies employing people with disabilities in order to integrate people with disabilities into all companies.
10. Include social criteria relating to disability and inclusiveness in calls for tender and in the pre-requisites for tendering, in order to engage all our partners in this inclusive approach.