In response to the increasing number of converging crises across the world, Veolia is coming up with solutions to guarantee tomorrow's water services.
Securing access to water and wastewater services, optimizing how they are managed and ensuring continuity of service are the watchwords guiding Veolia's strategy in this area. Against the background of converging worldwide crises that call into question two centuries of progress in water provision, Veolia is today designing the water services of tomorrow.
Population growth, rampant urban growth, increasing volumes of water withdrawals by farming and industry: demand for water is growing rapidly around the world, at a time when a third of the largest groundwater resources are already over-exploited.  And there are also new threats to face: terrorist attacks, with waterways, treatment plants and networks becoming potential targets, and extreme weather events, which are occurring with increasing frequency.
Against this background, Veolia works to ensure secure access to water and deliver the quality and quantity demanded. The Group also works hard to optimize the management of infrastructure and networks using digital tools, and to ensure continuity of service to its industrial and municipal customers thanks to a range of new modular offers.
Complementary solutions to drive progress
To guarantee large-scale water production, Veolia has been involved in the desalination sector for over 50 years. The Group is now consolidating its presence in the Middle East, where the market is growing at an annual rate of 8%, thanks to its SIDEM subsidiary, currently busy with three major projects in the United Arab Emirates, Bahrain and Saudi Arabia. 
"In some parts of the world, the Persian Gulf countries for example, where there are few if any freshwater resources, desalination is not simply an add-on to water from surface and underground sources: it's the only source of drinking water," comments Vincent Caillaud, CEO of Veolia Water Technologies (VWT).
"Given this reality, the reliability of our service is mandatory, strictly non-negotiable."
VWT has developed a new product that increases the safety of the high-pressure reverse osmosis system needed for desalination: The Barrel, an encapsulation system for the technology. Its smaller footprint with enhanced operator safety and real-time digital monitoring of treatment process parameters are just some of the advantages already attracting clients seeking technologies that are reliable, robust and cost-effective.
The Barrel is also one of a package of technologies for reusing treated wastewater, a field where Veolia has developed expertise in France and internationally. The types of clients won over by water reuse are as varied as the uses they make of it: Chinese oil refiner Sinopec uses it at its Yanshan petrochemical plant to increase the volume of process water available without drawing additional freshwater; in the Namibian capital Windhoek, it is used to provide residents with drinking water; and in the Milan region, in Italy, it is used for irrigating crops.
Veolia is helping a subsidiary of Sinopec to treat its wastewater more efficiently and reduce water use.
Produce drinking water for the city directly from domestic wastewater.
According to Geneviève Leboucher, Senior Vice-President, Access to Water and Sanitation at Veolia,
"looking ahead, reuse is an obvious choice for protecting water resources as a complement to optimizing use and combating waste."
Cybersecurity culture to boost digital acceleration
Digital technologies are key to providing management of water resources on behalf of municipalities and industry. "Our Hubgrade digital offer leverages our expertise, our data pool and artificial intelligence," Geneviève Leboucher explains. "It uses algorithms to process data and continually optimizes the performances of our clients' installations. This enables it to calibrate energy and consumable costs as a function of variations in the quality of water entering treatment plants, at the same time as guaranteeing the quality of water exiting a plant. Our aim is to increase stability of plants, making them cheaper to run and more robust over the longer term."
Adopted in 2019 by the Italian public service company Metropolitana Milanese SpA for its Nosedo wastewater treatment plant, the largest plant in Europe where final effluent is used in agriculture, the Hubgrade Performance service delivered a 20% saving in energy costs for biological treatments in just six months. It also resulted in a 60 to 80% reduction in the use of precipitation chemicals such as ferric chloride. "With Hubgrade Performance it becomes possible to automatically adjust the equipment's operational parameters to reflect the input flow rate, which optimizes their operation while cutting the plant's environmental footprint and running costs," Vincent Caillaud says. The forecasted annual savings at Nosedo are considerable, around €500,000 a year.
Jean-Louis Fiamenghi, Director of Security at Veolia points out that "digital innovations involve not just physical protection for installations, they also need virtual protection against cyberattack." Security, which was previously outsourced, was taken back in-house in 2012 under the close control of Veolia's Chairman and CEO Antoine Frérot, working with a well-resourced team of experts. The team keeps a constant watch on the fight against all manner of risks to the Group's employees, clients and facilities and has demonstrated just how effective it is since the outbreak of the COVID-19 pandemic. The rapid rise in working from home and the resultant requirement to manage certain operations remotely have seen the emergence of new risks to services.
"Given the ever-growing inventiveness of pirates, and the major risk that an interruption to service entails, it is vital that we identify every component that is critical to our cybersecurity," says Jean-Louis Fiamenghi. "All our facilities are fitted with systems that trigger an alarm if there is a significant variation in a critical parameter. This means that any unwelcome intrusion into a computer system, like the event at the drinking water plant in Tampa, Florida, will be identified and halted immediately."
And because cyberattacks are becoming more targeted as well as more effective, many countries now require operators that provide essential services, such as water and wastewater, to protect their facilities. Geneviève Leboucher points out, "as well as meeting all regulatory requirements, we also follow all the recommendations of the EU's Network and Information System Security Directive on cybersecurity." And because municipal facilities are very often owned by local authorities, Veolia is tasked with establishing cybersecurity procedures needed to keep equipment and facilities secure.
"Analysis and reactivity are critical to dealing with cyber risks,"
says Jean-Louis Fiamenghi, whose teams regularly foil attempted break-ins.
Its wealth of acquired experience means that Veolia, alongside France's leading computer security specialists, will be an administrator and the first non-IT company involved in the future Campus Cyber, opening in La Défense, the Paris business district, in the fall of 2021. This is an initiative led by the French National Cybersecurity Agency (ANSSI).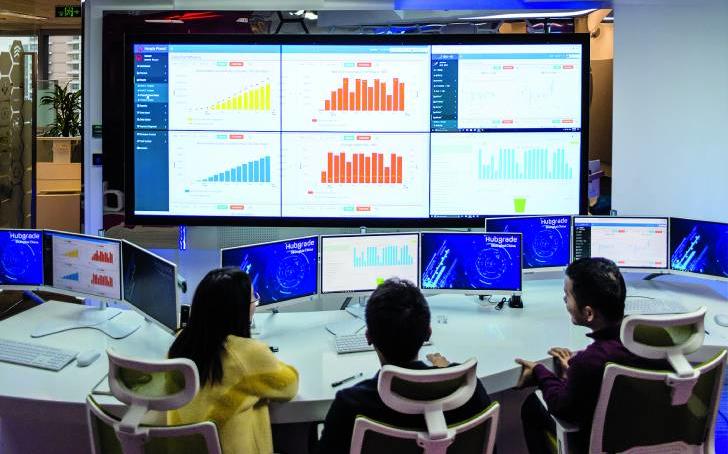 Veolia commits to cybersecurity
The Cyber Campus will open in fall 2021 on a site at La Défense, where it will host businesses, state services and researchers so they can work together on tackling cybersecurity issues. Veolia will be one of the administrators from outside the IT world.
Find out more
But the COVID-19 pandemic has also led to the emergence of a new risk factor that operators did not have to take into account previously: emotional risks. "In an increasingly uncertain world, we need to be aware of behavioral risks and the human element in crises," explains Jean-Louis Fiamenghi, who is increasingly training employees to "keep thinking rationally even when it seems everything is becoming irrational."
Ensuring continuity of service thanks to digital solutions
If digital technologies make it possible to manage water resources more sustainably, they also help ensure it is available 24 hours a day, 7 days a week. Vital for drinking water and municipal sanitation, service continuity is also often essential to industry so that manufacturing processes can continue without interruption.
Vincent Caillaud explains, "Hubgrade means we can check that our technologies are working as they should, adjust process parameters, and even advise or troubleshoot for our clients, all of it remotely. That's the magic of digital: our experts are networked and can intervene wherever the client is located."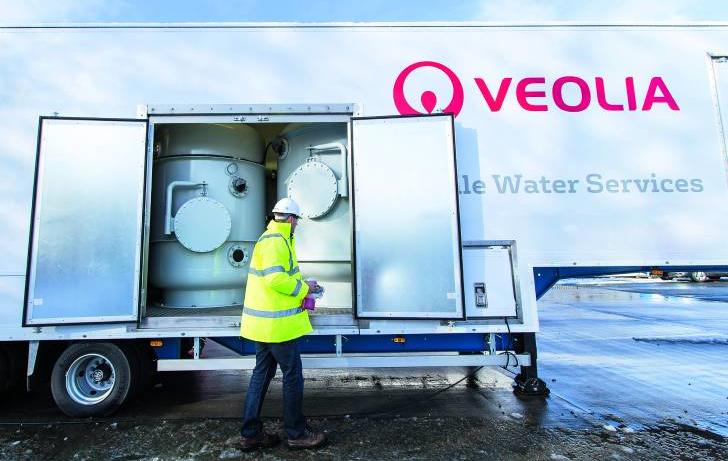 Augmented reality opens the door to new forms of remote operations, helping with commissioning, maintenance, troubleshooting and emergency support. As Geneviève Leboucher says, "when the COVID-19 pandemic started, we trained 100 people in Asia to use connected glasses."
"This was a boost for regional central support services which were able to continue providing their expertise as close to the ground as possible."
The health crisis has heightened clients' interest in these solutions.
Water management using augmented reality
The COVID-19 pandemic and resulting lockdowns have put a new focus on the digital solutions that make working from home easier. Augmented reality has proved a valuable tool in this context, enabling Veolia to guarantee operational resilience and reduce operating costs.
Find out more
Forecast the unpredictable, anticipate the urgent
In today's uncertain times, Veolia's teams try to head off the unexpected by offering to work with their municipal and industrial clients to secure water and sanitation services, and with manufacturing companies for their value chain.

In these situations, Veolia is the specifier when it comes to business continuity plans for clients whose core activities do not involve water treatment. For industrial clients, the goal is to avoid any impacts on production in the event of a fault in water treatment systems. "We analyze different scenarios and the criticality of operations so that we can secure their supplies of power and reagent," explains Geneviève Leboucher. "We then suggest and install sensors, and recommend items of critical equipment where redundant capacity is needed."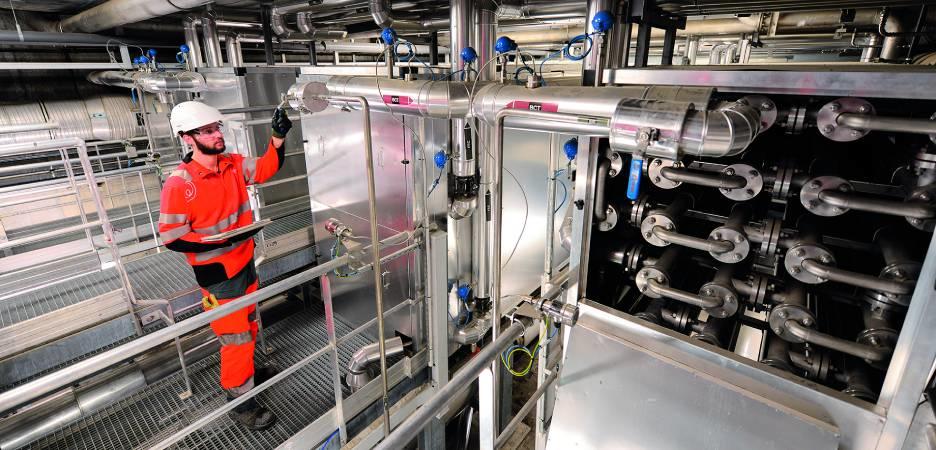 VWT has developed a Mobile Water Services (MWS) fleet of modular mobile water treatment units to safely deal with emergency situations or temporary needs for stable quality water. 
VWT is going all-out to maximize its ability to respond rapidly to keep its industrial clients' activities in operation, even in an emergency. It has just invested €20 million in a regeneration plant for resins used in the production of the high-purity water needed by manufacturing industries, which will also serve as a base for additional mobile water treatment units. Strategically located in Heinsberg, in Germany, at the heart of a heavily industrialized region, the plant will be fully operational mid-2021 and will boost VWT's ability to respond quickly in support of Veolia's clients.
And although 95% of clients are industrial companies, MWS has also been invaluable to municipalities facing a crisis.. "On October 7, 2020, five municipalities in the Roya valley, in the Alpes-Maritimes department of southeast France, were devastated by torrential rains causing considerable damage. Assets belonging to the local public water service for drinking water production and distribution were destroyed, as was a portion of the wastewater network," recalls Geneviève Leboucher. "MWS trailers were quickly deployed to provide locals with a supply of drinking water."
Jean-Louis Fiamenghi adds, "being efficient at crisis management is above all a matter of training." At sites where it works, Veolia is constantly identifying crisis scenarios and preparing action plans. Regular drills are held to train teams to respond to emergencies as fast as possible. "These drills are sometimes run in collaboration with state services, like in 2016 when teams from Veolia Eau Île-de-France joined an exercise simulating a 100-year flood on the River Seine, designed to test the abilities of strategic operators to respond."
Veolia teams are tightly knit and socially engaged, as shown by the Veoliaforce network of 500-odd volunteers, a team of emergency logisticians coordinated by the Veolia Foundation who provide their professional expertise in challenging situations worldwide. For Geneviève Leboucher, "it's an opportunity for Veolia employees to develop know-how they can then apply in other situations."
Extending the scope of our involvement to anticipate uncertainties
Aside from emergency responses and the more incremental changes resulting from global warming, the operation of wastewater networks is changing too. The Group's advances in how it manages extreme climate events mean it has also improved its control over events that are recurrent and more frequent, limiting their impact on the environment.
Geneviève Leboucher adds, "to limit the footprint of wastewater systems on receptor environments that are already highly fragile, we are increasingly using infrastructure designed for extreme events. We've been using this form of proactive management for at least 20 years. We also encourage clients to look at the bigger picture in terms of how existing wastewater networks operate. These networks were designed a long time ago when the climate was different and there were fewer users to serve. The truth is that the largest single reason for networks to overflow is because earlier urban planning policies failed to take enough account of the effect of increased soil sealing on how these systems would function."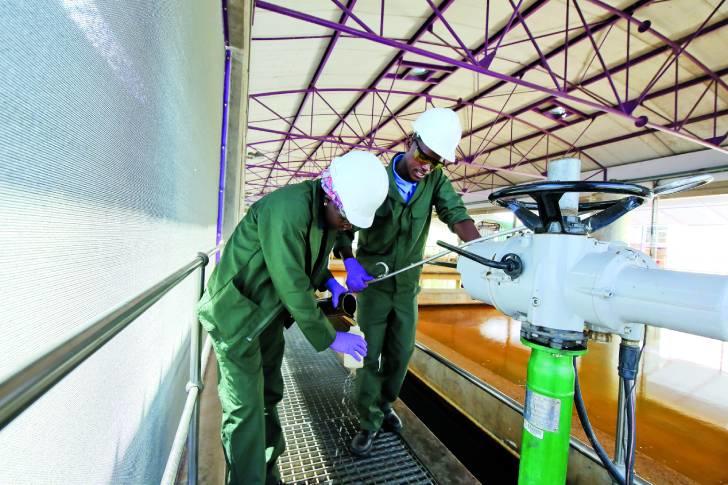 This global approach to how systems operate requires a change of mindset, abandoning the concept of separate business lines to manage networks and treatment. Veolia also encourages local authorities to stop thinking of water distribution networks and wastewater treatment plants as separate entities. In addition to its operating services, the Group also offers services for identifying and mitigating vulnerabilities in wastewater systems. These can, for example, alert and react in the event of flooding.
"The large number of issues raised by the water cycle leads us to look beyond our historical missions."
According to Geneviève Leboucher, "the large number of issues raised by the water cycle — health quality, protection of the environment and water resources — leads us to look beyond our historical missions, which focused above all on collecting and treating wastewater and piping drinking water to consumers' taps."
Improving the quality of natural environments, preventing the spread of micropollutants, identifying new water resources, tracking the health of the general population by tracing viral and bacterial loads in wastewater, reinforcing infrastructure to limit the impacts of major crises, creating cooling islands in cities, guaranteeing sufficient water pressure for fire safety, and so on: all these services require significant investments and should not be directly charged to consumers' water bills.
We have reached the limits of the water-pays-for-water model, and Veolia works tirelessly with municipalities and local authorities to design alternative economic models that reflect the full value of these new services. "A complete model for us to invent with our clients," is how Geneviève Leboucher describes it.
---
Mobile Water Services,

the supply continuity solution from Veolia Water Technologies
A compact technology with plug-and-play connections delivering water of a predetermined quality: these are the core features of the Mobile Water Services (MWS) solution that allows industrial customers to maintain process continuity under all circumstances, as demonstrated by Michelin, world leader in sustainable mobility.
The Michelin factory at Bassens, near Bordeaux in France, is one of three plants in the world that produces synthetic rubber for tires. Two on-site demineralization units provide the constant supply of demineralized steam the production process requires. "We need to run two units because demineralization also involves time spent regenerating resins in the ion exchangers, a period needed to produce demineralized water in sufficient volume," explains Victorine Chailan, an energy and fluids engineer with Michelin. "As soon as one unit starts its regeneration cycle, the other one takes over production."
In September 2020, Michelin needed to carry out maintenance on one of the units, so it ordered an MWS solution rather than cutting back its steam production. With an hourly capacity of 100 cubic meters of demineralized water, the on-site fleet of VWT trucks quickly delivered the 600 cubic meters needed at the plant every day. François Shamber, the Energy Progress coordinator at the Michelin Bassens plant, talks about his positive experience: "Thanks to MWS, we had all the steam we needed and maintenance went ahead without a hitch.  We'd absolutely use MWS again."
Sustainable water management 

is essential to delivering the UN 2030 agenda
To speed up implementation of the 17 Sustainable Development Goals (SDG) by 2030, the United Nations has issued guidance frameworks for each goal and in 2012 set up the Sustainable Development Solutions Network (SDSN), which provides practical solutions and advocates a synergy-led approach. Veolia Water Technologies (VWT) drew inspiration from the network for its projects, which specifically target SDG6 ("Ensure availability and sustainable management of water and sanitation for all") while creating synergies with other SDGs.. Here is a quick round-up of two examples.
At Cagnes-sur-Mer, on the Côte-d'Azur in southern France, VWT subsidiary OTV has put the first of a new generation of energy-positive wastewater treatment plants into operation. The plant, which has been treating wastewater from 160,000 residents since 2019, produces more energy than it uses. It does this by treating sludge at low temperatures, reducing overall energy use, recovering energy from all possible energy sources (solar, heat pumps, etc.) and producing biomethane, which injects enough gas into the network to cover the consumption of around 1,000 households. This is an outstanding example that works to "substantially increase the share of renewable energy in the global energy mix," while also delivering an "improvement in energy efficiency." (SDG7).
Another innovation is in aquaculture, at a time when overfishing is threatening the oceans as demand for fish and seafood continues to rise. Operational since January 2020, the Fredrikstad Seafoods salmon farm is Norway's first onshore salmon farm. Using RAS2020 (Recirculating Aquaculture System) technology to provide stable water temperatures for optimum fish growth and survival rates, it produces up to 1,500 metric tons of salmon each year. A solution that helps to "maintain marine biodiversity" (SDG14) as well as helping to provide access to "safe and nutritious food" (SDG2).