Sri Lanka: competitiveness at the source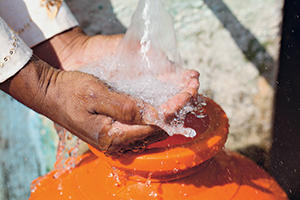 Make agricultural land more competitive by giving it better access to water – that's what Veolia is going to achieve in the
Greater Matale region
of Sri Lanka. Veolia, through its subsidiary OTV, has been named project manager to build 5 new water treatment plants, 12 service reservoirs and 5 pumping stations. The new system will provide a highquality, reliable supply to more than 350,000 people. Including clarification, settling and filtration, the treatment processes will call on Veolia's best technologies. The €156 million contract also involves design and construction of a 433 kilometer-long water transmission and distribution network. The project has been made possible by the support of several partners.  
Senegal: Dakar treats the iron in its water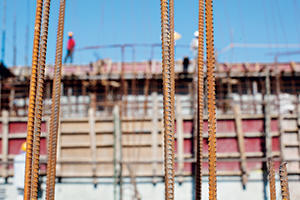 The Senegalese government is earmarking an estimated of €7.6 million (4.9 billion West African CFA francs) under a program to remove iron from water in the Dakar region. Senegal's water utility, Société Nationale des Eaux du Sénégal (SONES) is in charge of improving water quality and awarded Veolia the design-build of a
water treatment and production plant
in Dakar. The new plant will be able to treat 40,000 cubic meters a day. it will improve the quality of the water, which has very high iron content, using processes such as raw water aeration, physicochemical treatment and sand filtration, followed by disinfection with chlorine.
Irma, story of outstanding solidarity
Saint-Martin, on September 7. The day after Hurricane Irma hit, the Veolia Foundation made its expertise available to the Veolia Group's crisis unit. The desalination plant and water supply network operated by Veolia had been severely damaged or even destroyed.
The first operational support was organized, emergency equipment sent out, extra experts and technicians sought – the Foundation took everything in charge. From November, 81% of households were receiving water.
Our management of Hurricane Irma was special in many ways, firstly because of the sheer scale of the catastrophe. The hurricane was so violent that it cut off the French territory's water supply. The Foundation is certainly used to intervening in difficult situations, but in general, such situations occur in developing countries. It was also special in that we were giving support to colleagues who had been affected. On top of an emergency response to destitute populations, we had to help colleagues who had lost everything but who, despite it all, continued to work with us to get the island's water supply up and running again as fast as possible. We all felt these moments of solidarity, when Veolia came to the help of Veolia. And lastly it was special because of the volunteers' engagement. Survival rations, nights spent sleeping on the ground or in camp beds, make-do showers, and so forth. Obviously, conditions were very bad. But no one complained and everyone signed up at the end of their stay to help out again.
Thibaut Constant
Emergency Response Leader, Veolia Foundation