The annual Evolen Days event (12 and 13 October), spearheaded by the French association of companies and professionals serving the energy industry, explored the topic of "Professionals leading the energy transformation": the energy industry is changing its game in an effort to address the changes currently sweeping society while protecting our ecosystems. These transformations are just some of the opportunities that can be harnessed to ramp up decarbonization strategies, review how companies are organised and renew skills. Estelle Brachlianoff, Veolia Chief Operating Officer, spoke during the event's opening plenary session: "Companies are proactively engaging with the issue of carbon neutrality." »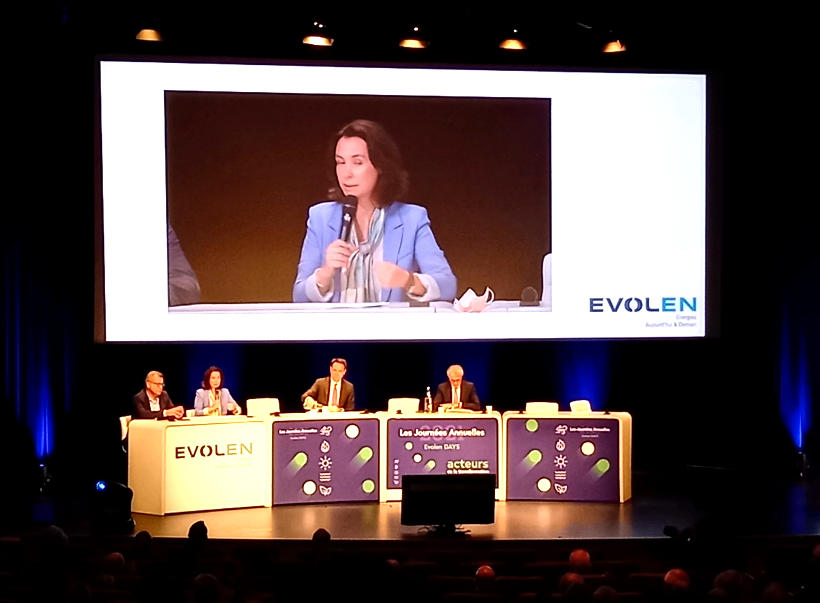 Companies' strategies and their ability to innovate are mission-critical to achieving carbon neutrality objectives.
At Veolia, we are in the business of leading the ecological transformation process: the aim is to gradually build a carbon-free world, tackle our increasingly depleted resources by leveraging the circular economy, and reduce new forms of pollution, such as air pollution, endocrine disruptors and microplastics. Finally, the idea is to create a more pleasant world to live in by bringing nature back into the city. Veolia offers an ecology of solutions: either we already have the solutions and we can then roll them out for our customers, or we need to invent them, explained Estelle Brachlianoff.
Of all the business activities at Veolia, energy represents a third of the solutions that the Group will need to implement to attain the goal of carbon neutrality by 2050. One such solution involves using alternative low-carbon fuels.
Public opinion is firmly heading in this direction, and the political will is there. Now we need to put the solutions into action. Some of those solutions have geopolitical and social repercussions, such as reining in our use of raw materials across Europe by tapping into the urban mines that we more commonly know as our waste.  This circular economy solution effectively brings the mines to our doorstep.
Accelerating the ecological transformation strategy
Energy-efficient buildings help reduce energy use by 15 to 20% in return for a fairly low investment.  Using the green gas from organic waste, like methane, significantly reduces greenhouse gas emissions. This involves recycling biowaste, which is a natural by-product.  Veolia has the potential to produce 6 TWh per year of green gas.
Veolia's other solutions include using refuse-derived fuels at industrial sites instead of coal, which may help drive down CO2 emissions by 90%. Industrial waste is already being used on site as a fuel to produce the energy required to power the processes. By combining several small facilities that produce renewable electricity, Veolia is smoothing out consumption peaks by managing energy distribution more effectively.
At Veolia, we have pioneered a broad array of "waste to energy" and "water to energy" solutions. We are using all the existing by-products as alternative energy sources.
Recycling wherever possible
Recycling electric vehicle batteries is key to recovering cobalt, nickel and lithium, since we will not have enough lithium to produce our mobile phones by 2040. This circular economy for rare metals is currently based on several industrial partnerships with such major organisations as Solvay and the Renault Group in France. In the USA, we are developing a process with General Electric for recycling wind turbine blades. Two thirds of the blades can be reused to produce cement, while one third is used to produce energy. Over the last three years, consumer awareness has been instrumental in ramping up efforts to recycle  plastics. Manufacturers are now calling on Veolia to introduce ever more recycled plastic into their packaging. Solutions are available. We need to deploy them and pick up the pace, concluded Estelle Brachlianoff.