The Ellen MacArthur Foundation is launching a new initiative at the Eat Forum Food in Stockholm, Sweden, to redefine the global agri-food system. This initiative, with which Veolia is joining forces, brings together major cities and multinationals to develop circular economy solutions to combat climate change, health and pollution problems and the loss of biodiversity associated with the present food system. For 3 years, London, New York and São Paulo will be life size demonstrators of this redesigned local food chain.  
 
The Ellen MacArthur Foundation Food Initiative: circular solutions for responsible food
Food production accounts for nearly a quarter of global greenhouse gas emissions. And poorly managed fertilization increases air, soil and water pollution. The initiative being launched by the Ellen MacArthur Foundation is pioneering: circular economy solutions will be deployed thanks to the cooperation of big cities and multinationals, in accordance with the recommendations of the report entitled "Cities and circular economy for food"*. These solutions are based on three principles:
Produce foods regeneratively, and locally where possible, to restore the quality of the environment instead of degrading it

Make the most of food products by growing and processing food in a circular loop and using by-products and organic materials to improve soil health

Produce and market products that are healthier and more sustainable.

This initiative has two goals: to reduce CO2 emissions by 4.3 billion tonnes per year (the equivalent of one billion cars!), and improve health and soils by preserving 15 million hectares of arable land per year. It will save the global economy $700 billion.
*report published at the World Economic Forum in Davos in January 2019
By joining forces, cities, their people and businesses can transform the global food system. (...) It is about tackling the climate crisis, restoring biodiversity, and improving human health by creating a new economy that reconnects people, places and their food system.
We can engage businesses, consumers and other stakeholders in London to meet the food challenges we face.
We want to guarantee quality food to all citizens of São Paulo and strengthen our sustainable development policies. The city of São Paulo is convinced that the circular economy is an alternative to the waste and pollution created by the current food system.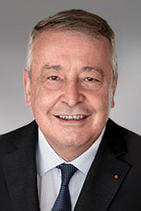 By 2040, feeding 9 billion people worldwide will be one of our biggest challenges. We can create a better food system through better use of resources. This requires moving to a circular economy, especially in cities, where 80% of food will be consumed in 2050. Transforming organic waste into compost, fertilizer or bioenergy are circular solutions that can be scaled up today.
Veolia, partnering the initiative, is already experimenting with innovative solutions
Through its traditional water, waste and energy management activities, Veolia is already developing numerous initiatives and experiments that make it possible to use resources more efficiently and improve land productivity, without resorting to chemical fertilizers:
> The Group produces fertilizers from organic waste, sewage sludge and industrial effluents that are an alternative to "all-chemical" fertilizers.
> To preserve water resources, Veolia is developing irrigation solutions around the world based on wastewater recycling.
> In parallel with these solutions relating to its traditional activities, the Group is looking at new fields of experimentation:
In France, in Lille, a pilot project focusing on bio-intensive urban micro-market gardening produces 420 different varieties of fruit and vegetables on a small parcel of land, on permaculture principles, based on soil microbiology and an ecosystem favourable to biodiversity.
With the Veolia's Fertile Cities project, the Group is designing new intensive and qualitative agricultural production systems in urban and peri-urban environments: aquaponics, combining aquaculture and hydroponics, is building circular models covering energy management, irrigation and fertility. In Australia, the Woodlawn waste storage facility, 250 km from Sydney, produces biogas, used to generate electricity and power for some 2500 homes: the excess heat from the generators is used to heat a fish farm to 28°C, producing 2.5 tonnes of barramundi per year.

Insect farming: the Group is developing innovative partnerships with start-ups in order to set up new circular economy models, combining sanitation solutions with breeding fly larvae from waste. These are recovered in the form of proteins, intended for feeding fish or poultry, or for making fertilizers for local agriculture as an alternative to chemical fertilizers: for example in a Nairobi slum in Kenya (partnership with the Toilet Board Coalition), and in France and Malaysia, where the Group is partnering two startups specializing in insect farming - Mutatec and Entofood.