Airports, leading economic players
With several thousand people transiting or working there every day, airports have to provide a wide range of services to airlines, businesses, retailers and passengers alike. From catering to cargo, car park management, passenger safety etc., airports cover several areas of expertise on a daily basis. Much more than just transit areas, they have become real economic players on a national or even international scale.
More innovation for better competitiveness
Faced with increased competition between hubs and more alliances, strong growth in passenger and cargo traffic, airports have to be proactive and innovative to remain competitive. This includes improving the customer experience, increasing the share of non-aeronautic related revenue and introducing new technologies. For example, in the UK's Luton Airport, real-time monitoring water quality and water consumption sensors are deployed to optimize customer service.
Sustainable development and resilience
Airports must also optimize their operational efficiency and adapt to increasingly stringent environmental standards. Sound management of waste means better control of budgets and falls within a sustainable development approach for the airport. Certification, including ISO 50001 for energy management, contributes to continuous improvements in performance. Through its local subsidiary Enova, Veolia supports Dubai International Airport - the world's third largest airport in terms of passengers - in its energy-saving approach. Finally, airports have to improve their resilience. For example, 25% of the world's largest airports in the United States are exposed to the risk of storms and floods (US government's recent climate change report). It is therefore crucial for them to have supply infrastructure and water treatment facilities capable of coping with this level of risk. 
Veolia offers airports energy efficiency, waste treatment and water management solutions. In addition, with its experience and innovations in the field of smart systems and monitoring, Veolia helps airports develop their industrial and commercial competitiveness.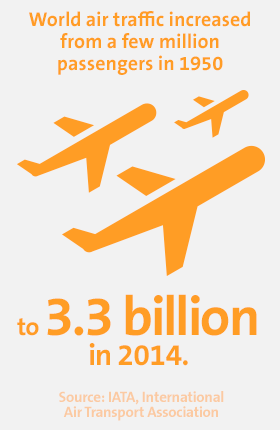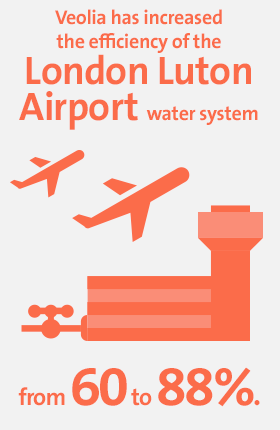 Veolia's know-how for Airports
Veolia provides a high level of service at London Luton Airport. Its in-depth knowledge of the history and infrastructure of the site is invaluable and translates into effective support in the areas of drinking water and sanitation.
Our solutions for airports