Improving protection for patients while also reducing the environmental impact of the pharmaceutical industry
The pharmaceutical industry stands at a turning point as it faces countless challenges, from the increasing emergence of new pathologies and growing volume of need to globalization and technological advances.
 
Innovating and producing for new markets
Pharmaceutical companies are racing to launch new treatments that are as accessible to as many people as possible. And, to deliver the treatments and vaccination campaigns that will save millions of lives, the industry has to manufacture sustainably. Any non-compliance in water discharges or atmospheric emissions, or a contaminated batch of products, can trigger operational losses amounting to millions of euros. 
What does the industry need? Turnkey installations for water treatment (purified water, water for injection, residual water) and energy production (biomass, cogeneration, biogas) that meet the strict standards imposed by international and national authorities.
 
Shrinking the environmental footprint of products
Consumer choices are increasingly guided by the ethical behavior and respect for the environment shown by drug manufacturers. This means that most pharmaceutical companies are committed to reducing their ecological footprints, a process that involves far-reaching reorganization of their global supply chains and distribution networks.
The need to reduce environmental impacts is a priority that must be incorporated right from the design phase, throughout manufacture and all the way to the end of product lifecycle. Among other advantages, this approach delivers a source of high quality secondary materials that can be reused.
Discover our solutions for calculating environmental footprints >
 
Ensuring operational excellence in production processes
The pharmaceutical industry has to meet stringent obligations. Total waste management services allow industry actors to control environmental risks and comply with regulations. Multi-service contracts provide integrated management of non-core activities, such as water, energy, waste and facility management.
 
Our expertise for a more efficient and sustainable pharmaceutical industry
We help industry actors retain their operating licenses by guaranteeing operational excellence. For example, since 2010 we have provided full facility management services to eleven Bristol-Myers Squibb production sites in Europe.
We boost profitability by recovering hazardous waste. For example, in Basel, Switzerland, we recovered 80,000 metric tons of solvents from a number of pharmaceutical companies, including Novartis.
We reduce the environmental footprint of products by involving consumers in circular economy programs. For example, with Marionnaud, in France, every year we recycle 60 metric tons of glass and 10 metric tons of plastic from used bottles returned by shoppers to Marionnaud boutiques.
We reduce the need to invest in non-core infrastructure, thanks to financial engineering for capital expenditure projects (leasing, AssetCo-OpCo, DBOM). For example, in the UK, we designed, built and now operate a 23 MW cogeneration power plant for AstraZeneca, preventing the emission of 39,000 metric tons of CO2.
We did it!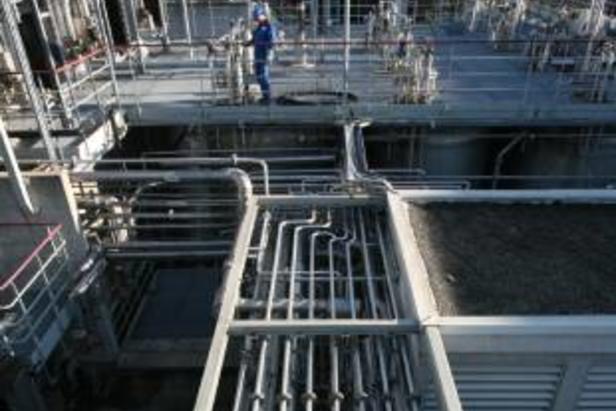 Working with a pharmaceutical industry giant
Since 2001, we have supported the operational, economic and environmental performance of one of the giants of the pharmaceutical industry at its complex in Basel.
We provide optimized supply and management of water (drinking, ultra-pure, industrial and demineralized water) and energy fluids (electricity, steam, superheated water, compressed air and cooling water) at the Basel sites, as well as collecting and treating waste, including recovering hazardous waste.
In 2014, this major industrial customer decided to extend the partnership to cover all production support services, including management of water, energy, waste and all other facility-related services at 15 of its production sites in Europe.
Transforming Roche's sewage treatment plant
One of Roche's largest biotechnology facilities is located in Bavaria, where 5,800 people work in research, development and production.
In response to the growth of the Penzberg site, and environmental constraints relating to industrial waste, Roche tasked us with transformation the existing on-site sewage treatment plant.
The technology we deployed delivered annual carbon emissions by 950 metric tons.
The new treatment plant produces 2,770 cubic nanometers of biogas daily, which heat water heating and produces electricity in a combined heat and power cogeneration unit.