ROLE OF THE ETHICS COMMITTEE
Ethics is an issue of major strategic importance for Veolia; its reputation and its image depend to a great extent on its ability to act in accordance with the values that it strives to promote and defend, both internally and as regards its stakeholders. The Group's fundamental values, which show its identity and form the foundations of its economic, social and environmental performance, are formalized in its Ethics Guide, which provides its employees throughout the world with a common reference framework. This guide is intended to be used as a tool to change mentalities and it thus acts as a marker and a point of reference for ethical conduct on a daily basis.
Veolia has entrusted the observance of the Ethics Guide to an independent body, the Ethics Committee, to which matters can be referred using a whistle-blowing procedure that ensures the complete confidentiality both of the whistle-blower and of the person implicated. The Ethics Committee can also deal with any matter of ethics that might merit its attention.
The Ethics Committee and the Compliance Department work together to guarantee, with the maximum reasonable degree of certainty, that the organization constantly focuses on ethical conduct.
The Chairman of the Ethics Committee
Contact information
Veolia Ethics Committee
30 rue Madeleine Vionnet
93300 Aubervilliers - France
[email protected]
ETHICS GUIDE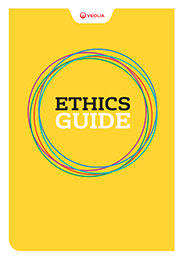 > Download the Ethics Guide in English
> Download the Ethics Guide in French
> Download the Ethics Guide in Spanish
> Download the Ethics Guide in Italian
> Download the Ethics Guide in German
> Download the Ethics Guide in Chinese
> Download the Ethics Guide in Cantonese Chinese
> Download the Ethics Guide in Korean
> Download the Ethics Guide in Japanese
> Download the Ethics Guide in Dutch
> Download the Ethics Guide in Armenian
> Download the Ethics Guide in Romanian
> Download the Ethics Guide in Bulgarian
> Download the Ethics Guide in Polish
> Download the Ethics Guide in Slovak
> Download the Ethics Guide in Czech
> Download the Ethics Guide in Portuguese
> Download the Ethics Guide in Hungarian
> Download the Ethics Guide in Lithuanian
> Download the Ethics Guide in Serbian
> Download the Ethics Guide in Ukrainian
> Download the Ethics Guide in Arabic
Discover the anticorruption code of conduct
> Download the code in English
> Download the code in French
> Download the code in Spanish