Innovating and producing for new markets
Pharmaceutical manufacturers are currently engaged in a race for innovation. The challenge is to renew their drug portfolios and launch as soon as possible new therapies that are accessible to as many people as possible. In order to do so, the Top 20 global pharmaceutical companies invested over 114 billion dollars in R&D between 2015 and 2016. Major improvement works and new plants are being built all over the world.
With its expertise in infrastructure design and construction, Veolia provides businesses in the pharmaceutical industry with turnkey water treatment (purified water, injection water, wastewater) and energy production facilities (biomass, cogeneration, biogas). These units meet the strict standards imposed by supranational and national authorities.
Controlling their environmental footprint
To meet their commitments to reduce their environmental footprints, most pharmaceutical companies are restructuring their global supply chains and distribution networks. In addition, consumer choices are increasingly governed by new requirements, such as respect for the environment and ethical production.
Veolia supports industry players at every point in the value chain. From supplying recycled secondary materials (purification of used solvents, recycled plastic), recovering end-of-life products, implementing circular economy programs (selective recycling solution, eco-design) through to producing renewable energy and reducing carbon emissions from production plants.
Operational excellence at all costs
The pharmaceutical industry is subject to strict regulatory constraints, which necessitates operational excellence for production processes.
For many years Veolia has been providing the pharmaceutical industry with total waste management services that enables it to control environmental risks and comply with regulations. The Group also provides integrated management of its customers' non-core businesses through multi-service contracts. These solutions (water, energy, waste and facility management) are developed jointly with customers, ensuring they are able to work with the best Veolia business experts in the framework of 3 to 7 year partnerships.  
Operating at the highest level of compliance from research and development through to final manufacturing, Veolia helps the pharmaceutical industry combine profitability and environmental sustainability.
Read the folder: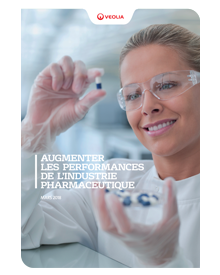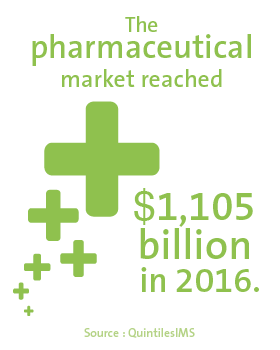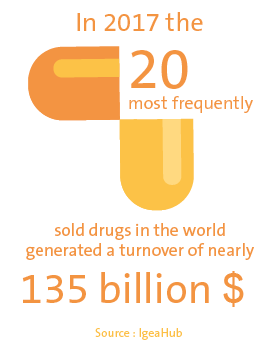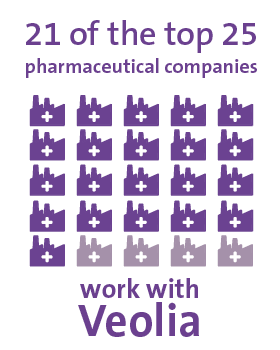 Veolia's know-how for the pharmaceutical industry
The cogeneration plant installed by Veolia on our Macclesfield site in the United Kingdom is an investment that represents a major step forward for the development of the site and at the same time improves our environmental performance.
Our solutions in the the pharmaceutical sector include: