> Transformation for a sustainable future

Delivering Cost Efficiency
Water, waste and energy, especially in remote parts of the globe represent a substantial portion of a Mine's expenses. Energy can even account for over 30% of operating costs. By working to improve the operation and maintenance performance of their environmental assets, Mining companies can significantly reduce their costs.

Improving yield to support competitiveness
Managing cost efficiency and competitiveness is further challenged by depleting ore grades and less accessible deposits. It now takes more to extract the same amount of minerals. But the industry can boost sites' output by innovating and leveraging on new technologies. Better waste management in particular, such as the reprocessing of tailings, enables to efficiently recover by-products.

Securing the license to operate
Faced with stricter regulatory environment and increased public pressure, Mining companies are under strain to obtain and maintain their license to operate, and develop long-term strategies to reduce their risk exposure. By minimizing pollution, demonstrating environmental responsibility and improving cooperation with local communities, they can secure their project's uptime and acceptance. 

Responsibly planning for Closure
Miners' responsibility extends beyond operations, leading them to anticipate closure plans. Rehabilitation measures need to be implemented to minimize environmental legacy left to future generations. It calls for better practices today to reduce the remediation cost of tomorrow, but also requires Miners to find innovative partners able to engage with communities and invent solutions giving a second life to their site.
 
> Veolia's solutions for the mining industry
Operating at the highest level of health and safety, Veolia helps Mining companies to reconcile business productivity and environmental sustainability from exploration to closure.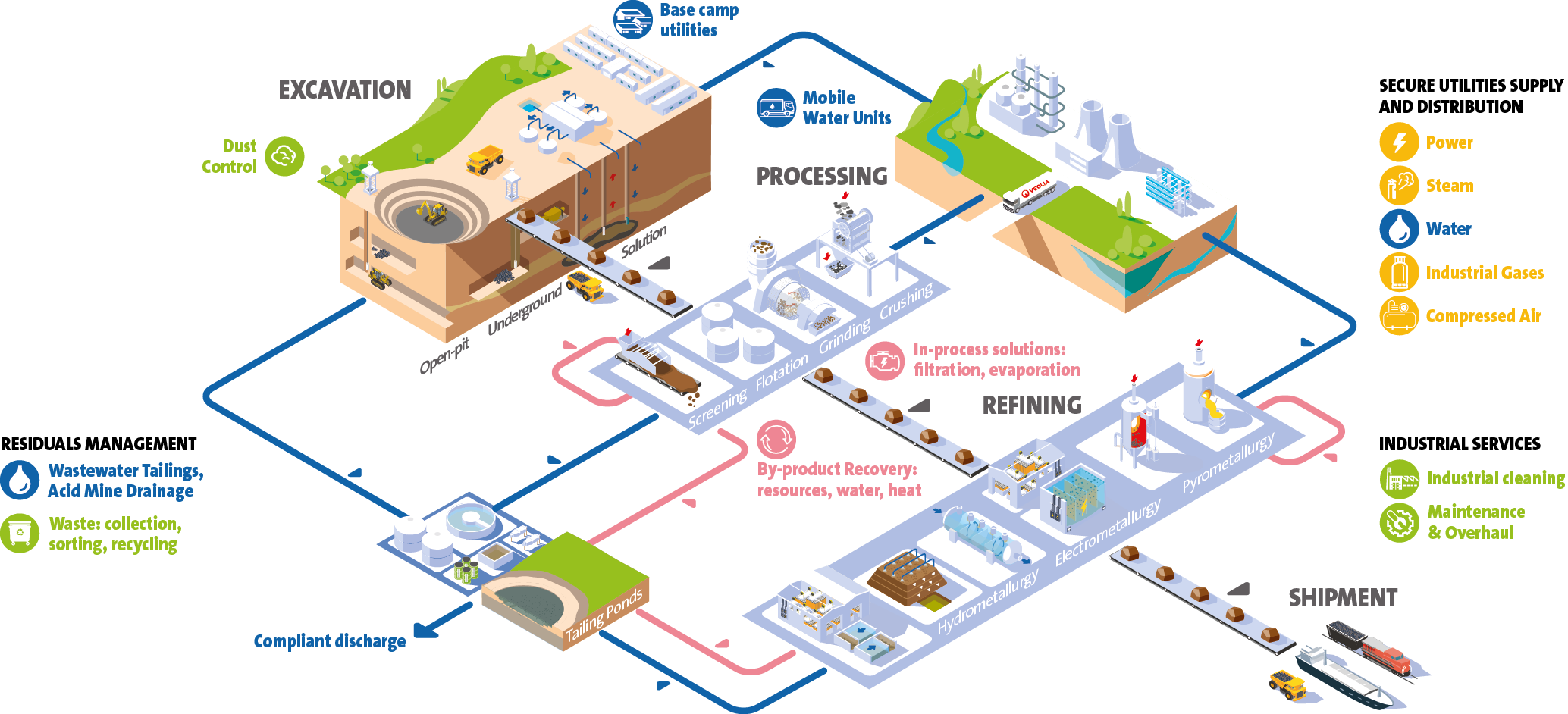 Did you know ?
With a capacity of over 12 million m3 installed in 100 countries, Veolia is the world's leading company in desalination.
WORKING WITH VEOLIA IS THE GUARANTEE OF A VALUE PROPOSITION FOR MINERS
• Benefits from an operator's expertise
for your non-core utilities. Veolia draws from 160 years of experience in operating environmental infrastructures to design & deliver solutions which provide the most effective Total Cost of Ownership, balancing capital and operations expenses.
• Access to both specialized and bundled service capabilities:
we take full accountability for daily performance and our promise is backed by the link between our remuneration and clearly measurable KPIs. Veolia is also experienced in project structuring and infrastructure financing.
 
• Access to both specialized and bundled service capabilities:
Veolia can create solutions which bundle our specialized capabilities across water, waste, industrial and energy services; delivering economies of scale and a truly robust environmental competence.
• Community consultation and stakeholder engagement:
our experience in management of municipal and industrial infrastructure enables us to deliver meaningful community education related to your water, waste and energy projects.
 
• Innovation :
Veolia develops research programs, technologies and explores new business partnerships dedicated to the Mining industry.
 
• Global company that delivers locally:
working with us is the opportunity to tap into our worldwide networks wherever you are, while we commit on our local services quality and workforce development.
> Dedicated technologies for the mining industry
• HPD® evaporation and crystallization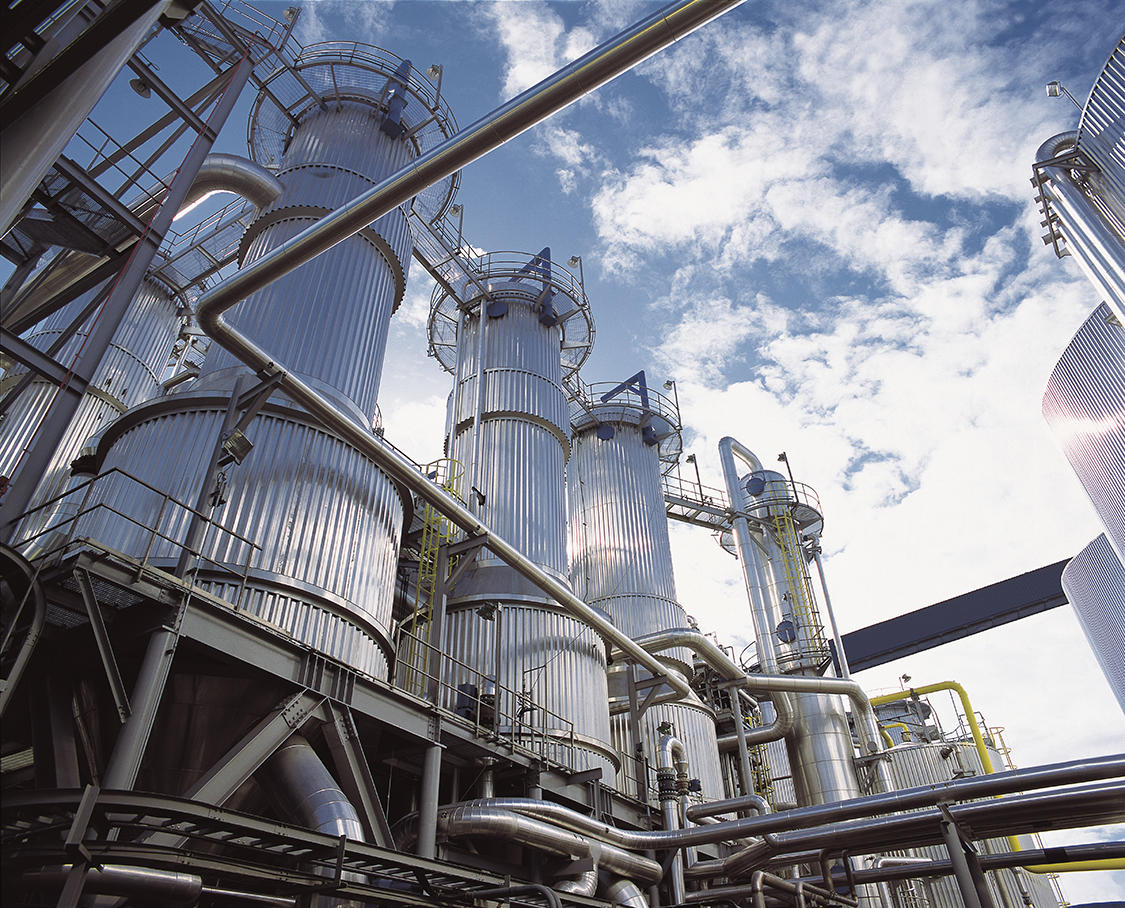 Veolia provides the expertise required for several mining production processes. HPD® evaporation and crystallization systems are often a critical component in evaporites and solution mining, by-product recovery and internal water process management for the mining industry.
• Systems for evaporites mining, coproducts extraction & refining
​​• Alumina spent liquor evaporation and oxalate removal
• Nickel, lithium, magnesium and zinc salts crystallization
​​• Vanadium, tungsten, molybdenum and copper crystallized products
• ACTIFLO® – high rate and compact clarifier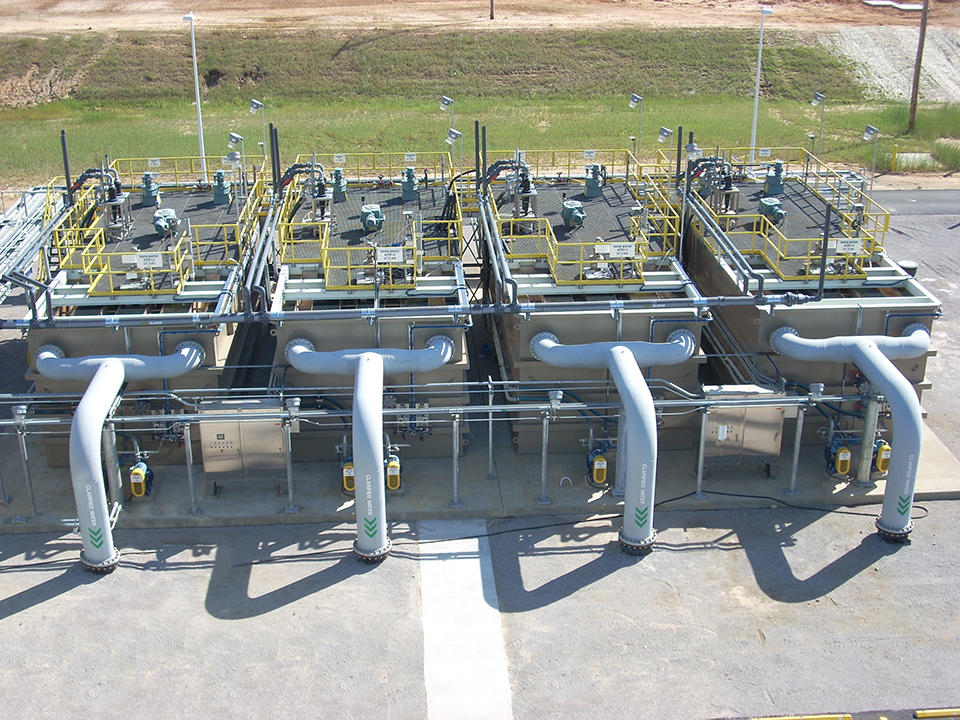 The ACTIFLO® technology is a compact process that operates with microsand as a seed for floc formation. The microsand provides surface area that enhances flocculation and acts as a ballast to form robust and rapidly settling floc.
The unique characteristics allow for clarifier designs with high flow rates, short retention times and minimal sludge presence within the unit.
• Footprint 5 times smaller than classic lamella clarifiers or dissolved air flotation (DAF)  
• ​Up to 20 times smaller than conventional clarification designs 
• ​DenseSludge™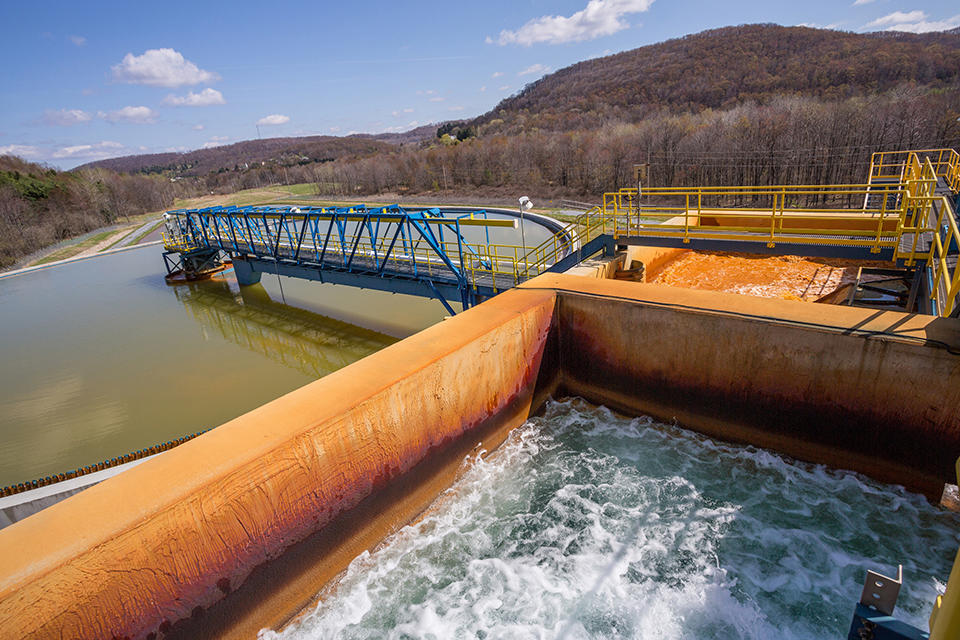 DenseSludge™ reduces the cost of water treatment and sludge management in Acid Mine Drainage treatment systems. The DenseSludge™ process can use conventional equipment or Veolia's Multiflo™ technology to employ sludge recirculation techniques based on Veolia's process expertise. These techniques form a denser, heavier sludge with lower water content than conventional processes.
• Reduces sludge volume in clarifier by 90%
 • Minimizes lime usage and cost
• Minimizes calcium sulfate (gypsum) and calcium carbonate (calcite) scaling
• Provides consistent pH control
• Automated Industrial Cleaning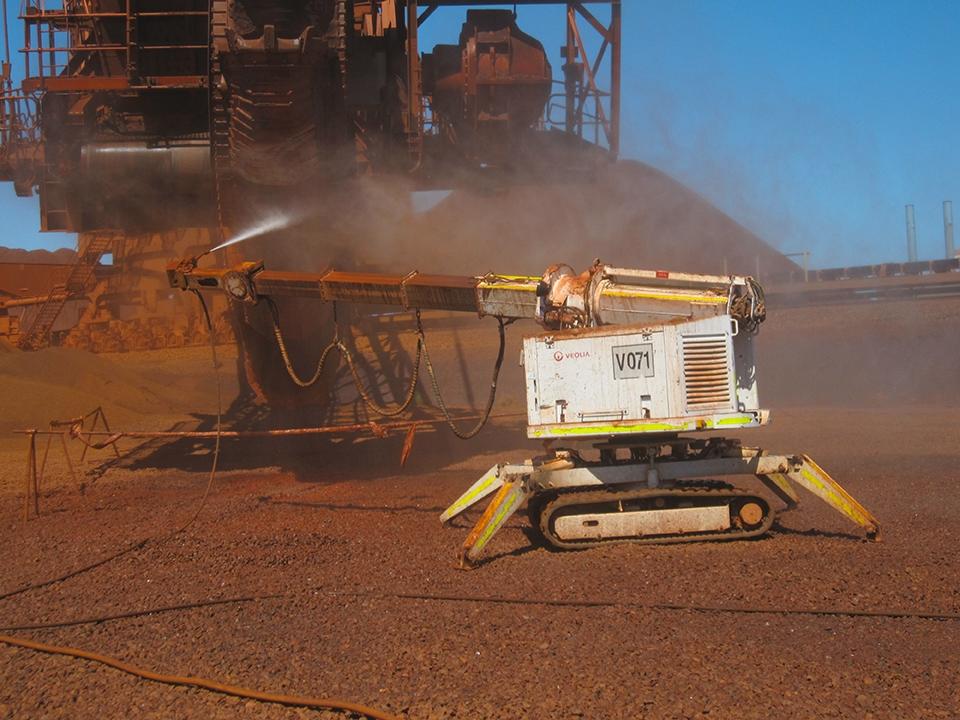 When cleaning an industrial site, automated robotic cleaning is a safer, more cost-effective and time-efficient solution, minimizing personnel exposure by eliminating or reducing the need for manned entry.
Veolia sets the path in tailoring cleaning and maintenance planning, equipment and security protocols for its Mining customers, in particular for tank cleaning and high pressure water jetting of the various heavy machineries used on a Mine site.
Our customized solutions keep your downtime to the lowest while minimizing the environmental impacts and safety risks of cleaning tasks.
> Our mining industry references
— COPPER RECOVERY FROM TAILING PONDS IN CHILE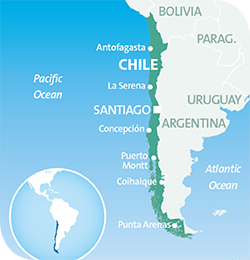 Together with a local partner, Veolia designed, built and now operates an innovative tailings water treatment plant with a capacity of 3 million m3 per year. The facility aims to recover a concentrated copper solution suitable for use in the Customer's SX-EW process (solvent extraction – electro winning).
Each year, Veolia helps its Customer recover valuable copper to boost the Mine's production and alleviate the future environmental legacy of tailing ponds. 
 

3 million m3 per year - installed capacity to process the acid drainage of a closed tailing pond

 
— GHANA: GOLD MINE WASTEWATER TREATMENT TO MAINTAIN LICENSE TO OPERATE
In a water-positive environment subject to highly seasonal rainfall, Veolia enables a gold mine in Ghana to manage its process wastewater and tailings to meet the local Environmental Protection Agency discharge requirements.
By upgrading the wastewater treatment plant, reviewing operations practices and training a dedicated local team of 23 employees, Veolia allowed its Customer to resume operations and continuously treat the wastewater containing cyanide, a typical challenge for gold mines.
The successful partnership relies on the trust and transparency between the parties which are the key to continuous, safe and reliable operations supporting the Mine's uptime.
23 employees: dedicated local team 
1,600,000 m3/year of wastewater treated

 
— POWER AND COMPRESSED AIR SUPPLY FOR UNDERGROUND COAL MINES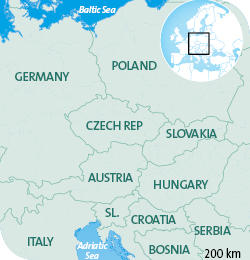 Since 2010, Veolia has been managing facilities to supply heating, electricity and compressed air for a large coal mining Group in Eastern Europe, focusing on modernizing mining facilities and ensuring the safety of miners. 
One of Veolia's solutions consisted in installing a tri-generation plant improving the efficiency of supply, all in line with the Miner's requirements, which leave no room for error. Electricity distribution reaches 530 GWh, heating 165 GWh and 2.5 million Nm3 of compressed air are distributed daily. Veolia also provides air-conditioning for the mine shaft reaching an underground depth of 1,050 meters and supplying 91 GWh of cold.
Working with Veolia enables the Customer to make the most of its energy assets: residual heat is reused on-site and sold to third parties. Equipment modernization delivered savings on energy consumption equivalent to an annual reduction of CO2 emissions by 50,000 tons.  
50,000 tons annual reduction of CO2 emissions 
Power distribution 530 GWh
2.5 million Nm3 daily compressed air supply

 
— INDIGENOUS WORKFORCE EMPOWERMENT IN AUSTRALIA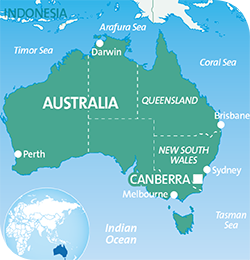 To better serve the Mining Industry in remote parts of the country, while empowering local indigenous communities, Veolia Australia worked with an aboriginal company to create the North West Waste Alliance Joint Venture. The Alliance combines Veolia's excellence in services to a strong indigenous participation, meeting our Customers' environmental and social license to operate strategies. 
Consequently Veolia is able to deliver competitive and high quality waste collection, transportation and treatment services to Miners, as well as an extensive range of industrial cleaning solutions regardless of their location.
Nationwide, through its Reconciliation Action Plan (RAP), Veolia Australia works in partnership with Aboriginal and Torres Strait Islander peoples to offer leadership, enhance respect, and create sustainable opportunities in the communities in which we live and operate. Veolia's commitments include education, support to community initiatives and a pro-active procurement policy with targets of working with indigenous suppliers.  
Dedicated aboriginal joint venture to serve miners in Western Australia

 
— CONTROL OF ACID MINE DRAINAGE AT A CLOSED MINE IN THE UK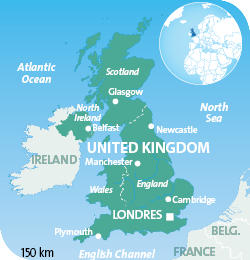 As mine operations comes to an end, abandoned mines flood with water, dissolving toxic metals into highly acidic solutions, with a pH lower than 5. At Wheal Jane, in 1992, a major overflow of polluted water containing iron and other metals was released into the environment due to failure of a plug in the underground adit following a high rainfall event.
Veolia took over and optimized existing facilities on-site. The water plant now treats over 6,000 m3 per day at significantly reduced cost and energy consumption. Since the treatment plant came on stream, the concentrations of metals in the mine water have been reduced by 800 tons of metals removed per year. The collaboration between Veolia and the customer has enhanced expertise for improving water quality, process optimization, innovation and overall best practices.  
6,000 m3 per day treated by the water plant 
800 tons of metals removed

 
Veolia is the world leader for the design and provision of environmental solutions,
including water, wastewater, industrial cleaning, waste management, resource recovery and energy services