Recovering the waste of our industrial customers
Large industrial groups have to deal with the production of many types of waste at their sites, ranging from organic waste to hazardous waste. To reduce the environmental footprint of their operations and meet their commitment to produce more sustainably, it is crucial they find solutions to recover as much as possible of this waste
 
 At Veolia, our Resourcers provide many solutions to help manufacturers maximize their waste recovery. At the Airbus Helicopters site in Marignane (France), Romain and his colleagues are responsible for managing all the waste produced on site, from organic catering waste to packaging waste, and the more strategic waste from helicopter production, such as scrap metal and solvents. Leveraging their expertise, they work with Airbus to achieve 100% waste recovery, thus avoiding landfills. Working closely with the client, they provide solutions ranging from selective sorting to composting, including employee awareness, metal extraction and treatment of waste specific to the aeronautical industry. In this way, they maximize waste recovery and turn it into new raw materials, which helps the client achieve its environmental footprint reduction target.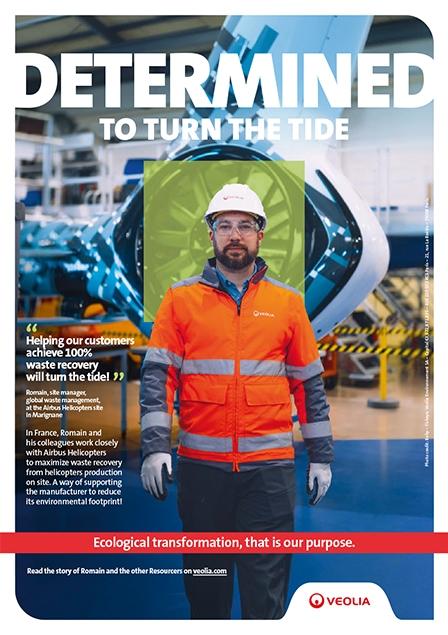 Deep dive
Come with us to find out more about the people who are committed to ecological transformation. In Marignane (France), meet Romain, Contract Manager at the Airbus Helicopters site, who explains the solutions applied by Veolia's Resourcers to help this client achieve 100% waste recovery, and thus avoid landfill. Leveraging this sustainable approach, manufacturers can engage in ecological transformation and contribute to environmental protection.
It's amazing to see how big industrial companies are really cities in their own right. Given the range of their activities, there's bound to be a lot of waste that needs to be recycled
Finley – Journalist at Fisheye
Continue your journey to meet our Resourcers