Robotized waste sorting
There is no other option for waste recovery and recycing processes than to boost efficiency because of the volume of waste produced and more stringent sorting instructions. Innovative solutions must be developed to recycle waste to meet environmental challenges. Today, at Veolia, artificial intelligence and robots are being used on sorting lines. At the ARC EN CIEL 2034 waste treatment and recovery plant in Nantes, France, Océane and her colleagues can sort a greater quantity of waste following the installation of Max AI® robot, equipped with cameras and a robotic arm. The introduction of these Max-AI® robots in France and Europe is a first. Self-learning, the robots record images of waste previously downloaded by employees. This simplifies the sorting agents' movements, improving their work safety, while also significantly boosting the volume of waste sorted.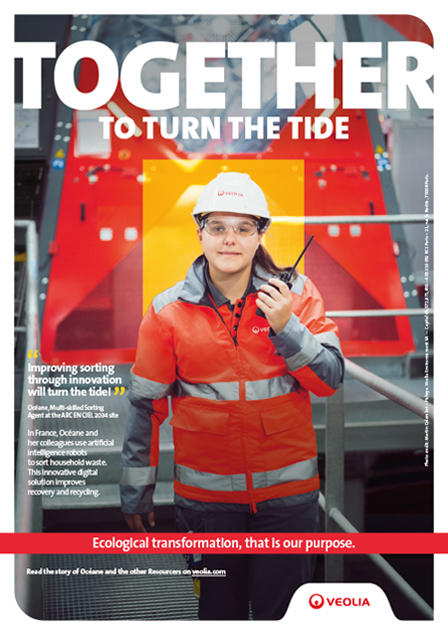 Deep dive
Come with us and meet the people moving forward together for ecological transformation. At the ARC EN CIEL 2034 plant near Nantes, meet Océane, a Multi-skilled sorting agent, who explains the solutions deployed by Veolia's Resourcers to optimize the use of new technologies to continuously improve sorting efficiency and to recycle and recover a greater quantity of waste.
It's always very impressive to learn about the astronomical amount of waste delivered to sorting centers. And it's especially super inspiring to see how we can use new technologies to make what are very difficult tasks easier.
Finley – Journaliste chez Fisheye
Continue your journey to meet our Resourcers