Converting wastewater into energy
During wastewater treatment, the water is separated from the organic and mineral matter it contains. This residue is called wastewater sludge. It is essential to reuse all the recoverable waste in order to give it a second life and avoid drawing on virgin resources. Today, it is possible to transform sludge into green energy. At Veolia, our Resourcers are constantly innovating to find new solutions for wastewater recovery. At La Baumette wastewater treatment plant in France, Florian and his colleagues produce energy using the gas released during the sludge's anaerobic digestion. The biogas produced is treated and transformed into biomethane. All of this gas is injected into the city's natural gas network. By continually seeking new solutions to optimize energy recovery, the plant is becoming an exemplary model of ecological transformation.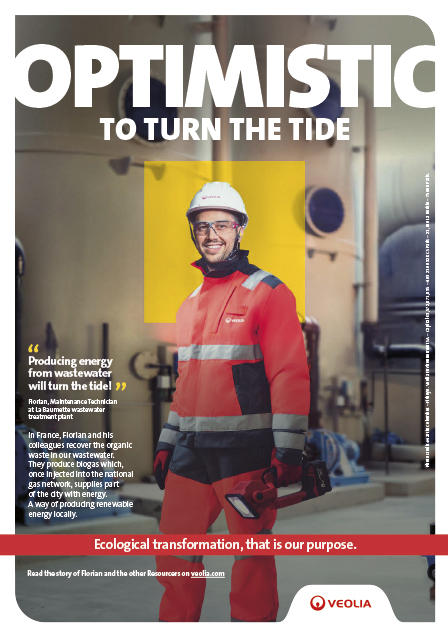 Deep dive
Come with us and meet the people who are optimistic about ecological transformation. Meet Florian, a maintenance technician at La Baumette wastewater treatment plant in France, who explains the solutions deployed by Veolia's Resourcers to produce biogas from wastewater, purify it and inject it into the national gas network. In this way, they supply part of the city with energy.
I knew that wastewater treatment was vital, but I had no idea of all the things you could do with the organic matter recovered in the process. You can make electricity from wastewater.
Finley – Journaliste chez Fisheye
Continue your journey to meet our Resourcers