Recycling water to fight drought
Some regions suffer particularly from water stress and do not have enough fresh water resources available to meet the population's daily needs. In such cases, it is vital to treat wastewater so that it can be reused.
At Veolia, our Resourcers give wastewater a second life. At the As Samra wastewater treatment plant in Jordan, Anas and his colleagues treat and redistribute wastewater from the capital and its surroundings. As a result, 25% of the country's agricultural water needs and 12% of its overall water needs (especially for domestic use) come from this site. The reuse of wastewater allows this country, which does not have large water resources, to develop its agriculture and feed its people.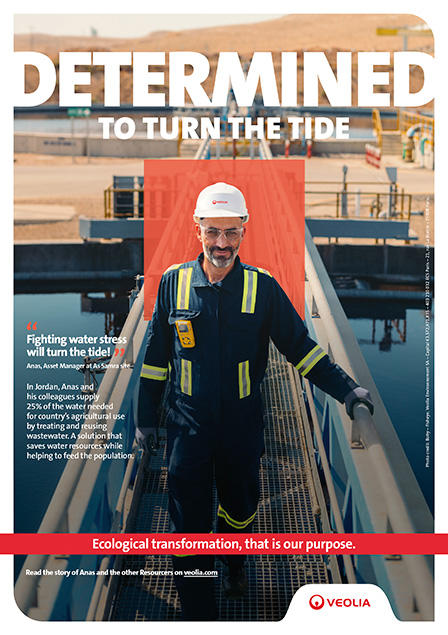 Deep dive
Come with us and meet the people who are optimistic about ecological transformation. In Jordan, meet Anas, Head of the Maintenance Department at the As Samra site, who explains the solutions deployed by Veolia Resourcers to clean wastewater nationwide and efficiently meet the water needs of the country's agricultural sector.
It is really the desert in Jordan, everything is dry... Water is therefore so rare that it becomes a really precious commodity. By treating and reusing water, agriculture is possible and ultimately brings the country to life.
Finley – Journalist at Fisheye
Continue your journey to meet our Resourcers