Securing local energy supply for Coca-Cola FEMSA site in Barranquilla
It is sometimes difficult for manufacturers to obtain a sustainable supply of energy. This is particularly true in some isolated regions where it is necessary to develop local solutions to produce all the energy needed for industrial production. 
At Veolia, our Resourcers design innovative solutions in collaboration with industry to ensure a constant supply of energy. For example, at the Coca-Cola FEMSA bottling plant in Barranquilla in northern Colombia, María José and her colleagues have implemented a tri-generation system to sustainably supply the plant with electricity, steam and cold water, so that it can operate without interruption, which has the added benefit of significantly reducing its carbon footprint.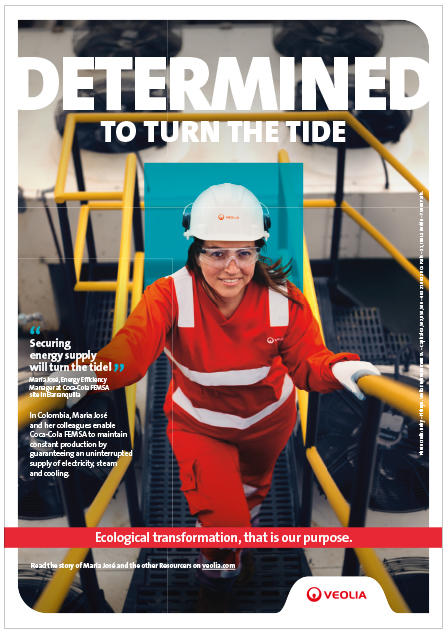 Deep dive
Come with us and meet the people who are optimistic about ecological transformation. At the Coca-Cola FEMSA site in Colombia, meet María José, Energy Efficiency Manager, who tells us about the solutions implemented by Veolia's Resourcers to secure the industry's energy supply as much as possible thanks to the local installation of a tri-generation system on site. It produces electricity, steam and cold water from a single energy source.
 Just imagine how the factory's activity can be interrupted at any time because of a power failure. It's impressive how in such a small space we've been able to install a system that provides all the necessary energy to ensure uninterrupted operation.
Finley – Journalist at Fisheye
Continue your journey to meet our Resourcers